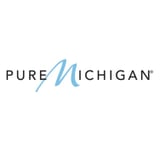 We partnered with Pure Michigan to help you catch up on all the moments you've been missing.
After more than a year of "enjoying" the same old scenery, we're itching to pack our bags and get exploring. So, we've set our sights on domestic destinations that deserve a spot on our bucket lists right alongside those exotic locales that require a passport — like Michigan.
Jaw-dropping vistas? Its got 'em. Huge swaths of untouched, natural beauty? Plenty of it. A diverse food, drink, and arts scene? One of the best in the 50 states. Heck, you can catch the Northern Lights here — if you know where to look. So read on for all the reasons why we've put Michigan at the top of our bucket list this summer.