Safety Tips For Flying During COVID-19
How to Stay Safe While Flying During the Pandemic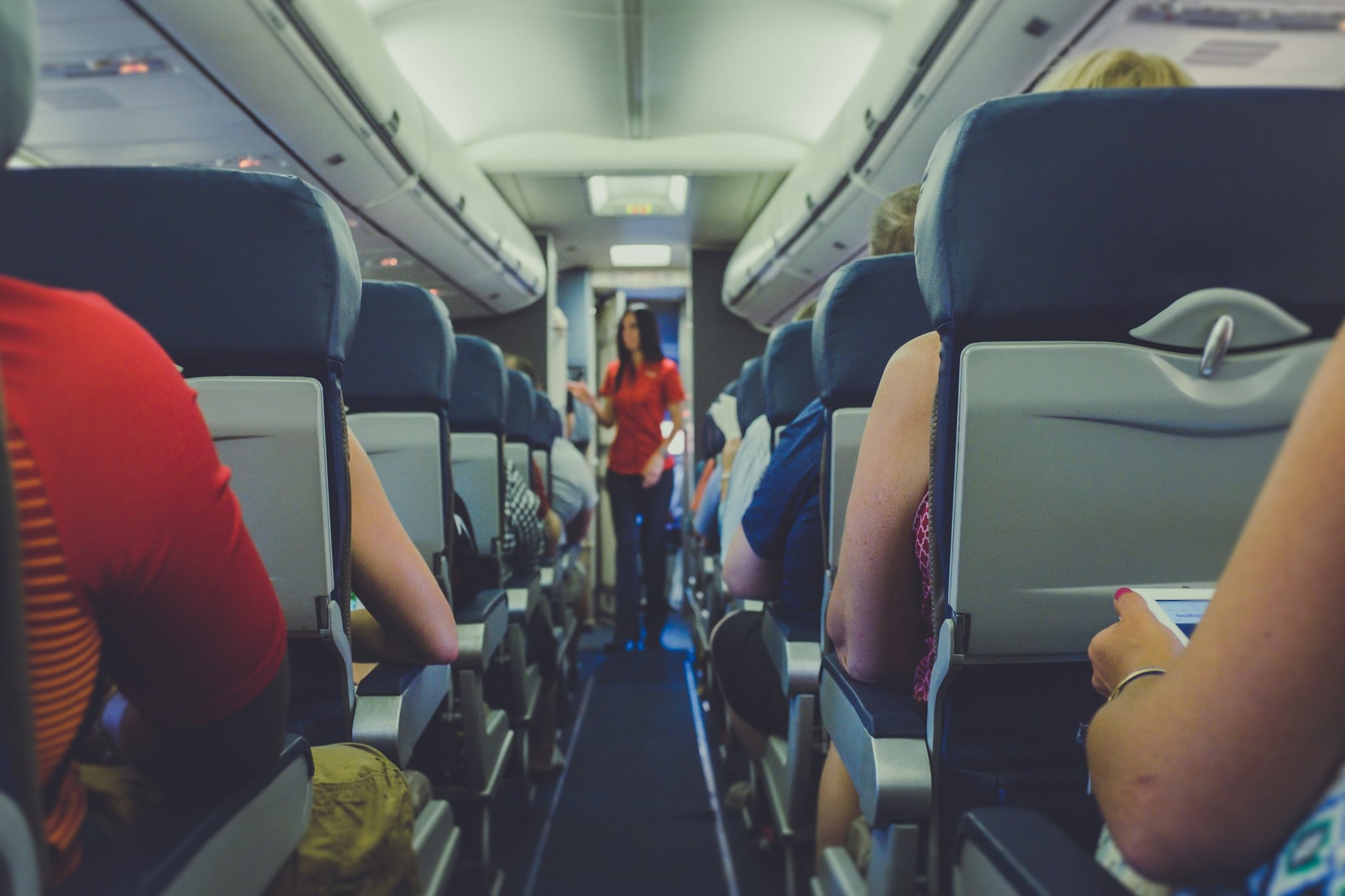 With warmer weather on the horizon, travel is expected to be in full swing this summer. Still, taking vacations hasn't been the same since the start of the COVID-19 pandemic, especially if you're traveling by plane. The current federal mask mandate for planes and airports was supposed to end on April 18, but due to the rapid spread of omicron subvariant BA.2 the Centers For Disease Control and Prevention (CDC) has extended the mandate until May 3.
With news of the XE variant and rising COVID cases, is traveling safe to do at all? Well, it doesn't have to be completely avoided, according to Syra Madad, senior director of the System-wide Special Pathogens Program at NYC Health and Hospitals.
"Vaccination plus COVID-19 prevention measures are our best strategy," Madad told POPSUGAR via email. This includes getting fully vaccinated; receiving your booster dose, if eligible; getting tested before any gatherings; wearing a mask inside when around others; and being mindful when you remove your mask for food or beverage. Here are a few other tips to keep in mind.
What to Consider Before Flying During COVID
Trust me, I've also been eyeing beach-resort getaways and national-park adventures, but anytime you travel among large groups of people, you're putting yourself at risk. The CDC highlights a few things to think about before you travel:
Wait to travel until you're up to date with your COVID-19 vaccines and boosters, if eligible.
Check the current COVID-19 situation at your destination.
Make sure you understand and follow all state, local, and territorial travel restrictions, including mask-wearing, proof of vaccination, testing, or quarantine requirements.
If traveling by air, check if your airline requires any testing, vaccination, or other documents.
Prepare to be flexible during your trip, as restrictions and policies may change during your travel.
If you are not up to date with your COVID-19 vaccines, get tested with a viral test as close to the time of departure as possible (no more than three days) before you travel.
COVID Safety Tips While Traveling and in the Airplane
Be sure to pack enough masks for all travelers. Children ages two and up should wear masks when indoors. Experts recommend KN95 masks, since they offer the best protection.
Wear a mask the entire time, making sure to keep your nose and mouth covered. If you can, eat and drink before getting on the plane so as to avoid taking your mask off during the flight.
Social distance when you can (six feet if possible), and avoid contact with anyone who is sick or has symptoms.
Try not to touch your eyes, nose, or mouth.
Wash your hands frequently. Mayo Clinic recommends avoiding contact with frequently touched surfaces, such escalator handrails, elevator buttons, and credit-card machines. If you have to touch them, wash your hands or use hand sanitizer afterward. Right now, many airlines are doing enhanced cleaning procedures between flights, but you can also sanitize your own seat with wipes before sitting down.
If you must travel by bus or train during your trip, social distance when possible, and keep your mask on at all times.
What to Do After Traveling
The CDC has after-travel recommendations for all travelers and those not up to date with COVID-19 vaccinations.
For all travelers: Monitor yourself and those you've traveled with for COVID symptoms. If you have symptoms, isolate and get tested. Make sure to follow all state, tribal, local, and territorial recommendations or requirements after travel.
If you're not up to date with COVID-19 vaccinations: Take a viral test three to five days after returning from travel, and stay home and self-quarantine for a full five days. Additionally, follow all the above recommendations.