Interview With Sisters in Media Founder Oladotun Idowu
Oladotun Idowu Is Giving Young Black Professionals a Space to Find Mentorship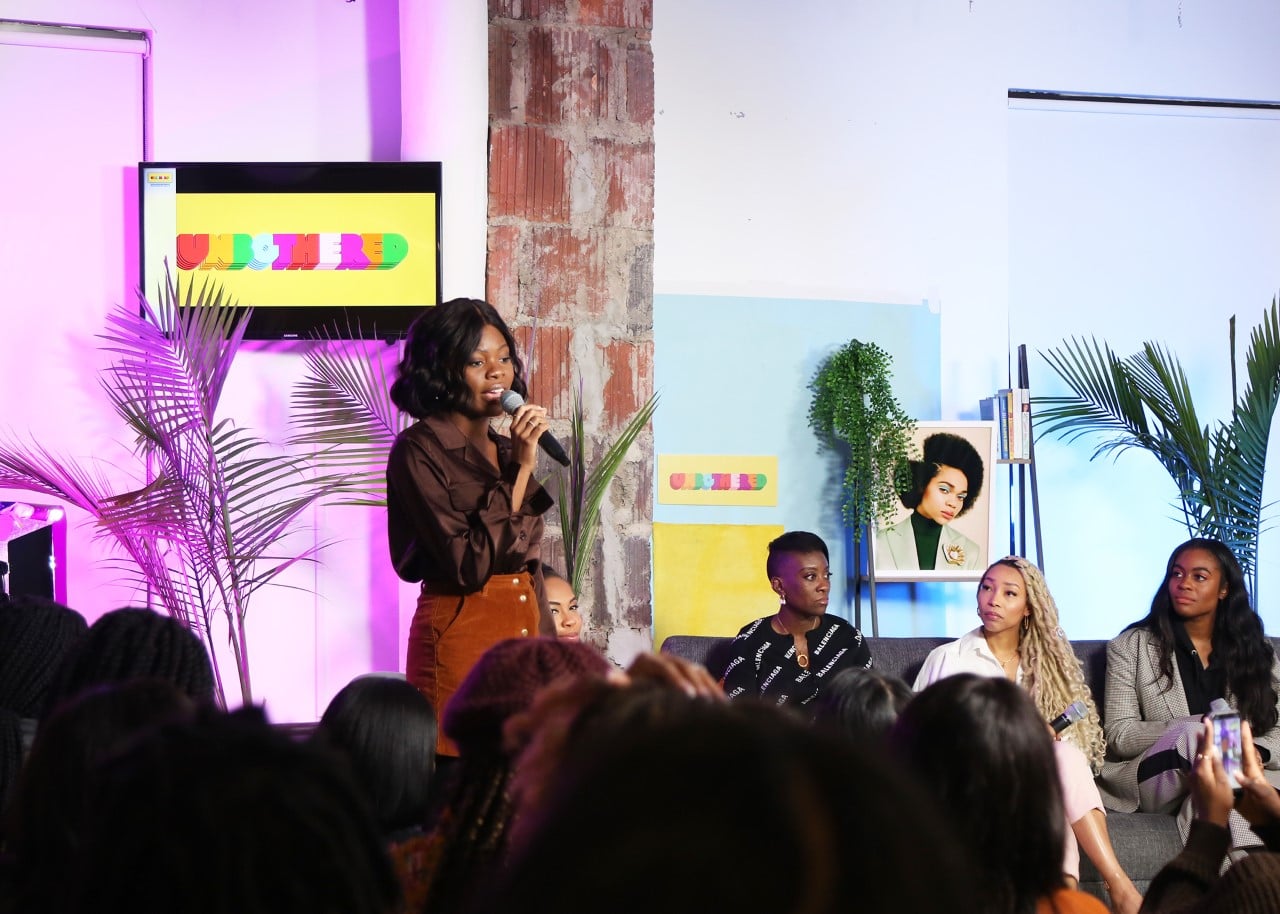 As a full-time employee at Twitter in internal events, the CEO of her own company Sisters in Media, and an alum of the Newhouse School of Public Communications at Syracuse University, Oladotun Idowu has proven herself a positive and unstoppable force to be reckoned with. In many ways, she's like the fairy godmother of mentorship for black women, including me. As a junior at Syracuse University, I struggled to find internal support for career exploration due to the lack of Black mentorship in the media industry. Applying to jobs, connecting with professionals in the industry, and pursuing a college degree are stressful enough, especially when it feels like you're doing it with little to no support. But that changed when, during a late-night LinkedIn search, I found Idowu — a Black woman who is the queen of connections and is paying it forward.
Idowu is the founder of Sisters in Media, a professional networking organization for Black women who want to pursue a career in media that offers events, job postings, and a network for Black women to connect. Since its launch in 2016, Sisters in Media has collaborated with companies like Refinery 29, Dow Jones, and The Creative Collective NYC for the Culture Con Conference. Highlighting resources that can help underprivileged communities, like the importance of networking organizations for women of color, is so important, and I'm so glad I found Idowu to inspire me to pursue my career dreams.
POPSUGAR spoke with Idowu about taking risks, how to redirect after setbacks, and the impact sisterhood has on reaching your potential.
POPSUGAR: Thank you so much for joining me! To start, can you tell us how Sisters in Media came about?
Oladotun Idowu: Yes! Thank you for having me! I feel so honored that you thought of me! So Sisters in Media was founded in 2016, and at that time I was working at NBCUniversal, my first job out of college. I felt lost and thirsted for a mentor, specifically a Black or brown one. I didn't see any executives that looked like me, and I began to realize the weight of nepotism in the industry, something that wasn't taught to me in college. I was like, "Wow, imagine if my mom or dad were executives or had connections in the industry? Where would my career be today?" If someone I knew was an executive for Disney, I wouldn't have had to do so much work, I would be where I wanted to be automatically.
I felt like there was a missing area of mentors that looked like us. I thought, you know what, I'm going to start a little thing, but I'm going to make it a brunch. At the time, many of my friends in the industry and colleagues worked at companies like The View, Essence, and NBC, so Sisters in Media began as a group of 10 to 15 girls meeting for brunch, talking about our experiences, and then it started to grow.
PS: That's so amazing! I love how the idea for Sisters in Media started as having brunch with other women. You talked about the importance of Black mentorship — can you speak more about your experience with mentorship and why it's so important for Black women to have mentors?
OI: It's so crazy, but I've learned that with mentorship you can't just choose your mentor. For a long time, I wanted Connie Orlando to be my mentor, a head executive at BET who covers all of their award shows and is a Syracuse University alum. I knew I had to get her, so I stalked her a little (I am vicious when it comes to networking!), and through my alumni events, I tried to connect with her. When we finally had the chance to meet, we talked only for a few seconds. She was and continues to be extremely busy, so we kept in touch through email and met up sometimes.
I mention Orlando because I wanted her to be my mentor, but she wasn't. You can't just find someone you admire and think, "I want them to be my mentor," because that's not how it works. They come organically, and the mentors that I've had over the years have been friends, and as I got older I was like, "Wait, you're my mentor!" They can be your colleagues at work, they can be your friends, and they can even be at a lower level than you in your respective field. I can shout out some of my mentors! Sadé Muhammad is the vice president of representation and inclusion practice at Forbes and is also a Syracuse alumna. Elizabeth Luke is the brand communications lead at Pinterest, and we met at a mutual friend's brunch. These women started as my friends, and then I realized I depended on them for career advice. When it comes to mentorship, you can't force the relationship. It has to be mutually beneficial to both parties involved. I hope that in the future I can be a mentor to someone — if I'm not already — and [that] I have a great impact on them and their career journey.
PS: To get more into you, how did you end up at Twitter, and what have you been able to do there? I saw on your LinkedIn that you take part in a lot of diversity and inclusion projects at Twitter. Can you tell us more about that?
OI: So after my TV and film journey, I took a break and reevaluated what I wanted to do. While interning at Fox Searchlight Pictures, I really enjoyed working on events, like screenings and press events, so I got into events at Twitter and I was really excited to try this role because I had no idea what tech looked like. It was a whole new world, and working at Twitter has been amazing because I try my hand at so many things.
In terms of the diversity and inclusion work, I am one of the leaders of Blackbirds, which is our business resource group for Black professionals. I love working on Blackbirds because we get to hone into our internal community and connect with our external community of Black professionals in the industry. It's been a challenge since COVID to tap in with these professionals because we usually throw events [with a] DJ, but we ended up figuring it out.
PS: That sounds great! But how do you balance it all? Many women, especially women of color, struggle to prioritize their mental health. What is your ritual for your mental health?
OI: Before COVID I really didn't have time to think, meditate, and focus on myself. Before 2020, I would stretch myself really thin, and I felt so overwhelmed, underappreciated, and unseen. Full transparency, there were so many times in 2020 where I would just cry for no reason. Being stuck at home with my thoughts, I worried about Sisters in Media and all our events that were canceled as a result of COVID-19. So 2020, for me, looked like learning how to take better care of myself. As a devout Christian, I learned how to better talk with God. I'm Nigerian, so the way I was taught to pray was very traditional, and now I communicate with God more informally, as if I'm talking to a friend.
I didn't know what to do with my mental health, so I turned to therapy, which is something that can sometimes come off as taboo, but I focused less on what I needed to learn from therapy and more on just feeling comfortable (and more importantly not guilty!) in telling a third party how I was feeling. I thought I have my family, my life, and my health, so why am I crying? It was hard for me to admit but it's so nice to go to therapy to share your high points and to be heard by someone who is an expert in mental health.
PS: Honestly, retweet to your response! As a college student, I started going to therapy last year as well. I think that's how a lot of us were feeling. So on the topic of obstacles, have you faced any with Sisters in Media?
OI: Girl, yes! When I started Sisters in Media, I thought about what a company needed and I came up with a mission, goals, and an overall proposal. I needed to find someone to listen to my ideas, so I went to people that knew my work ethic and trusted me, which at the time was my undergrad school, Syracuse University. I was working at Fox Searchlight Pictures, and my first work trip was to travel to Washington DC to attend the National Association of Black Journalists convention to see the cast of Birth of a Nation. I knew Syracuse University was going to be there, so when we were finished with press work, I snuck in and found the dean at SU and pitched my idea. I told her I had no money, she took a look at it, and later gave me a budget to host our first event.
I can honestly say it was the grace of God because I really didn't have that many relationships. Our first event was the hardest to kick off, and through that initial event we met someone who worked for Complex, so then Complex became our next collaboration. It can be a challenge launching because it's like, "How do I convince people to believe in this idea?" It was hard because nobody knows what you can pull off except for you, so how do you prove you can get the job done? Quarantine presented some challenges in terms of readjusting to virtual life, but we started to do virtual events, which we are still doing now. We did a LinkedIn event last year that went really well, and someone reached out to us saying they got hired.
PS: I can tell you are really passionate about this work and that's so inspiring to hear. With all of the amazing things Sisters in Media has done, what is your hope for the organization's future?
OI: That's our goal. I created this organization because I wanted people who looked like us not only to get hired but to grow and develop a network where they can rely on people and people can rely on them. I'll never forget one day I was in Texas for a big Twitter event, and someone DMed me saying they got hired at Disney after attending our Sisters in Media [and] Dream in Color partnership MBA event. When I got that message I cried like a baby because that meant so much to me.
I have a lot of hopes and dreams, but my first is to build a team with base offices not only in New York but to have teams in LA, Atlanta, and London. I want to branch out Sisters in Media to have the local and global reach to create a network with a great reach that can touch women and girls everywhere. I want people from everywhere to be able to tune into our events. I want a bigger impact. If I could throw in my "dream dream," I would love Sisters in Media to host a huge conference with women like Issa Rae, Ava DuVernay, and other powerful women in the industry.
Image Source: Courtesy of Oladotun Idowu