Queer Students Deserve Safe Spaces Without Predators
Queer Students Deserve Healthy Spaces For Exploration, Safe From Predators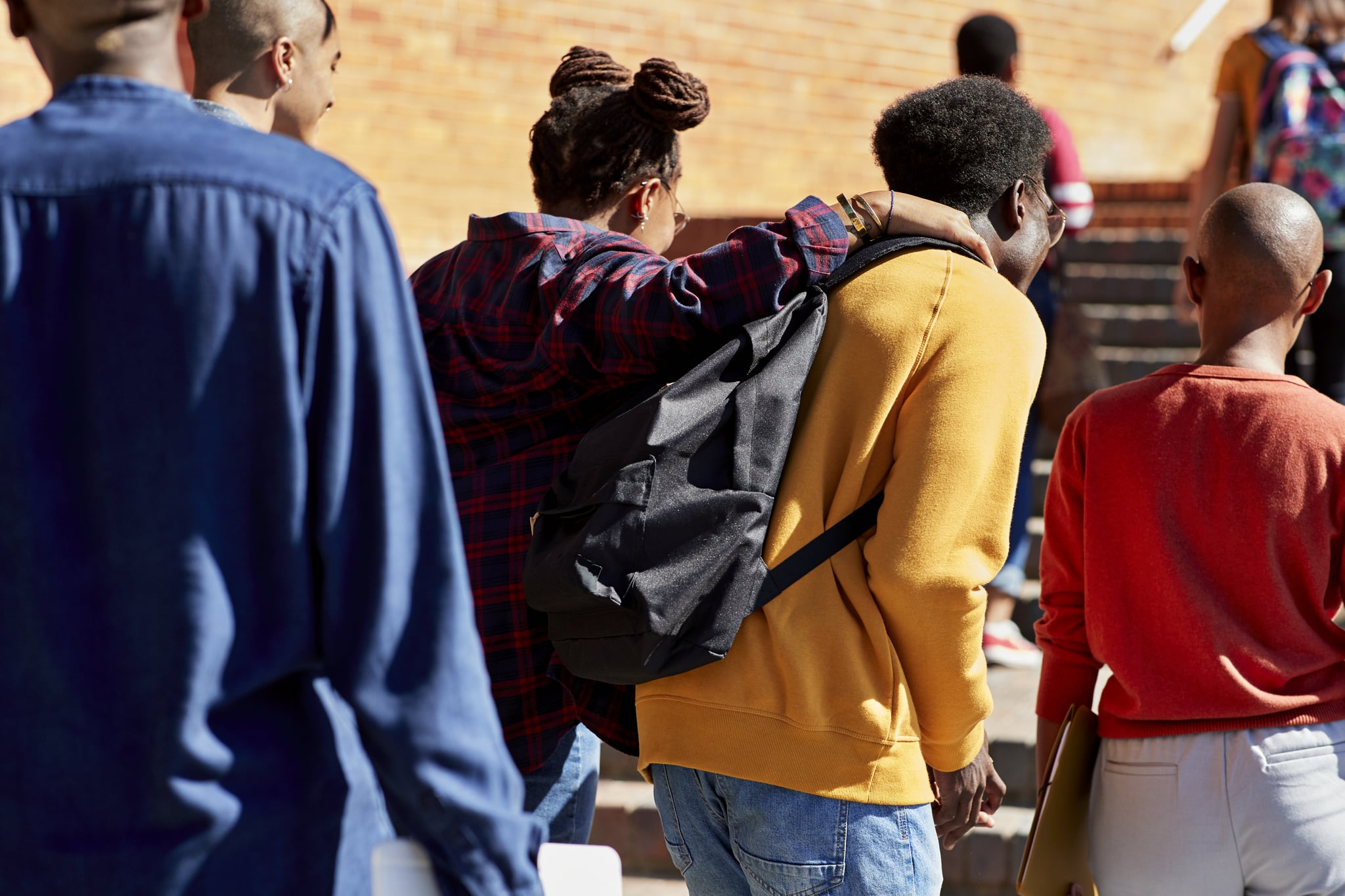 When I was accepted to American University for graduate studies, I was eager to leave my hood roots in the past. I was 24, bright-eyed, and coming off a huge wave of depression from the latest episode of domestic violence in the saga that is my abusive family. At risk of homelessness, my high school English literature teacher took me in for six months before I made the trek to start my new life in Washington, DC. It goes without saying: I wanted nothing more but to elevate in what was a lifelong pursuit to find peace.
In true Cap fashion, I charged into my graduate program in International Peace and Conflict Resolution like a domme ready to crack my whip at any sight of sniffling peers who threatened my career advancement. When I was assigned as a research assistant to a professor in queer studies as a part of my financial aid package, I fought tooth and nail to ensure I learned as much as possible from my posting. I requested instruction on how to craft the perfect syllabus, wanted ownership over grading, and, most importantly, asserted that I should have the chance to teach seminars. The budding intellectual in me ate the works of intersectional queer theorists like Audre Lorde, José Muñoz, and Judith Butler as ferociously as I would chug gatorade post jaw-numbing acid trips. Reading — and subsequently teaching — their words blossomed ideations of relatability in pockets of my identity that I had never before allowed myself to explore.
Thursdays quickly became my favorite day of the week, as my professor not only let me flex as a student teacher, but was even so bold as to trust me to teach without supervision. I grew fond of what became my tight-knit class of sophomores who, over time, delightfully overshared and courageously adventured into the outer limits of their perceptions of self through our coursework. I was — and still am — so honored to have been trusted to lead such an intimate communal growth.
"Perhaps naively, I thought I was being recognized as an adult: an equal."
As the semester went on, I developed a friendly working relationship with my supervising professor, but sometimes it felt too friendly. We primarily communicated via Facebook Messenger, and for some reason that never raised any red flags in my mind. Perhaps naively, I thought I was being recognized as an adult: an equal. Some days we would chat all day: him sending me articles to look over and me sharing insights into the content. I was flattered that someone took such an interest in my development as an intellectual. But there would be occasions when I'd notice he'd text me a little later than I'd like, or — if he did make it to class — rest his eyes a little too long on my chest or thighs. I dismissed my observations as a writer's mind running wild, because he had to be too knowledgeable to truly be that inappropriate, right?
Wrong. It only took four weeks of us working together for him to confess feelings of unbearable attraction to me. I remember with surprisingly sound clarity the feeling of my face falling while I rode the bus downtown to a part-time research position as the text stared back at me: "I want you."
The man who had spent weeks feeding me lines like "self-care is warfare" was now taking advantage of his position of authority by hitting on the research assistant he employed. I wondered while failing to deaden tides of disappointment: was his support merely grooming? And more importantly: what about my letter of rec? Panicked, I immediately wrote back: "I've worked too hard to get here to waste my shot on some married dick."
He responded politely enough, and I thought: Phew, crisis averted.
Life went on as normal, but his spontaneous appearances in class dropped to an expected absence. Not to mention, our texting went from 100 to 0 real quick. I chalked it up to embarrassment on his part and continued on with my life, which included a rife social schedule. I regularly stopped by undergraduate admissions to chat up a friend who worked there during the day. Offhandedly, I mentioned the brief encounter I had with this professor and watched the color drain from her already white face to rival 8.5x11 paper.
"You need to talk to someone," she uncharacteristically whispered to denote the seriousness of the situation that I had previously taken in stride. She slid over a phone number haphazardly written on a piece of scrap paper. It belonged to a freshman who attended another one of his classes. By the time I started speaking to the underclassman in question, he had already pushed her into kissing him in the library and meeting with him off school grounds. When we finally met, she was terrified and felt exceedingly guilty for accepting his advances.
After hearing her story, I came into contact with another young woman who had attended one of the first classes this professor had ever taught at American University. Through an informal roundtable on my living room floor, us three deduced that she was one of the first people he had forced into boundary-crossing intimacy. When she was attending his class, she had suffered a loss of a loved one and was exceptionally vulnerable. The one thing all of us had in common when he took advantage of our trust and kinship, was that we were recovering from whatever respective bus had emotionally wrecked each of us.
"He not only goaded these young women into relinquishing their power, but managed to simultaneously convince them that they were at fault."
I have a vault of stories to readily prove how men who claim to be intellectuals are dangerous to the queer psyche, but this by far took the cake. One man — a predator — used his position of power in queer spaces to falsely present himself as a trusted figure for young folks to confide their deepest thoughts in. He not only goaded these young women into relinquishing their power, but managed to simultaneously convince them that they were at fault. I didn't know then what I know now, but even at that time I viscerally understood that Ms. Lorde and Ms. Butler would not be pleased.
Throughout the months it took to report this person to the university, there were a total of four of us with tangible evidence to condemn the professor's actions. The numbers began to stack as I became aware of many more young folks who were mistreated by this person, but simply were unreachable or disinterested in engaging the issue by that time. American University ended up terminating this professor, but in such a quiet way that he was still immediately employed by another reputable academic institution by the following semester. Because if it's not happening on their campus, it's not happening — right?
"I expected myself to extend care for others in ways that I didn't believe needed reciprocation, when in actuality the vulnerabilities I saw in my students were often reflections of my own."
To date, graduate school remains the most expensive dumpster fire I've ever willingly sacrificed my financial well-being to experience. I'm grateful for the overall opportunity to have developed my knowledge base in queer studies and conflict resolution, but I sometimes question: at what cost? Queer folks, especially those fresh out of high school, are among the most vulnerable in our society. At the time, I felt so adult because of all the new responsibilities I carried as a graduate student. I expected myself to extend care for others in ways that I didn't believe needed reciprocation, when in actuality the vulnerabilities I saw in my students were often reflections of my own.
As I worked out my own queerness, I felt violated by the man who recognized my vulnerability and used it to feed his own sexual gratification. The horror of meeting so many women violated by the same person curtailed any possibility of centering a healthy inner dialogue about my own sexuality, despite all that I had learned through student teaching. I know it's not productive, but I do catch myself imagining how much sooner I would have become the androgynous queen I am today without this impostor infiltrating what were sacred spaces for queer growth. Even now as I write this, I reflect on Muñoz's words: "Queerness is essentially about the rejection of a here and now and an insistence on potentiality or concrete possibility for another world." I can't help but to yearn for the utopia still — comfortable, safe for queer exploration and untainted by predators — constantly baiting me like an untouchable horizon just out of reach.
Image Source: Klaus Vedfelt/Getty Images