What Does Pink Sauce Taste Like — and Why Do We Love It?
A Professional "Flavorist" Tells Us What Pink Sauce Tastes Like — and Why We Love Pink Food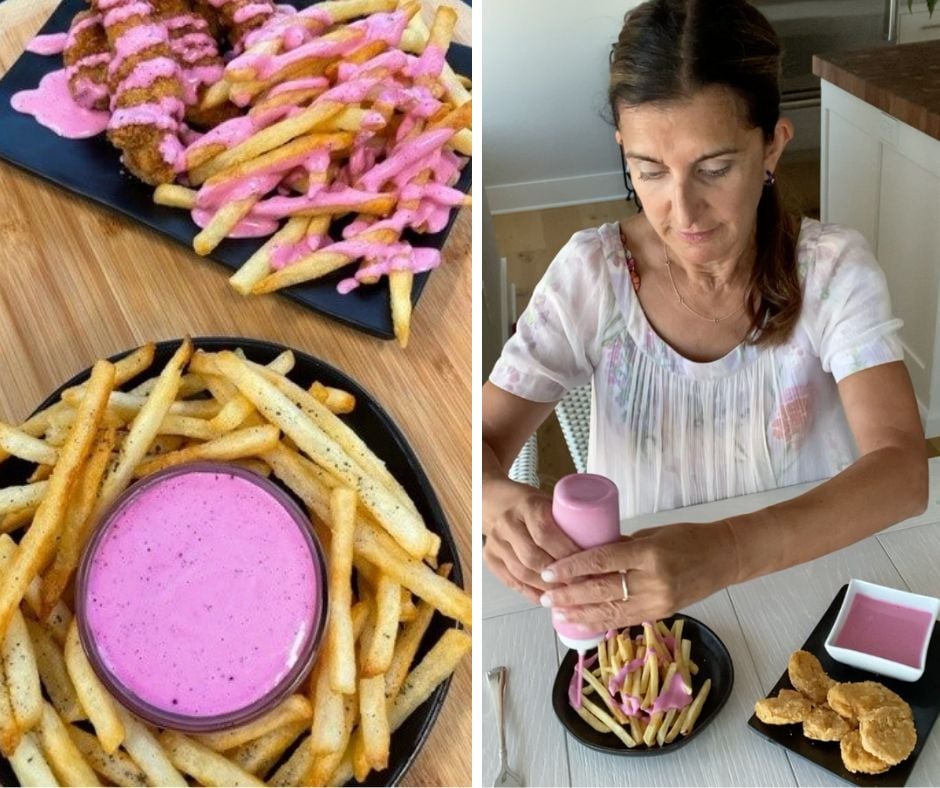 Image Source: Marie Wright
This summer, #PinkSauce took the internet by storm with almost 560 million views on TikTok. We've followed the wild ride from its inception in Chef Pii's Miami kitchen — and a lot of concerns over food safety — to being stocked in stores this fall. But we still haven't gotten a definitive answer on what it tastes like and why, of all the odd things on the internet, there's such a fascination with this condiment. Thankfully, Marie Wright, chief global flavorist at Archer Daniels Midland Co. (ADM), is here with her professional expertise to answer all our Pink Sauce questions.
The Psychology Behind the Pink Sauce Hype
For one, the color pink is having a moment, and it's been building momentum for a while now. "Over the past few years, we've seen consumers gravitate toward a paler pink, known as 'millennial pink,'" Wright says. "It became popular in the food space through items like pink gin, Rosé wine, pink chocolates, macarons, and Himalayan salt."
As the years went by and millennial pink became, well, old news, Gen Z ushered in a new era for the color — something more joyful and less apologetic in its pinkness. And since food is often influenced by pop culture, Wright says, it makes sense that Pink Sauce's almost unbelievable hue was right on trend. "I suspect that Pink Sauce was also inspired by cultural interest in the color from the fashion world," she says. "Think of Zendaya's pink outfit at Paris Fashion Week or the 'Barbiecore' trend."
Studies show that color influences the sensations people perceive when eating. In color psychology, light pink is thought to be a calming color, compared to "hot pink," which is more likely to be seen as bold, exciting, or alarming (the last of which was something Chef Pii experienced firsthand when she unveiled the Pink Sauce on TikTok). "This bright pink that we see in Chef Pii's sauce is different — it emits a positive energy," Wright says. "Overall, I'd say the connotations with this shade are adventurous, fun, and a tad shocking. The French have a saying, 'Voir la vie en rose,' which means, 'See life in pink.'" Basically, there's a reason optimists view the world through rose-colored glasses.
Wright describes herself as "part chemist and part artist," approaching flavors with a deeply rooted belief that original flavor creation is artistry rather than science. "There is a sense of mystery or the unexpected with this shade of pink," Wright says. "Because it's so bright, it's different, and the consumer isn't expecting it." And the creator of the Pink Sauce would agree: "The whole reason why the pink sauce was created was to bring some excitement to food," Pii said on her Instagram.
A Professional Flavorist's Take on Pink Sauce
Chef Pii's original recipe for Pink Sauce listed ingredients like sunflower-seed oil, raw honey, distilled vinegar, garlic, pink Himalayan sea salt, and less than two percent of dried spices, lemon juice, milk, citric acid, and dragon fruit (where the pink color primarily comes from). "When my food science team at ADM is looking to create this color in foods, we often turn to natural ingredients like purple sweet potatoes or beets for natural coloring," Wright says. "Of course, you can also use colors such as Red #3 and Red #40, but consumers prefer natural colors."
Now that Pii is partnering with Dave's Gourmet products to bring the product to shelves, the ingredients have been changed to make "the sauce less complicated," according to the company's press release. While we await this new rendition, ADM's culinary team re-created the sauce using the original ingredient list for a POPSUGAR taste test. Wright has created more than 2,500 flavors for major food and beverage companies. Can she finally solve the mystery of describing what Pink Sauce tastes like?
Upon trying it, Wright's first words after a spoonful of sauce were: "Wow, that is interesting." After dunking a chicken nugget into the sauce, she said the buttermilk makes it "very creamy and buttery."
The dragon fruit contributes a bit of sweetness as well as the iconic color. "You don't taste big fruit, but you have a fruity back note that's kind of sweet," she says. "There is also a mild heat with the little bit of chili, cayenne pepper, in there, and a slight acidity — rice vinegary, lemon-juice-like — which is nice." All in all, if she had to describe it, Wright says "it's like a twist on ranch [dressing]" — a tangy, slightly sweet twist on ranch.
As for her approval? "You'd think pink would be off-putting, but it's not," Wright says. "We had a number of people taste it at ADM, and everyone really liked it. They were surprised." Ultimately, she says, "I think Pink Sauce could be a trend to stay."