Copycat In-N-Out Animal-Style Double-Double Cheeseburger
Skip the Drive-Through — This Copycat In-N-Out Animal-Style Cheeseburger Looks Amazing
Every once in a while, a fast-food craving hits that can't be satisfied by anything other than a good ol' fashioned cheeseburger and fries. For In-N-Out fans, TikTok user @thefeedfeed has a copycat Double-Double Animal-Style Cheeseburger recipe that you can make at home with a few simple ingredients you probably already have in your kitchen. With so many simple ingredients, the real star of the show is the sweet and tangy animal-style sauce, which is composed of mayo, whole-grain mustard, ketchup, and a few other basic add-ins.
Best of all, you can also cook up some animal-style fries at the same time. If you feel like mixing up restaurant chains, you could also whip up a batch of Five Guys' cajun french fries as a worthy side dish for this cheesy homemade treat. For anyone looking to skip the drive-through — or if you don't have an In-N-Out restaurant nearby — see how to make the iconic burger for yourself ahead.
Copycat In-N-Out Animal-Style Double-Double Cheeseburger
TikTok user @thefeedfeed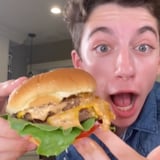 Ingredients
For the Animal-Style Sauce:
2 tablespoons whole-grain mustard
1/2 cup mayonnaise
1/2 cup ketchup
1/4 cup diced pickles
1 tablespoon red wine vinegar
1 tablespoon sugar
Pepper
Salt
For the Onions:
1 tablespoon olive oil
1/2 white or yellow onion (sliced)
Salt
For the Cheeseburger:
1 white bread bun
2 slices American cheese
2 beef patties
Lettuce leaves
Sliced tomato
Sliced pickles
Pepper
Salt
Directions
For the animal-style sauce, add the mayo, mustard, ketchup, red wine vinegar, sugar, and pickles to a medium-size mixing bowl.
Using a fork, whisk until thoroughly combined. Add salt and pepper to taste. Set aside.
In a pan on medium heat, add two beef patties. Season with salt and pepper while they cook for about five minutes on each side.
Once the patties are cooked, layer a slice of American cheese on top of each one. Cover the pan with a lid to trap in the heat and melt the cheese.
In a separate pan over medium heat, add some olive oil and your sliced onions.
Season the onions with salt, and stir frequently until the onions have caramelized slightly, about 10 minutes.
To build the sandwich, layer the sliced pickles, tomato, and lettuce on the bottom bun.
Stack a cheese-covered patty on top, and add a spoonful of animal-style sauce. Repeat with an additional patty and spoonful of sauce.
Top the finished burger with caramelized onions and a final bun. Enjoy!
Information
Category

Main Dishes, Beef

Yield

1 cheeseburger

Prep Time

10 minutes

Cook Time

15 minutes

Total Time

24 minutes, 59 seconds