Chrissy Teigen's Chinese Chicken Salad Summer Rolls Recipe
I Can't Stop Eating Chrissy Teigen's Chinese Chicken Summer Rolls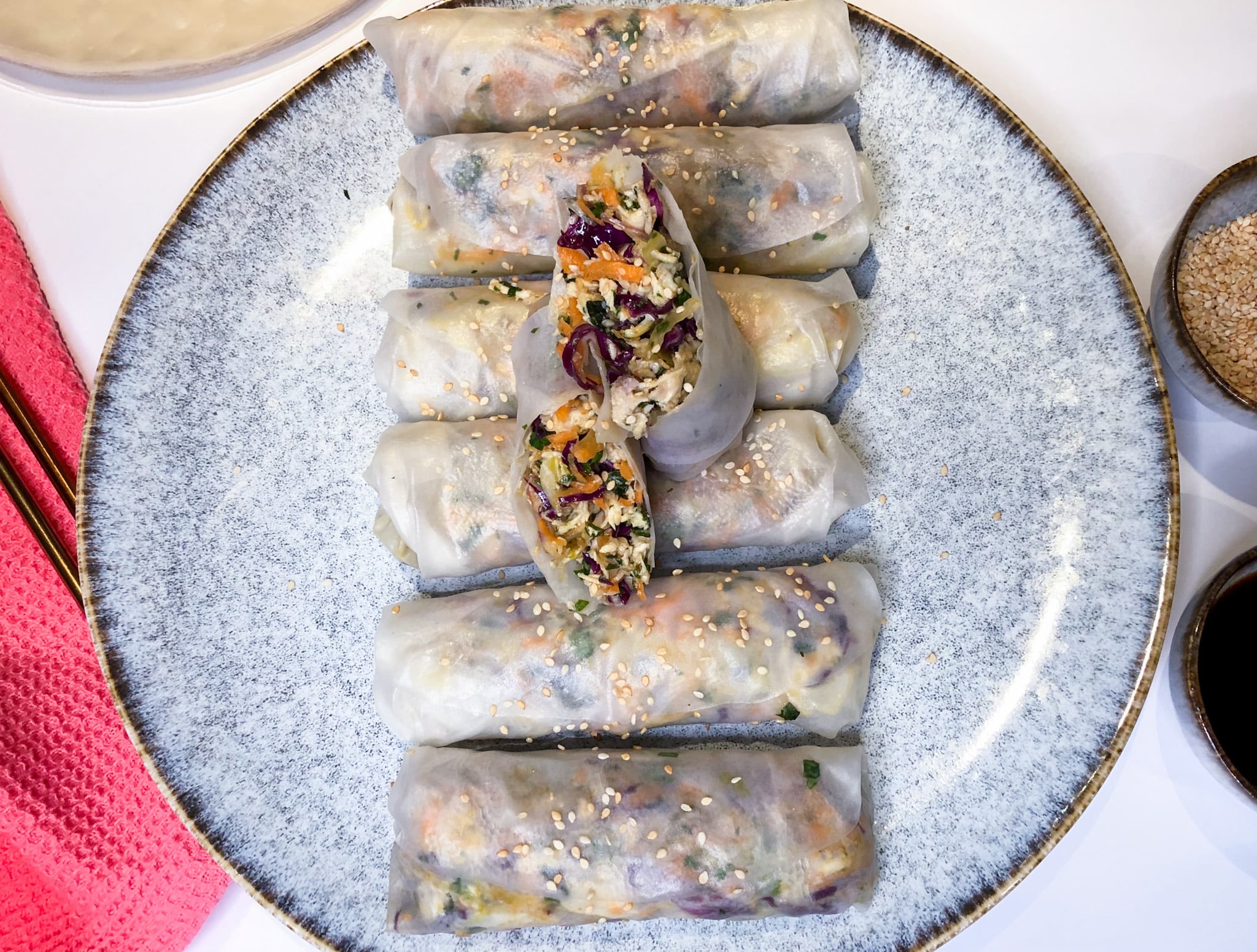 Crunchy and sweet with just the right amount of spice, these healthy Chinese chicken salad summer rolls by Chrissy Teigen are the perfect warm-weather treat to add to your picnic basket or family's next dinner menu. Not only are they simple to make, but they are stuffed to the brim with nutrient-rich veggies such as carrots and purple cabbage. These rolls are crunchy and chewy, small and transportable, and require no additional tools for eating beyond two fingers for carrying them from the plate to your mouth.
Make sure to only dress these rolls lightly if you don't plan on eating them right away to avoid unwanted sogginess. Store the remaining dressing in the fridge and use as a dipping sauce for your rolls when you are finally ready to devour them. If you have left over filling, you can also eat it alone as a crunchy salad.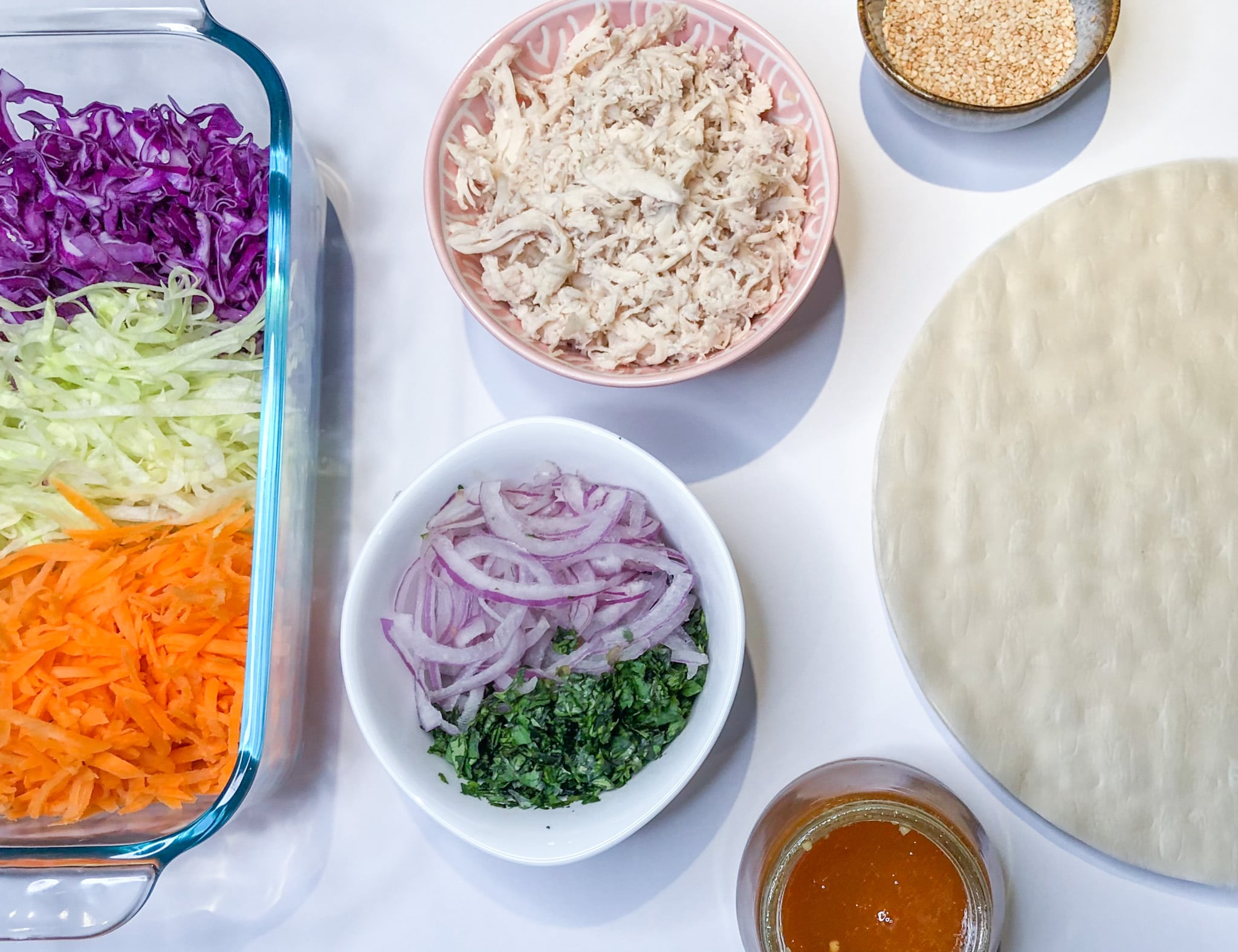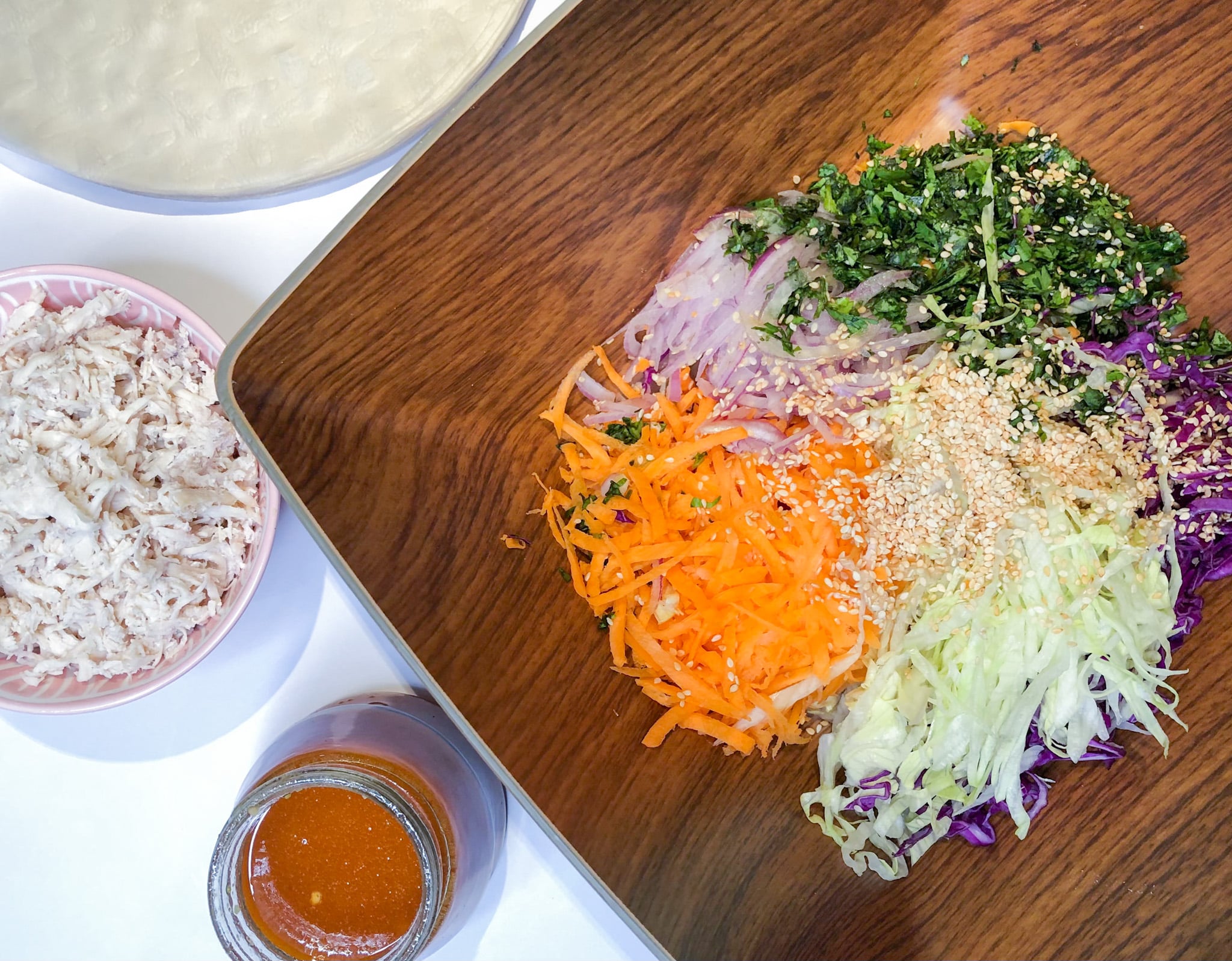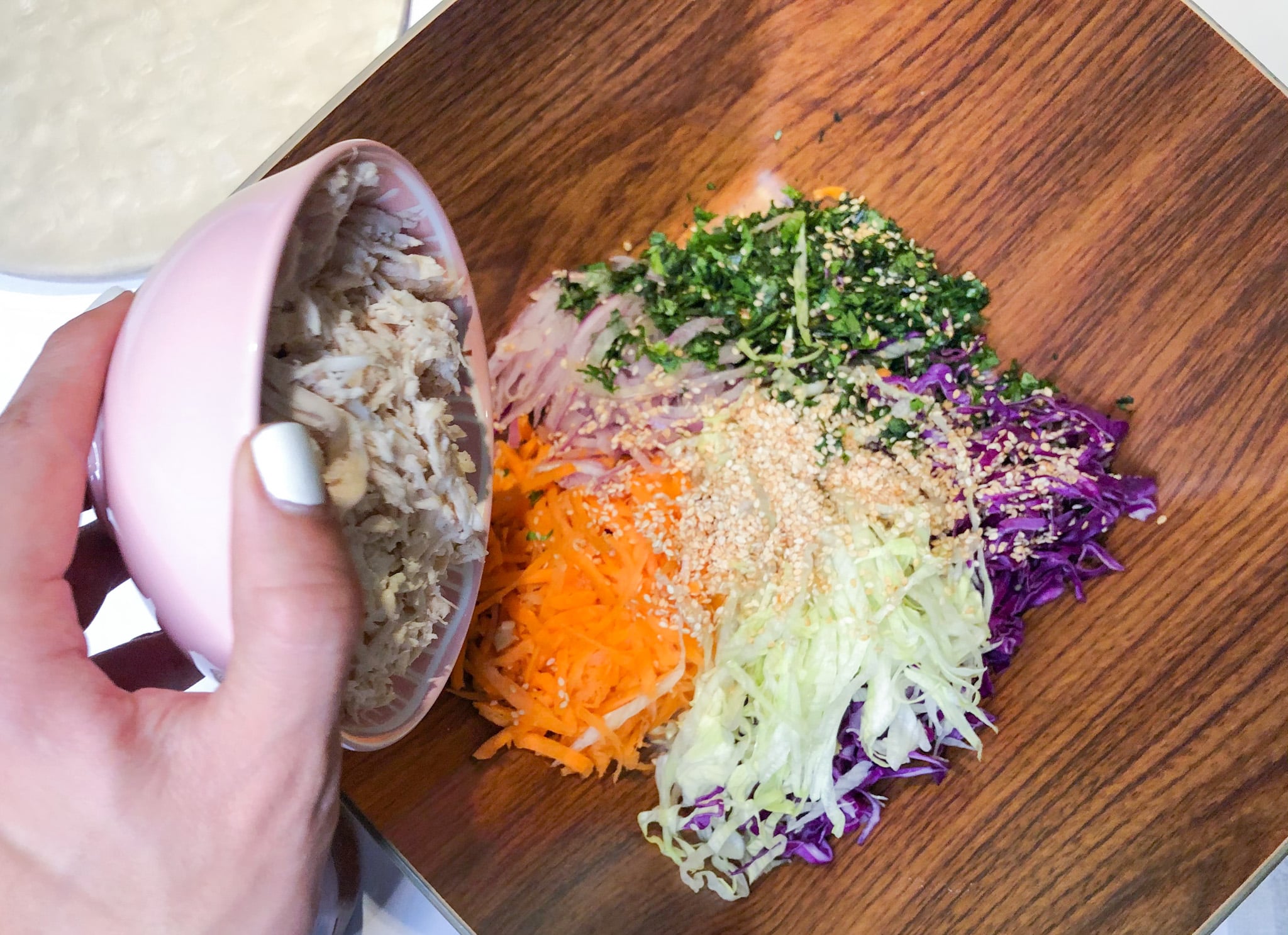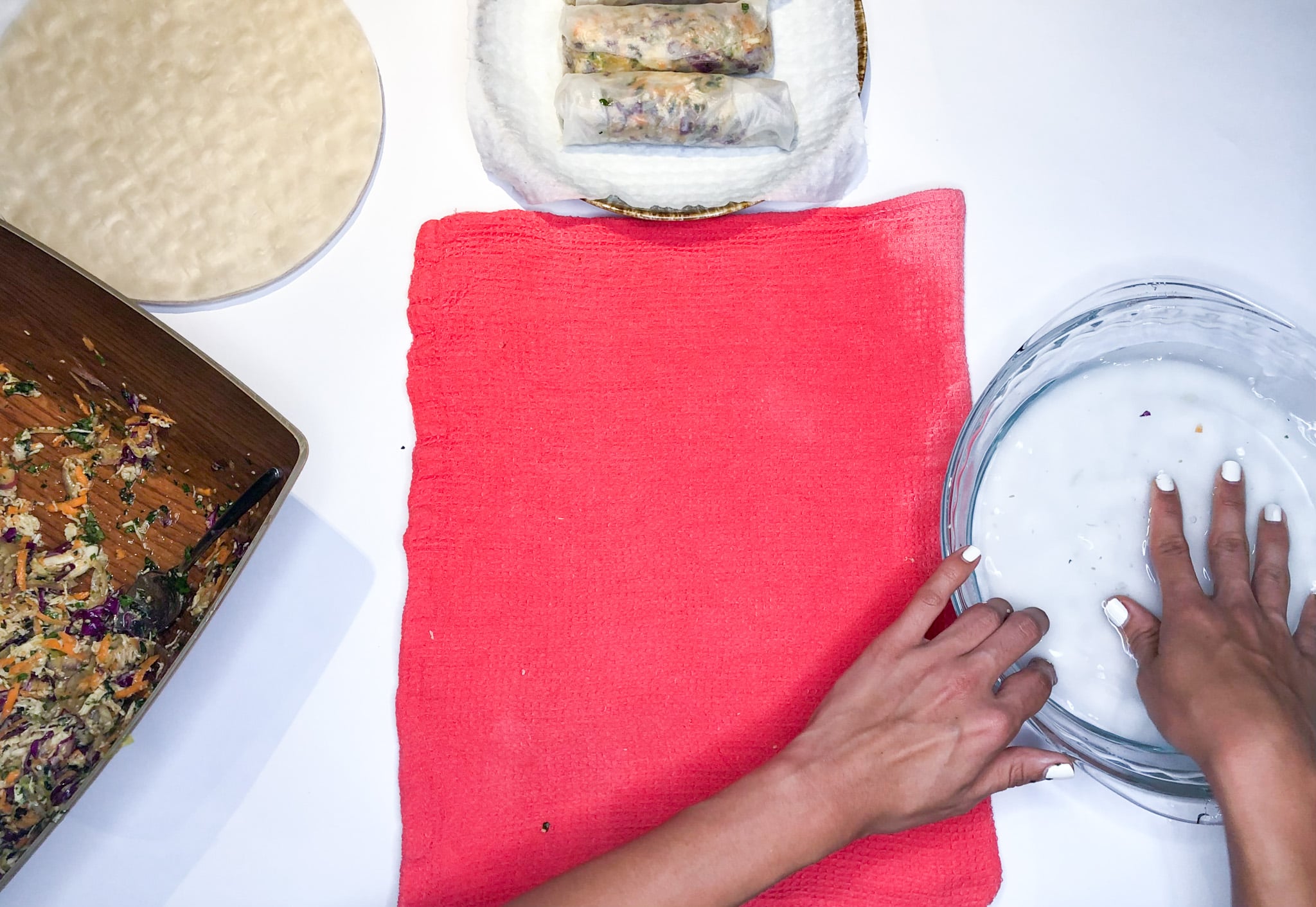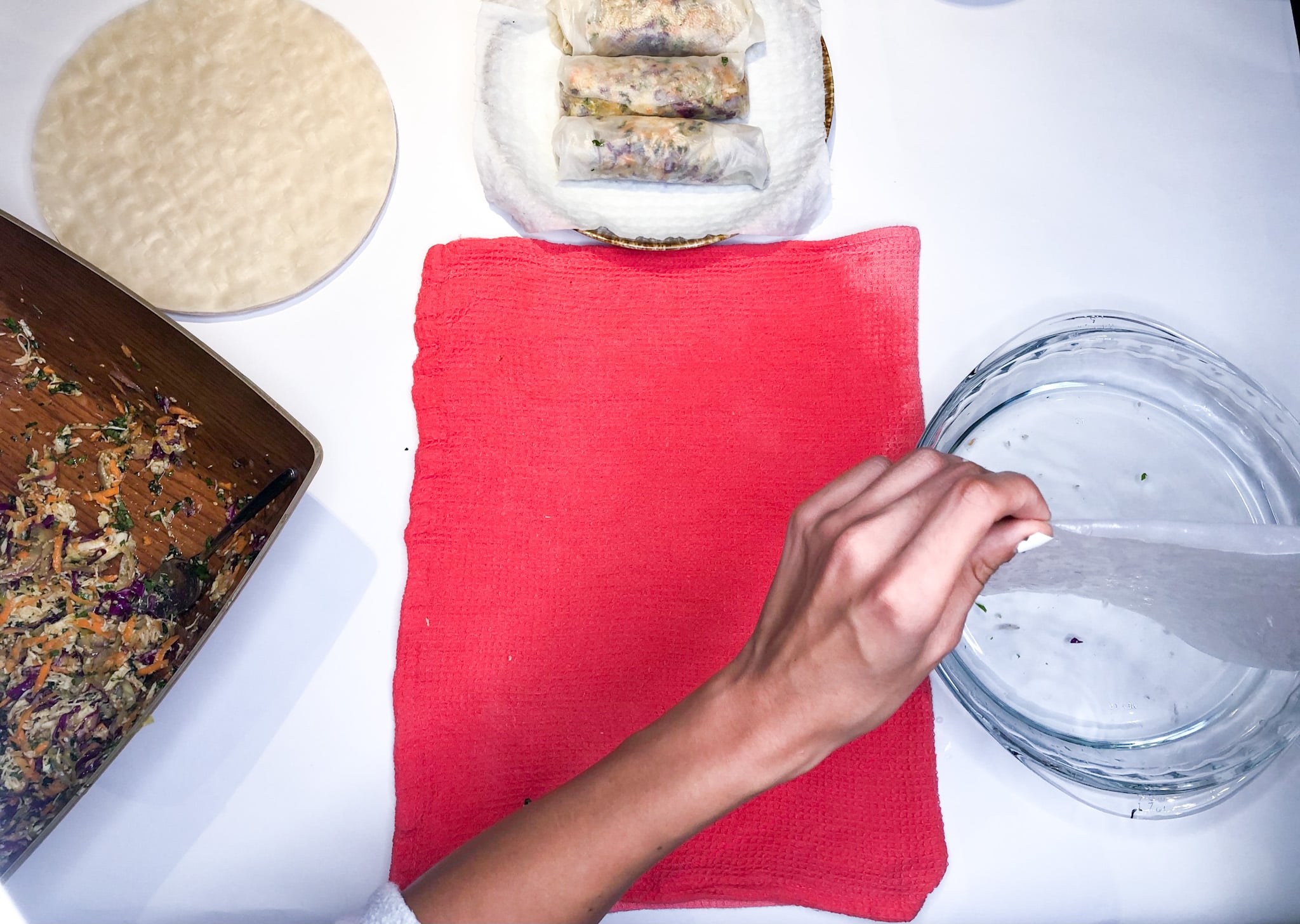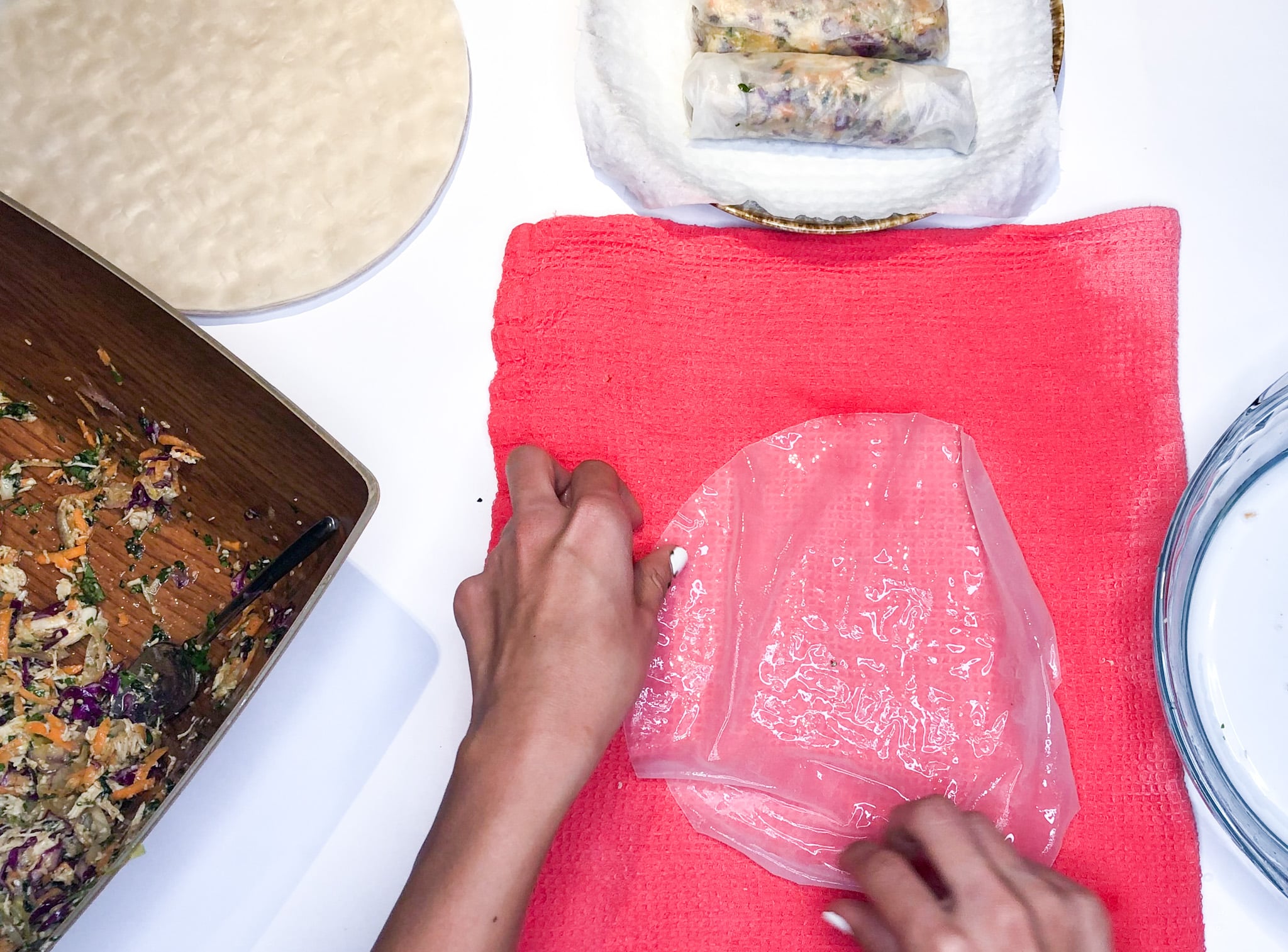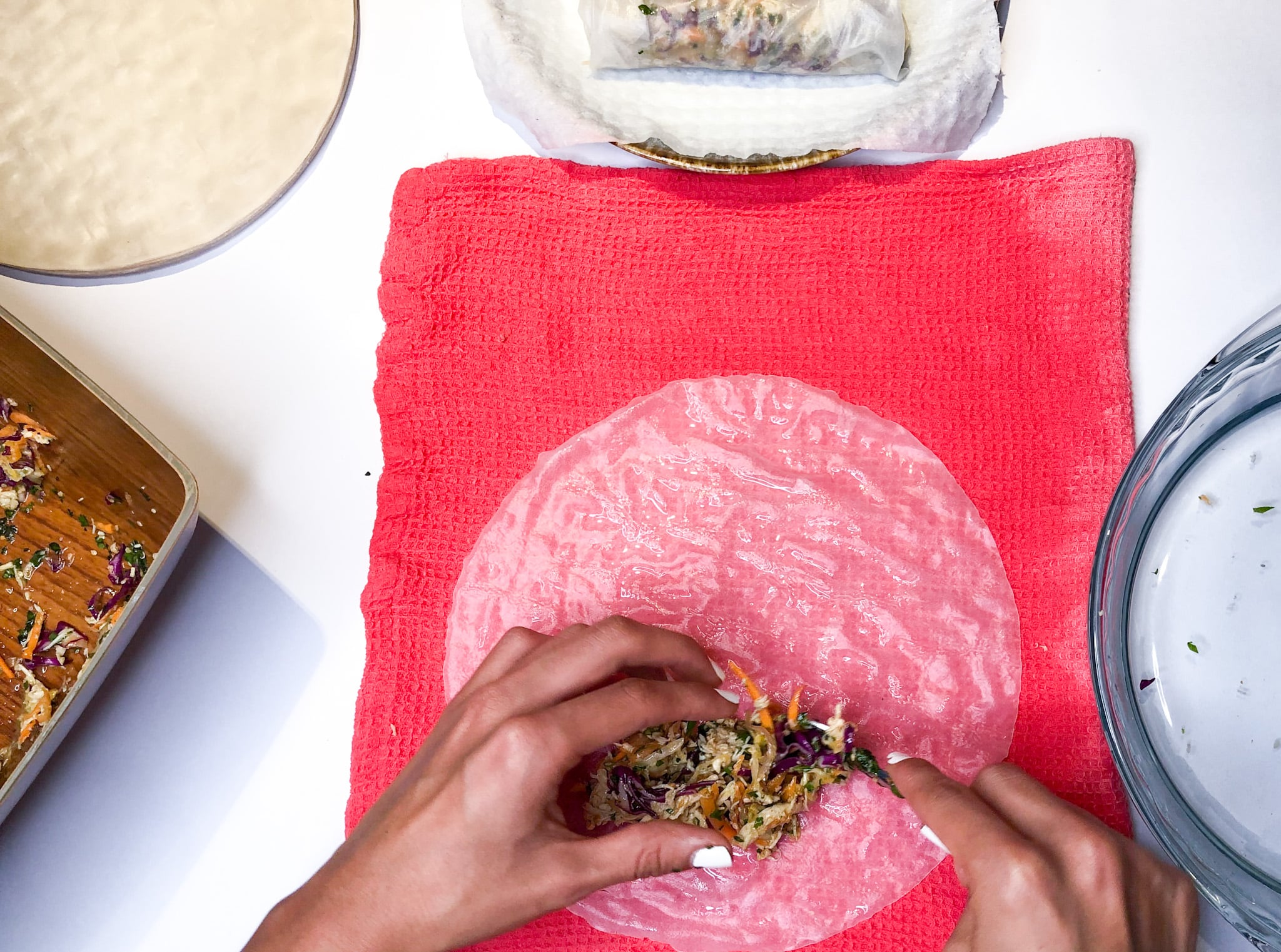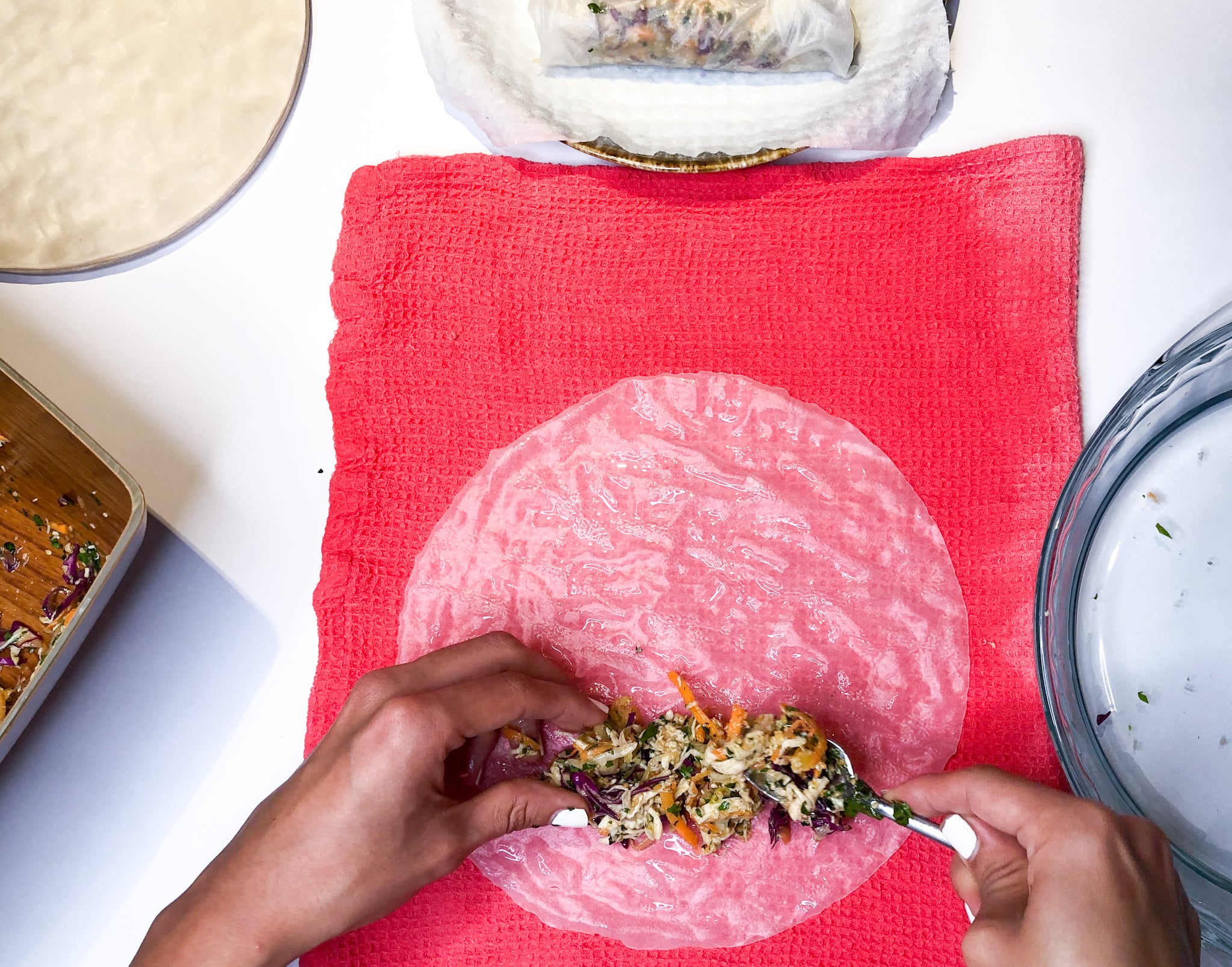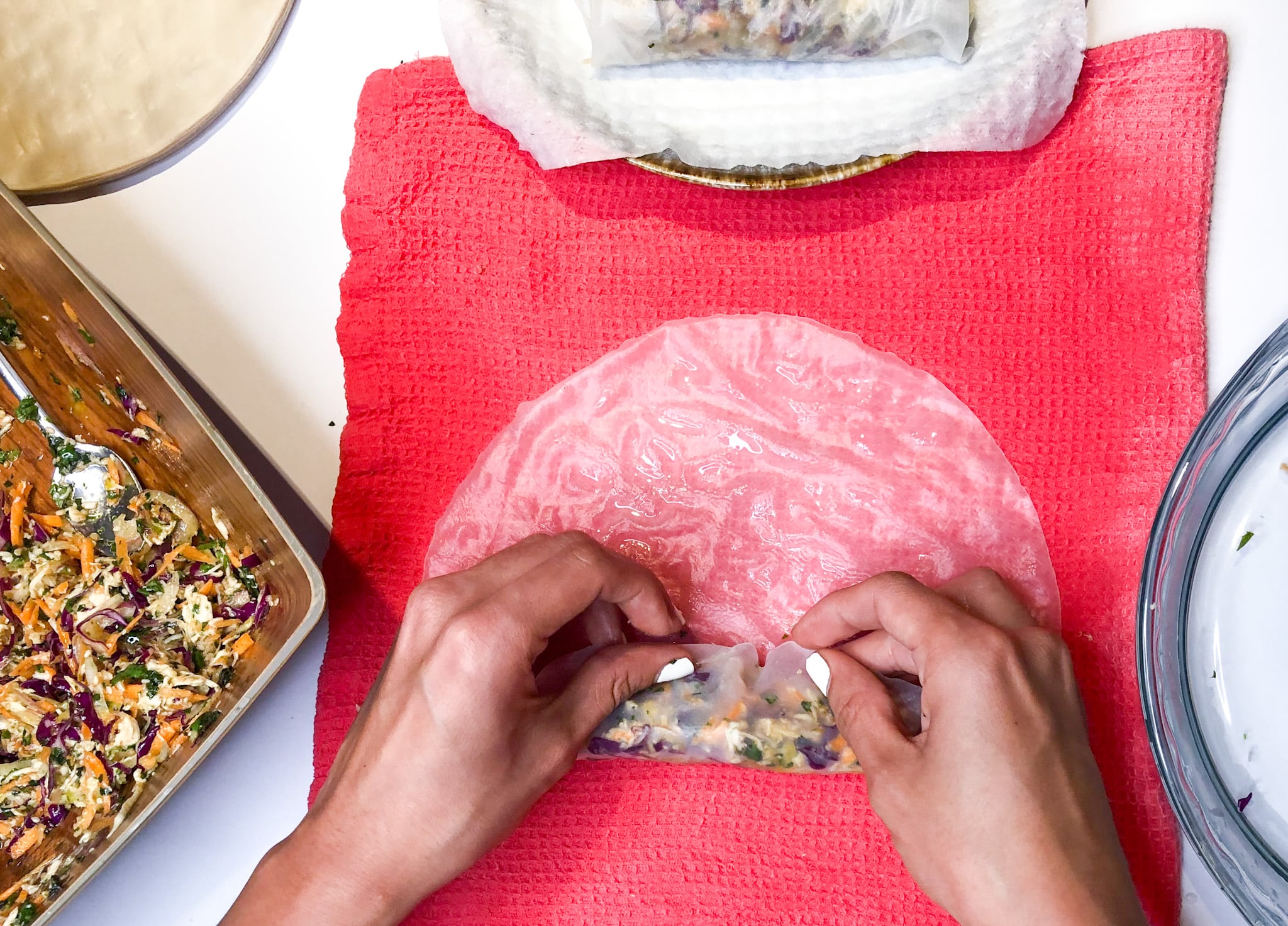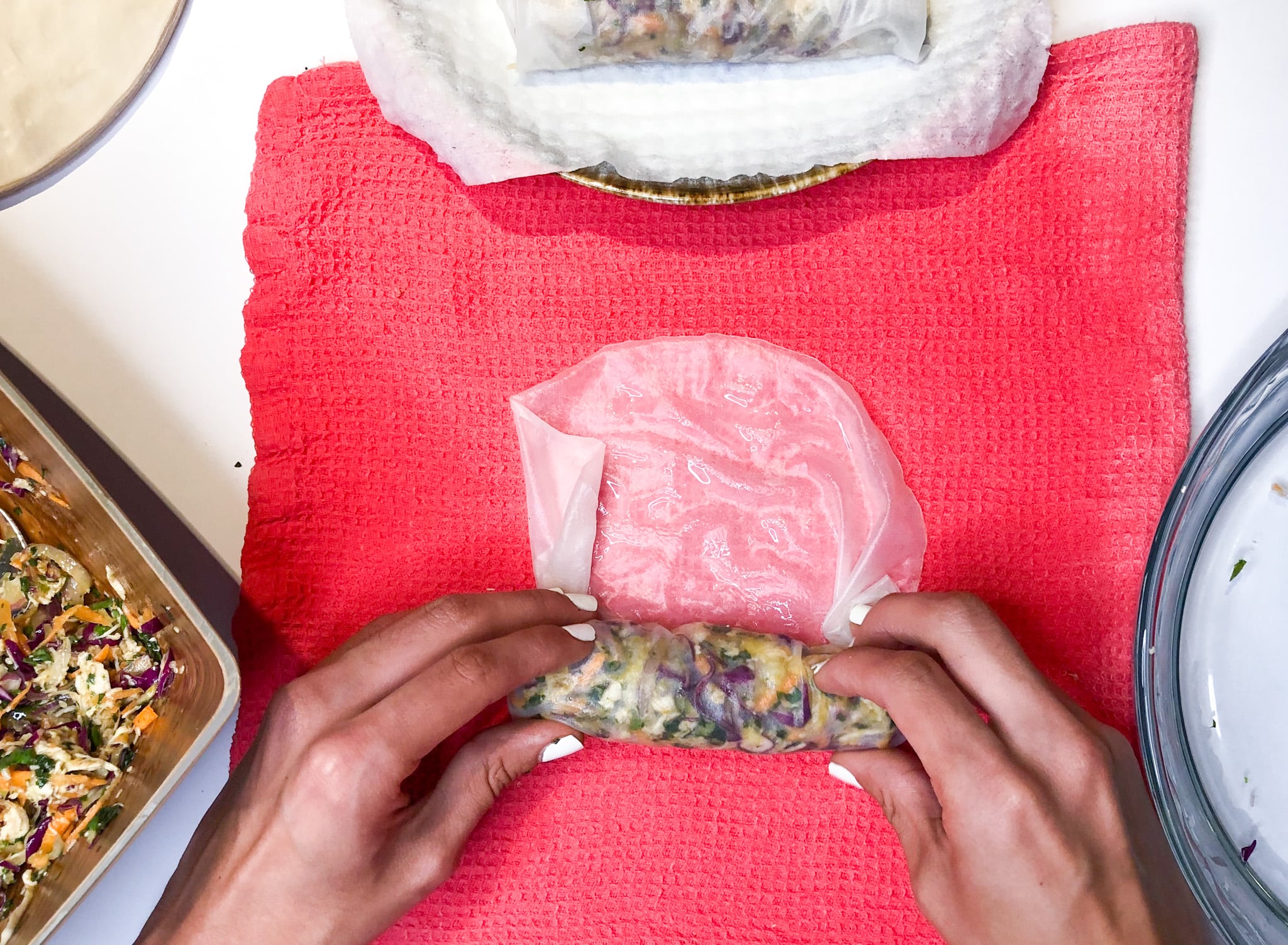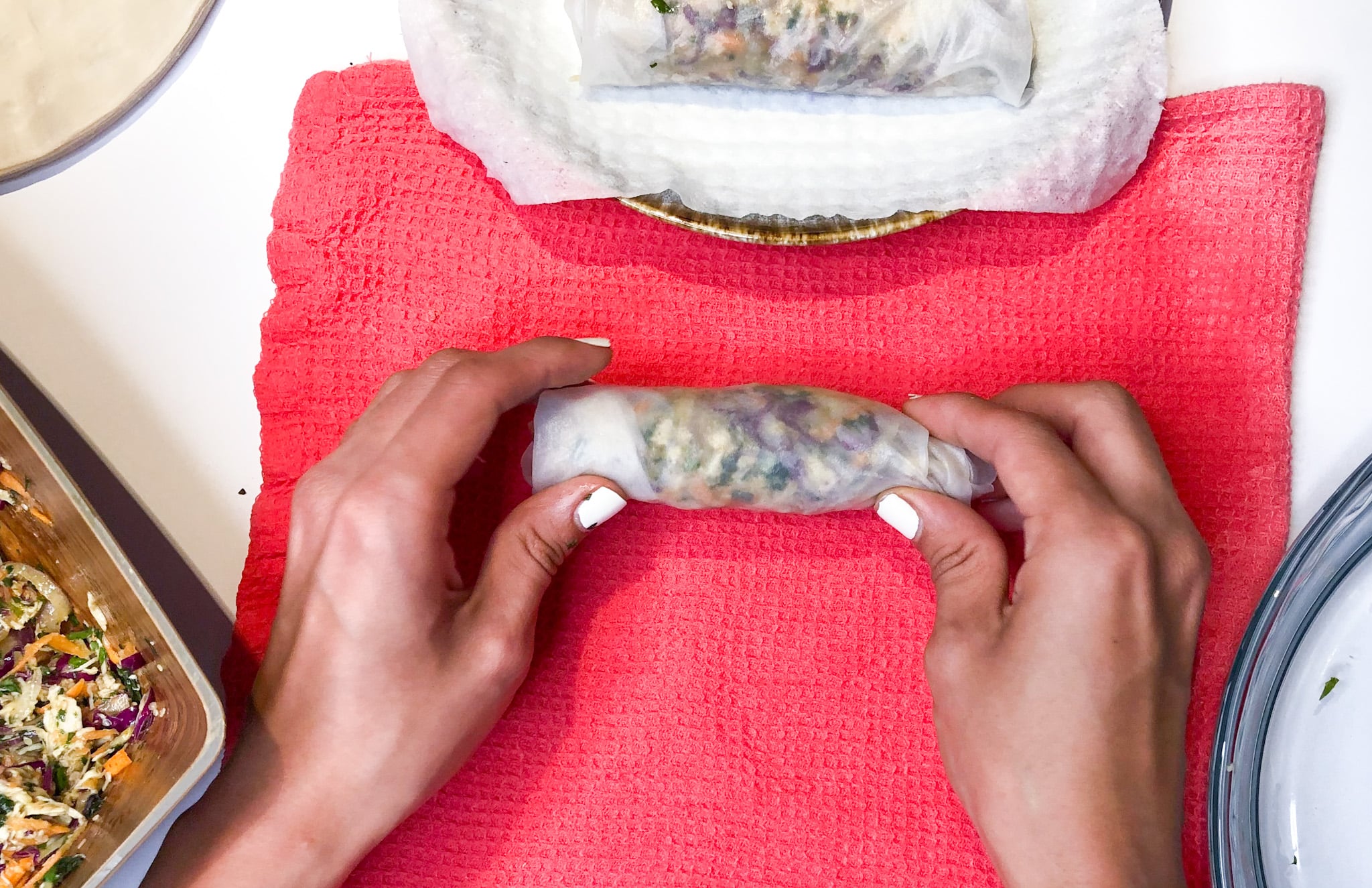 Chinese Chicken Salad Summer Rolls
Cravings by Chrissy Teigen
Notes
TIP: If you are making the rolls and then serving within a few hours, you don't need to wrap them in towels. Line the bottom of a reusable container with a few pieces of lettuce, arrange the rolls on top with some space in between, fill the spaces with a little shredded lettuce, and then top with another piece of lettuce. Cover and carry to a sunny-day picnic! The filling can also be eaten as a salad without being wrapped.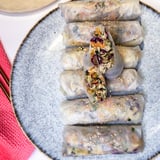 Ingredients
For the Dressing:
• ⅓ cup peanut or vegetable oil
• ¼ cup rice vinegar (not seasoned)
• 1½ tablespoons spicy mustard
• 1 tablespoon soy sauce
• 1 tablespoon honey
• 1 tablespoon sriracha
• 2 teaspoons sesame oil
• 2 teaspoons finely minced garlic
• ½ teaspoon fine sea salt
For the Filling:
• 6 ounces cooked skinless chicken breast, shredded (1 cup)
• 1 cup shredded crunchy lettuce, such as romaine or iceberg
• 1 cup shredded red cabbage
• 1 cup shredded carrots
• 1 cup picked cilantro leaves
• ½ cup thinly sliced red onion
• 2 tablespoons toasted sesame seeds
For the Summer Rolls:
• 8 (8-inch) round rice paper wrappers
• ½ cup crunchy restaurant-style wonton strips or noodles
Directions
Make the Dressing:
Put the oil, vinegar, mustard, soy sauce, honey, sriracha, sesame oil, garlic, and salt in a jar, seal tightly, and shake to thoroughly combine; you should have just under 1 cup dressing. Alternatively, you can whisk all ingredients together in a bowl.
Make the Filling:
Combine the chicken, lettuce, cabbage, carrots, cilantro, onion, and sesame seeds in a large bowl and toss with about one third of the dressing. NOTE: If you plan on traveling with the summer rolls, dress lightly so they don't get soggy.
Make the Summer Rolls:
Clear a large work area and fill a clean 8- or 10-inch skillet or pie plate with warm (but not boiling) water; replenish with more warm water to maintain temperature as necessary. Arrange a damp clean towel on your work surface. Submerge one rice paper wrapper in the warm water and moisten until it begins to soften but is not completely translucent, 15 seconds (it will continue to soften when removed from the water). Remove from water and place on the damp towel. Work with one rice paper wrapper at a time or they will stick together.
Arrange ½ cup of the filling in a row 2 inches wide and 4 inches long, about 2 inches from the bottom end of the wrapper. Nestle a few wonton strips inside the filling. Gently pull the bottom of the wrapper over the filling, then fold in the sides as though making a burrito. Roll up and place on a plate lined with a damp paper towel to prevent sticking. Repeat with remaining wrappers and filling, covering with a new layer of damp paper towel if you stack them. Serve with the remaining dressing for dipping. To store, wrap each summer roll in a damp paper towel to keep them from drying out or sticking together and place in the refrigerator for 1–2 days.
Information
Category

Main Dishes

Yield

8 servings