Bonne Maman Is Selling a Jam Advent Calendar For the Holiday
The Countdown to Christmas Just Got Sweeter With This Adorably Festive Bonne Maman Advent Calendar
As POPSUGAR editors, we independently select and write about stuff we love and think you'll like too. If you buy a product we have recommended, we may receive affiliate commission, which in turn supports our work.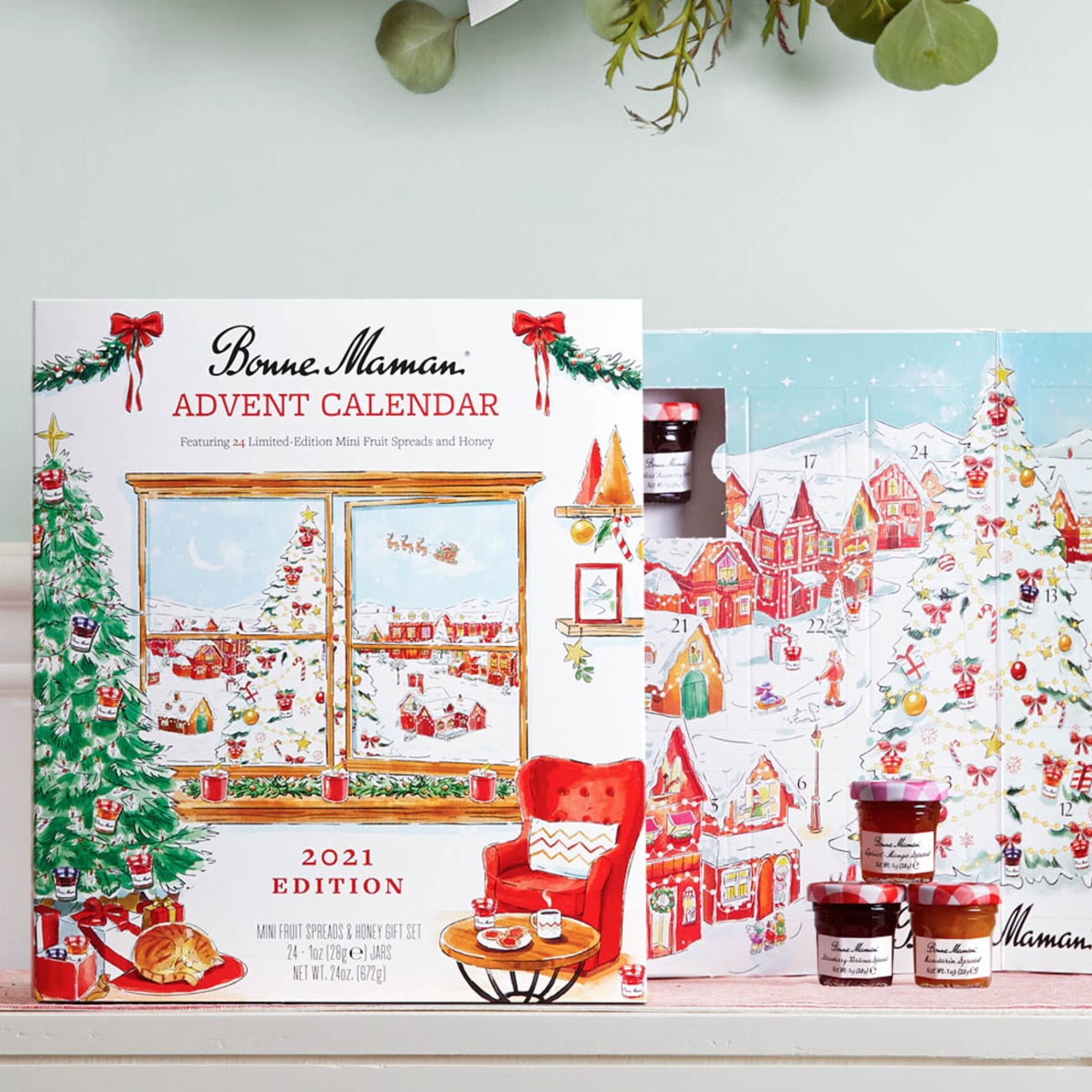 'Tis the season to eat all the sweets, and my mouth is watering just thinking about Bonne Maman's jam advent calendar! Everyone knows that jam is the best part of the sandwich, toast, biscuit, or cookie. But did you know that it's also the best part of the holiday season? The Bonne Maman Limited Edition 2021 Advent Calendar ($35) so effortlessly combines rich, fruity tastes with the magic of Christmastime.
The holidays are the perfect time for baking, celebrating, and giving gifts, which is what makes this advent calendar so wonderful. The festive calendar is a box featuring a richly illustrated holiday picture on the front, with a cozy indoor coffee-and-jam scene by the Christmas tree — complete with beautiful jam ornaments. Open the box to see a stunning winter wonderland, with a huge snow-covered tree in the center and a twinkling holiday village. This scene is sprinkled with 24 numbered doors to help you count down the days until Christmas, and each one contains a tiny jar of jam or honey that looks absolutely delicious.
And this isn't just any old jam either. The advent calendar will surprise and delight its lucky recipients with unique jam flavors such as cherry with hibiscus flower, sweet orange and passion fruit, peach with jasmine, wild blueberry with lemon balm, raspberry with rose, and more. Bake them in cookies, spread them on biscuits, mischievously enjoy a tiny spoonful straight from the jar — no matter your preference, the sweet, creamy Bonne Maman jelly and honey will become the daily treat you look forward to most this holiday season.
If you are considering buying this jam advent calendar, don't delay. Bonne Maman warns these calendars sell out quickly, so be sure to order soon. Just imagine how many delicious treats you can make with 24 unique flavors of jam and honey! As you try out sweet new recipes, your neighbors, coworkers, and friends are going to be just as excited you got the calendar as you are. And if the spreads taste anywhere near as good as the advent calendar looks, you're sure to be in for a treat, too.