Tips on Running a Virtual Race
5 Tips to Help You Run Your Best Possible Virtual Race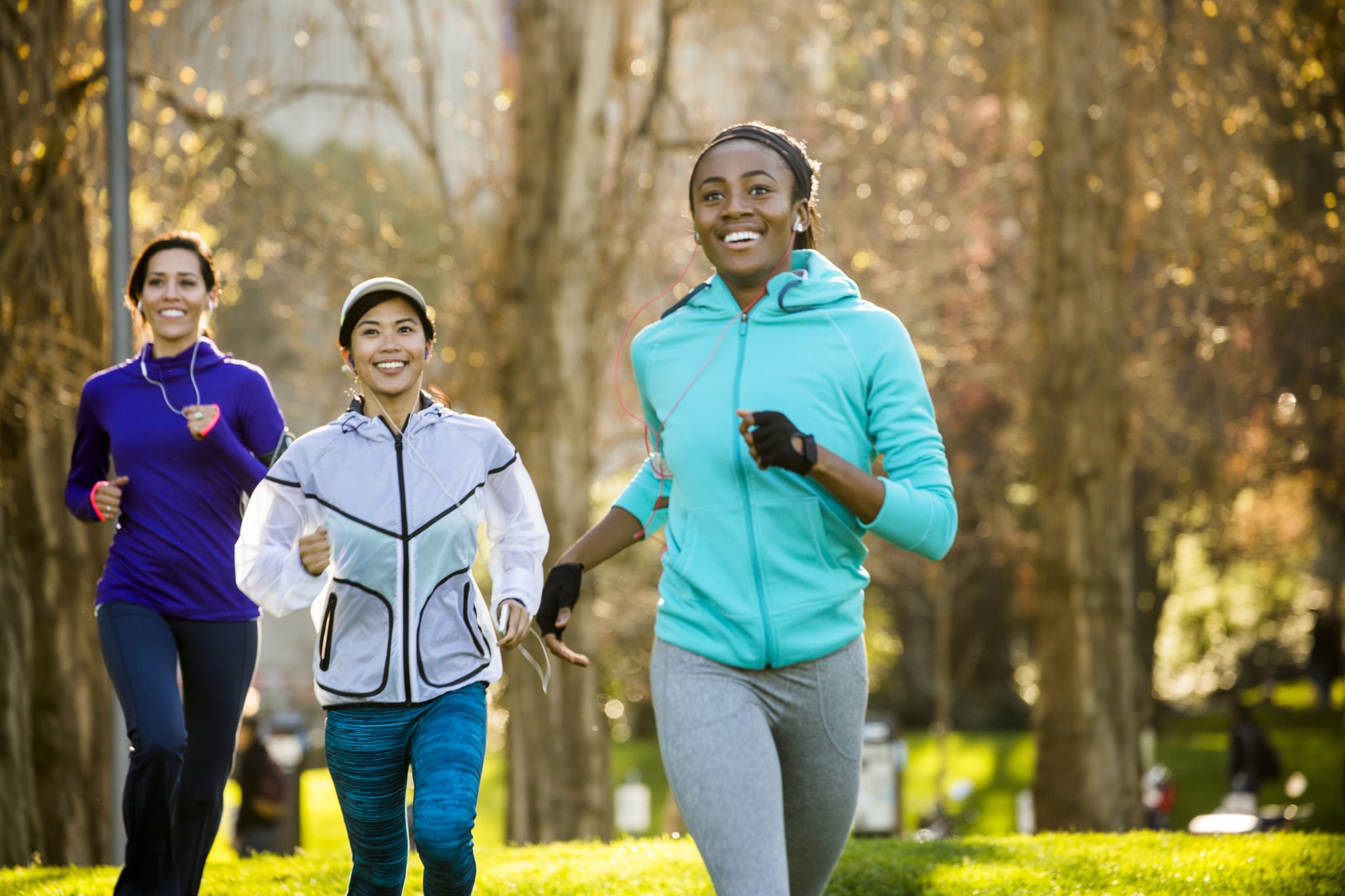 I'm an avid runner, but virtual races were never really on my radar — until last year. As our new pandemic reality set in, my running regimen become increasingly sporadic and half-assed. I still loved getting out the door for a run, but I was lacking the motivation to push hard on tempo days or take on hill repeats, let alone run more than two or three miles at a time. So when the Nike team asked if I wanted to train for a virtual 5K, I figured it might be just the thing to help shake me out of my rut.
While virtual races might sound less than thrilling on the surface, they do come with their benefits. You can usually choose to run the race whenever and wherever you want (within a certain time frame, of course.) They've also become a great fundraising tool, since they allow nonprofits and other charitable organizations to garner donation-based sign-ups from all over the country or even the world. Beyond that, they're a great way to set a goal and stay motivated during a time that, for many of us, has been more challenging than ever. According to Running USA's latest statistics, more than 1 in 4 runners took part in a virtual race in 2019; a number that's almost certainly grown during the pandemic.
After a three-month training program guided by Nike Running Coach Jes Woods, I set out on my solo 5K challenge a couple of Saturdays ago — and I definitely learned a few things along the way. Woods is also no stranger to virtual racing, having recently taken on a virtual version of Big's Backyard Ultra. The race consists of a four-mile loop every hour, on the hour. "It was just so silly," she told POPSUGAR with a laugh. "It's not a real race. No one's watching me. But I had to start my four-mile loop on the hour, so I was dashing out of the house with my shoes, trying not to be late." Talk about holding yourself accountable.
Read on for advice from Woods, a professional, and me, a total amateur, on how to make your own virtual race fun and rewarding.
1. Choose Wisely — and Don't Blow Off Your Training
Find a virtual race that offers something new and fun to help keep you motivated. "It has to make you excited. Find one that's either a fun distance, something you've never tried before, or a different goal you've never tried before," Woods says. You can also find a race that supports a cause you care about. Woods says to seek out "something that's going to put a little fire in your belly — because these things are pretty tough to do."
And remember, that half-marathon you signed up for is virtual, not imaginary, so don't skimp on your prep. Not only will training make the race-day experience more enjoyable (rather than painful), but training helps you avoid injury. Because I was bouncing back from a bad calf strain as I started prepping for the 5K, I was even more intentional about sticking to the plan Woods laid out for us, doing my physical therapy exercises religiously, and getting enough rest. Sure, getting hurt in a race sucks no matter what, but I knew I'd feel especially silly to get injured in a race against . . . no one. If you don't have access to your own world-class coach like Woods, find a training plan online and stick to it. I recommend Strava, where training plans just cost a few dollars a month to access.
2. Prep Your Gear the Night Before
You may feel like a dweeb, but if your virtual race sends you a racing bib in the mail, wear it! Even if you don't have a bib, Woods recommends laying out your race kit the night before, just like you would for a traditional race. That way you'll feel prepared and send your brain the signal that it's go time.
3. Wrangle Your Friends as Cheerleaders or Pacers
Just because you're not running as part of a crowd doesn't mean you can't use some support. In fact, you probably need it more than ever. I asked my boyfriend to pace me for the last mile-and-a-half of my 5K, which ended up being the moral support I needed to finish strong. If you're running a half-marathon, see if a running buddy will set up a mini aid station where you can guzzle water and grab an extra gel. Having other people cheering you on or running alongside you, even briefly, can give you a major mental boost. If you're truly going it alone, the Nike Run Club app offers race-specific audio guided runs that cheer you on and coach you through your race.
4. Plot Our Your Course and Start Time in Advance
One other challenge of a virtual race: no one is going to block off any roads for you. (Rude, right?) So, do yourself a favor by plotting out a course with minimal stoplights and interruptions, and know it by heart before you set out on your run. It also helps to set a race start time to help things feel more "real" and to hold yourself accountable.
You can use an online tool like Map My Run to make sure your course will hit the exact mileage you need to hit. I live in LA and was able to drive to Santa Monica and run my 5K uninterrupted along a beach path. That said, if you're in a highly trafficked urban area, hitting some lights along the way might just be unavoidable — please, stop at them. Which leads us to our next tip . . .
5. Don't Expect to Set a Personal Record
Even if you follow all of these tips, virtual races just aren't the same as the traditional races you may have run in the past. You'll be missing the adrenaline rush that comes with toeing the line with hundreds or thousands of other runners, the energy of the roaring crowds that can push you to dig just a little deeper at the finish line, and there's no guarantee that you won't be forced to stop at a light and pause your watch. Personally, I wish I had given myself a little more grace to internalize this before my own 5K. I had it in my head that I should be able to run a similar time to that 5K where I placed third two years ago, when I was at peak shape. Reader, that did not happen. Instead, I ran about :25 seconds slower per mile than I'd hoped.
But just because you might not be able to run as quickly as you did in a "regular" race — or before the pandemic — doesn't mean your virtual race wasn't worth it. Remind yourself, Jes says, that "who I am today is who I am today." And celebrate yourself for a job well done! Jes suggests donuts or ice cream, and who am I to argue with a pro?
Image Source: Getty / Adam Hester