Serena Williams Discusses Motherhood With Meghan Markle
Serena Williams Uses French Open Anecdote to Question the Work-Life Myth For Moms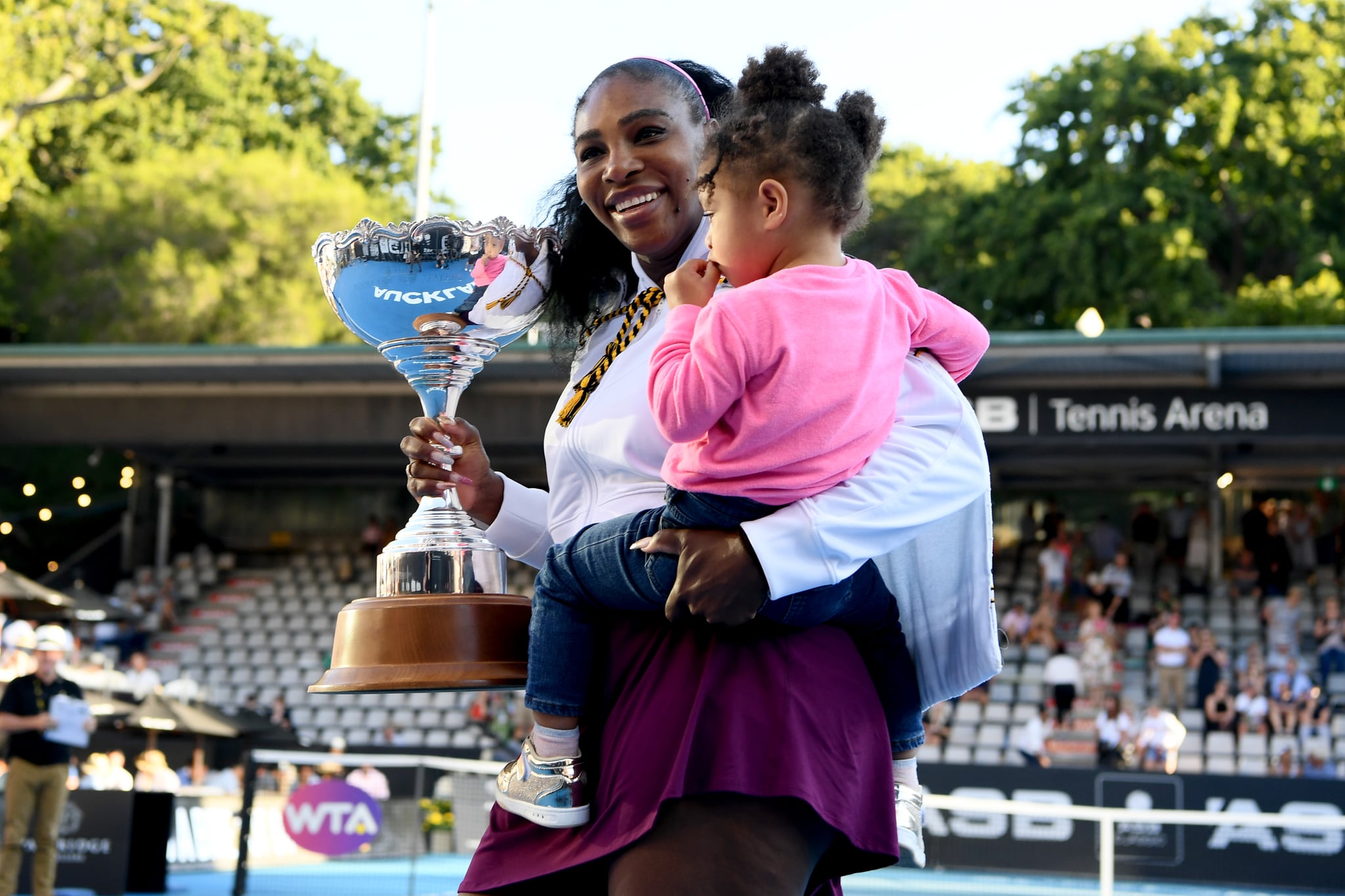 Serena Williams scoffs at the myth of the work-life balance. A few weeks after announcing her retirement from tennis, the athlete and entrepreneur appeared on the premiere of Meghan Markle's podcast, "Archetypes." The longtime friends spoke about the profound joys — and demands — of motherhood. In the debut episode released Aug. 23, Williams also opened up for the first time about playing a Grand Slam match the morning after having to take her daughter, Olympia Ohanian, to the hospital.
"I'll never forget. This was a crazy experience. I don't think I've ever said anything about it publicly," Williams said before sharing the worrisome circumstances surrounding her appearance at the 2018 French Open — coincidentally, the same year she made headlines for her catsuit on the court. The night before an early morning match, Williams witnessed her daughter, who was less than a year old at the time, fall out of her high chair, causing a small break in her wrist. "I was just basically devastated. I literally couldn't think. I felt so guilty."
"I took a lot on, but moms do a lot."
Williams rushed Ohanian to the hospital, where she was given a cast, and they didn't return until 4 a.m. "I remember holding her the whole night and just rocking her to sleep. I didn't let her out of my sight at that point. I'm hard on myself, and I'm a little bit of a perfectionist, but I was so mad at myself for even allowing that to happen," Williams said. "I think I got 30 minutes of sleep, and then I had to go play this match. I'm just thinking, 'How am I going to play?'"
Williams managed to win that match, but she described feeling "spent" and "drained" emotionally. She said, "I took a lot on, but moms do a lot." Markle encouraged Williams: "You are such an amazing mom. . . . When you went and played that match the next morning, no one knew what your night had been like the night before. They forgot that human piece of it." Williams responded, "I would drop anything at any time to do whatever I had to do for Olympia — middle of a Grand Slam final, I would leave if I had to."
Though she feels conflicted about the end of her professional tennis career, Williams is looking forward to focusing on her family. "I really want to expand my family. You know I've been putting it off for so long. As a woman, there's only so long you can put that off. Other men out there can continue to play," Williams said. "But I love being a woman; I loved being pregnant. I was one of those."