Selma Blair Makes Emotional Dancing With the Stars Debut
Selma Blair Hands Off Her Cane in Emotional "Dancing With the Stars" Moment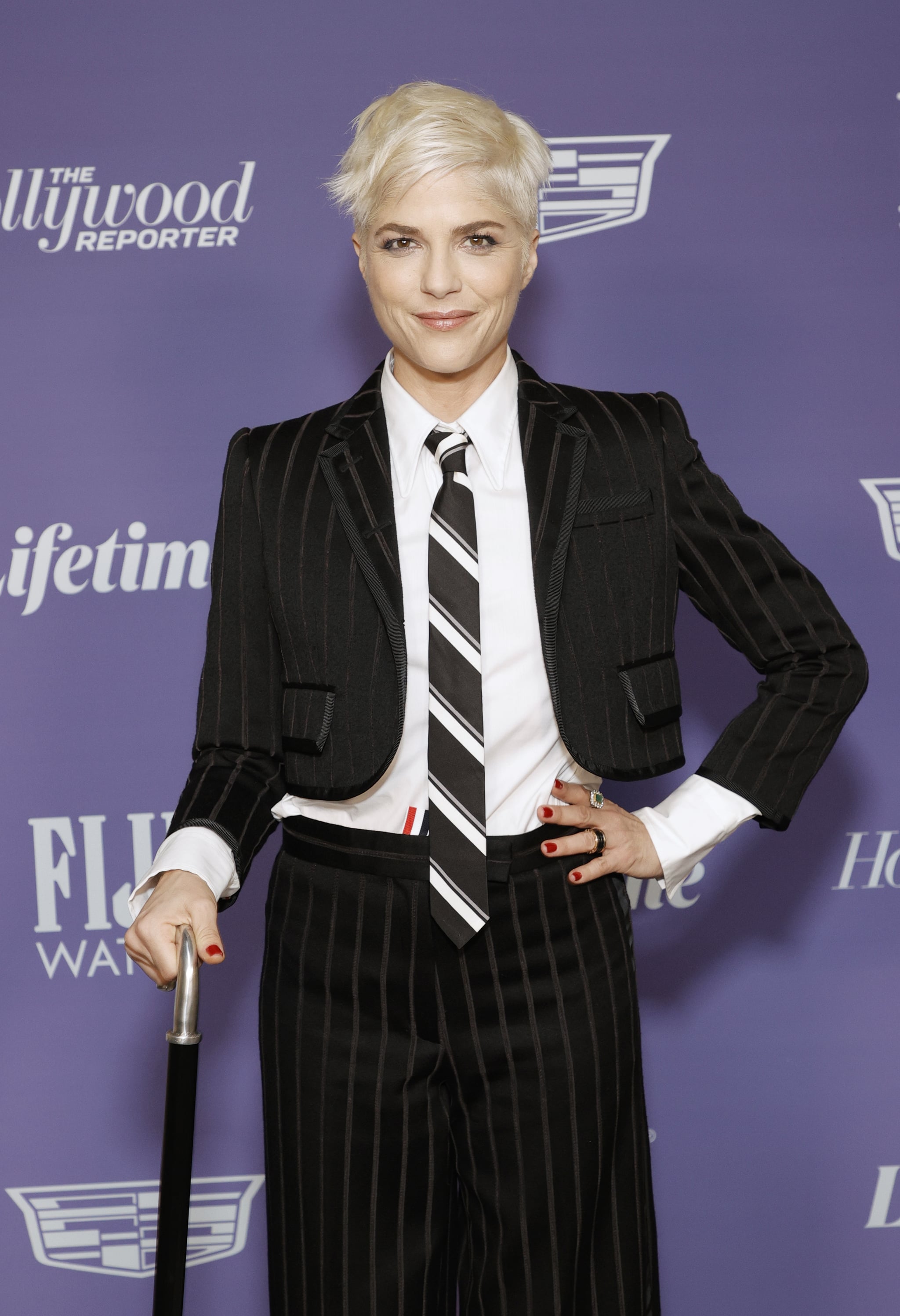 Image Source: Getty / Amy Sussman
Just before her first dance on the hit show "Dancing With the Stars," Selma Blair took a moment to set aside her cane before stepping on stage to waltz with professional dance partner Sasha Farber. It became an emotional moment for Blair, judge Carrie Ann Inaba, fellow contestants, and everyone watching.
After publicly disclosing her multiple sclerosis (MS) diagnosis in 2018, Blair has been outspoken about her disability, unapologetic about incorporating her cane into her striking fashion choices, and a strong advocate for the inclusion of disabled stories and actors in the entertainment industry.
"It means everything," she told ET's Matt Cohen after her dance. "I am a vulnerable person now out here, you know, with some differences I have or weakness. I really never thought I would be able to dance, like, with both my feet."
Talk about the time of our lives! 🎉 @selmablair @SashaFarber #DWTS @DisneyPlus pic.twitter.com/Jy6AkObCks

— Dancing with the Stars #DWTS (@officialdwts) September 20, 2022
"[It] means so much to be able to lean on someone for my balance," Blair continued. "It's such a joy, and I hope that we can all see that we can do things out of our comfort zone and it might not look like everybody else, but it's still an incredible feeling."
While talking to Cohen, Blair also reflected on her decision to join "Dancing With the Stars." She recalled thinking, "'Nope. No, I don't dance. You don't understand.' . . . But then [Farber and I] just kind of stood next to each other and he said, 'You know, I'm not gonna let you go.' And I said, 'Wow, no one's ever said that to me before. So I'm gonna go.'"
When she handed off her cane just before stepping on the stage, it was a powerful gesture demonstrating her trust in both her dance partner and her own body. Fans have since sounded off on social media, praising her for being an inspiration for those with chronic conditions and disabilities, and showing people that "yes, we can do it," as one Twitter user wrote.
Disclosing a disability, especially publicly, is a difficult decision, but Blair believes her "disease isn't a tragedy," as she previously told People. "I tell myself, 'You're going to live in a way that would be an example for yourself and your son.'"
The National Multiple Sclerosis Society estimates that nearly one million adults in the United States have been diagnosed with MS, an autoimmune disease that affects the central nervous system. MS causes neurological symptoms, including balance and vision problems, muscle weakness, memory issues, and difficulty walking, according to the Cleveland Clinic. Like many other disabilities and chronic illnesses, the symptoms and effects of MS range from visible to invisible. You never really know what someone might be going through beneath the surface, and Blair's performance is a prime example of that.
"I'm gonna learn to settle into just gratitude and being kind to myself," Blair told ET. "'Cause everyone has been so kind to me and this feels so good to move, it feels so good to gain strength. I'm just truly, truly grateful and enjoying this so much."