Meet Jasmine Blocker, a New POPSUGAR Trainer
Why Gold Medalist and POPSUGAR Trainer Jasmine Blocker's Fitness Philosophy Is "Less Is More"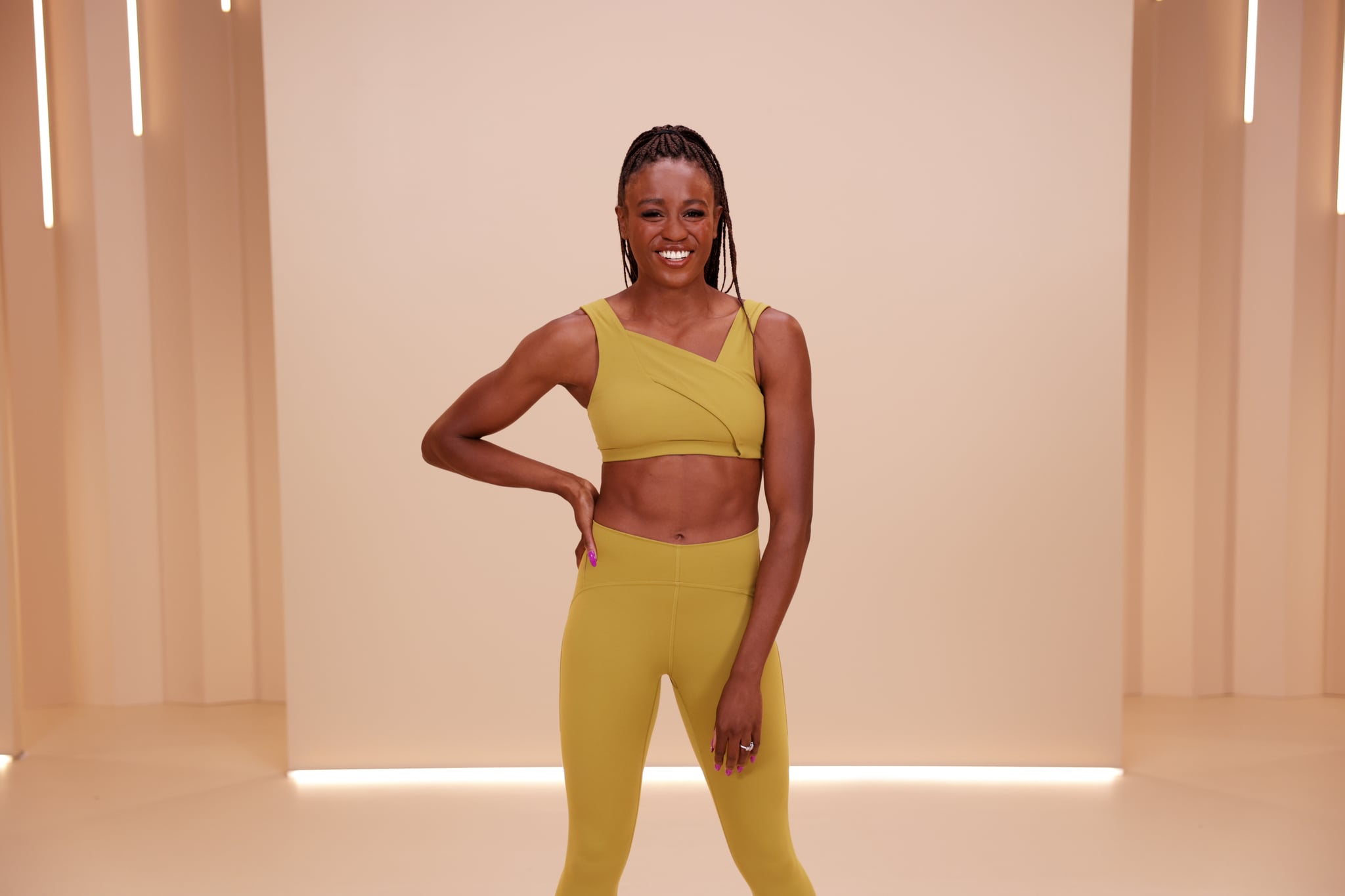 Image Source: POPSUGAR Video
Catch Jasmine Blocker and the other Class Fitsugar trainers in new episodes dropping every Sunday and Wednesday on the POPSUGAR Fitness YouTube Channel.
Jasmine Blocker never thought she'd be a world-championship sprinter with a gold medal to her name. She never thought she'd run for Team USA or that she'd train for a shot at the Olympics one day. "Winning is fun," she tells POPSUGAR. "Running PRs is fun. But [my success] just kind of happened because I was so entrenched in the journey."
That journey has taken her from middle-school track to the collegiate and professional ranks and then, in a pandemic-inspired transition, into personal training and becoming an advocate for mental health, a topic close to her own heart. Now, as a new trainer on POPSUGAR's Class Fitsugar series, Blocker is introducing a whole new audience to her accessible workouts and positive, mental-health-focused take on strength training.
Going the Extra Mile
Blocker started down an athletic path in middle school when she tried out for the volleyball team — and promptly got cut. "I started running track because I couldn't do anything else," she says, laughing. "I was so uncoordinated." It turned out to be a very happy accident. Maybe volleyball wasn't her sport, but sprinting definitely was.
Still, as she started running in high school and on a club track team, "I never really thought that I was that good," Blocker remembers. What made her stand out was her work ethic: her willingness to take the initiative and go the extra mile. "I was always the person asking for more workouts and saying, 'What more can I do?'" she says. "After practice, I would be the only girl in the weight room."
Naturally competitive and a self-described perfectionist, Blocker just wanted to get better and better. It was a drive that stuck with her even through some ups and downs during her undergrad career at Princeton, where academics took precedence over running. Blocker remembers getting "slower and slower and slower" before she took a year away from school to deal with the death of her freshman roommate. She returned to school, but it was another year before she again set foot on the track.
"I was always the person that was asking for more workouts and, 'What more can I do?'"
Returning to the sport in her senior year, Blocker started doing extra workouts on her own again, just like in high school. "I'd say, like, 'Oh, I'm working on my thesis. I can't come to practice today,' but I would do a harder workout by myself in the morning," Blocker remembers. "I would start training myself on weights as well." When a coach taught her Olympic-style lifting techniques, Blocker started consistently weightlifting for the first time. Immediately, her running times started to improve.
When she graduated from Princeton, Blocker still had a year of NCAA eligibility remaining due to a "mental health redshirt," she says, which covered the extra year she'd taken off from track. She went to Tulane to continue running while working toward her MBA, "and that's where I got good," she says. In her one year competing at Tulane, Blocker became an All-American in both indoor and outdoor track and decided to go pro after graduation to see what she could really do.
As a pro track athlete, Blocker competed for Team USA and won a gold medal in the mixed 4x400-meter relay at the 2019 IAAF World Relays. She took the past year off for mental health reasons, she says, but is already gearing up for next year. "I'm pumped to really get back out there," she says.
"Less Is More" With Fitness
Blocker essentially trained herself for a decade, she says, so adding personal training to her résumé felt like a natural move. She decided to train clients virtually during the pandemic, a decision that's helped her balance a personal-training job with her own track career. "It's awesome to be able to connect with people through teaching them the thing that I love," she says.
As a trainer, Blocker focuses on being body positive and takes a less-is-more approach with fitness. "A 20-minute or 10-minute HIIT workout is kind of like my favorite thing," she says. "You should give it your all and hit it pretty hard when you're there — be all in, be focused, even if it's just 10 minutes." Then, she encourages her clients to rest. "Your body should be given time to recover."
An Advocate For Mental Health
Track and fitness, in general, have been a saving grace for Blocker's mental health, she says. Having dealt with anxiety and depression for much of her life, Blocker describes working out as meditative: "It allows you to focus in on one thing so that you're completely and totally present." Blocker has been open about her mental health journey on social media, she says, because she didn't have a mental health role model growing up, someone spreading the message that help is available if you're going through a mental health challenge or you don't feel OK. "You're just kind of like, 'What is wrong with me? I'm lazy. I'm this. I'm that.' And I think that by sharing my story, it gives people something to identify with."
Today, Blocker says her mental health is as good as it's ever been. And it's not that she adheres to a set, established mental health routine; instead, Blocker says she simply makes a point of checking in with herself on a daily basis, because her mental health needs change from day to day. "For me, it's more about, OK, I'm going to sit down and take a break and not try and be so busy," Blocker says. "A lot of people, myself included, would rather be so busy that there's no time to think or feel anything. So [it's] giving myself time to . . . take a beat and see where I'm at."
Self-compassion is key, Blocker says, and resisting the urge to compare your mental health journey — and your fitness journey, too, for that matter — to others'. Physical and mental health are "so connected," Blocker says. "When you're feeling good or your mind is in a good place, you have the energy to cook yourself a better meal and go the extra mile. Your capacity is higher."
It's something she's seen in her own athletic career — "when my mind is better . . . the times are better, everything is better" — and that she hopes to impart on everyone who trains with her. When you work out with Blocker, you'll be pushed to your limits, encouraged to stay in the present, and then reminded to rest when it's all over. "Expect to come to my workouts for 20, 30, even 10 minutes and work [your] absolute ass off," she says. "And then you don't have to do anything the next day. You stay in the present with me, stick with me, and leave everything in that workout."