Watch Nathan Chen's Backflip on Ice at the Olympics
Watch Olympic Gold Medalist Nathan Chen Do Backflips on Ice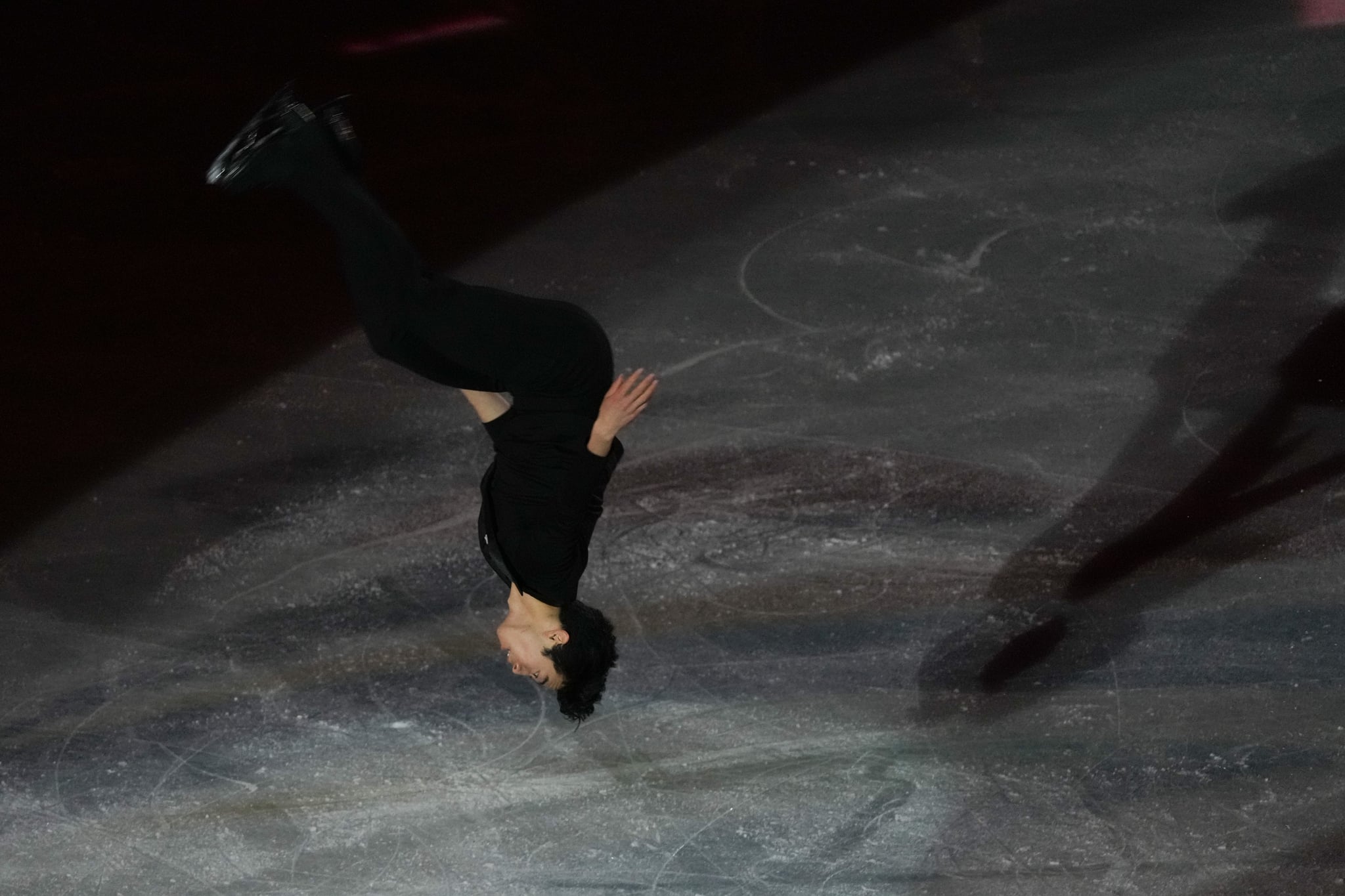 Image Source: Getty / China News Service
Figure skaters are no longer allowed to do backflips in competition — Deadspin reports the move was banned in 1976. Nathan Chen, who won men's individual gold and also set a short-program world record at Beijing 2022, pulled off this illegal trick during an Olympic gala performance that, according to NBC, showcased the 18 Beijing medalists.
Doing an illegal skill in competition now costs athletes a two-point deduction under the International Skating Union (ISU) rules. Since this wasn't a judged performance, just a fun presentation, Chen could backflip to his heart's content.
An iconic example of a figure skating backflip is when French skater Surya Bonaly executed one of her own at the 1998 Olympics. (Technically, from a gymnastics perspective, it's more of a back layout stepout; regardless, it was still banned.)
At the same Beijing Olympic gala as Chen, Canada's Keegan Messing also did a backflip, and you can see Messing execute one in a laid-out position alongside Chen at the end of this NBC Sports video. What an incredible feat to do the gravity-defying move off of two blades, all while gliding on ice! Watch Chen flip it out below:
Meanwhile, at the #WinterOlympics Figure Skating Gala... @nathanwchen lands a backflip on ice ⤵️pic.twitter.com/LuT0HD4TK0

— Team USA (@TeamUSA) February 20, 2022
This isn't the first time Chen has done a backflip while skating in exhibitions. Here's a look at his flip in the gala portion of 2021 Skate America and one from what US Figure Skating identifies as the 2020 National Championships exhibition.
In a 2019 Instagram, Chen credits skater and choreographer Ashley Clark for teaching him how to do a backflip with skates. Clark posted the below TikTok detailing what that process looked like. Watch Chen learn the skill on the ground and then have assistance attempting the real deal on ice.
Clark tells POPSUGAR she met Chen back in 2012 when he started performing as a guest on Sun Valley on Ice. Chen, she says, had done some off-ice backflips with her a few years before the Pyeongchang Olympics, but he decided to wait until after the Games to officially try one on ice.
"I was stunned but not surprised [by] how quickly Nathan worked up the courage to perform his backflip on ice," says Clark. "From grass to ice, it was maybe a couple hours. It is a true testament to his athleticism and mental strength." That diligent off-ice practice is a nonnegotiable for Clark. "I make all of my students go to a gym and learn a proper backflip from a gymnastics coach first," she says. "I cannot stress enough how important that part is. Once that is perfected and I feel comfortable, I start to give them specific exercises on the ground for core work specifically geared toward backflips."
Next, Clark will have her students move to the ice and use a harness with two ropes before moving down to one rope. Eventually, they no longer need assistance, she says. Clark, who has a gymnastics background, grew up idolizing Bonaly for her signature backflips, and she landed her first backflip on ice in 2008. She even got to perform one side by side with Bonaly four years later.
After executing backflips in skating shows for more than a decade, Clark no longer performs them. Now, she does what she calls a "fire-and-ice act" in Sun Valley on Ice. "I still teach backflips in Sun Valley, Idaho, where I live, and I'm proud to say I passed the backflip baton to many amazing athletes, including the one and only Nathan Chen."
In terms of what's next for the Quad King, Chen will be skating this spring in the 2022 Stars on Ice tour, which features other members of the US figure skating team. Whether or not fans will witness Chen's flip on tour remains to be seen, but he said on the Today Show of the skill, "It's fun to do tricks like that because you can't do that in competition." Before tour, he confirmed he'll compete at the World Figure Skating Championships later this month.