Jordan Chiles: 2021 Olympics Experience and What Is Next
Olympic Gymnast Jordan Chiles Has UCLA Floor Routines on Her Mind Ahead of Her Collegiate Debut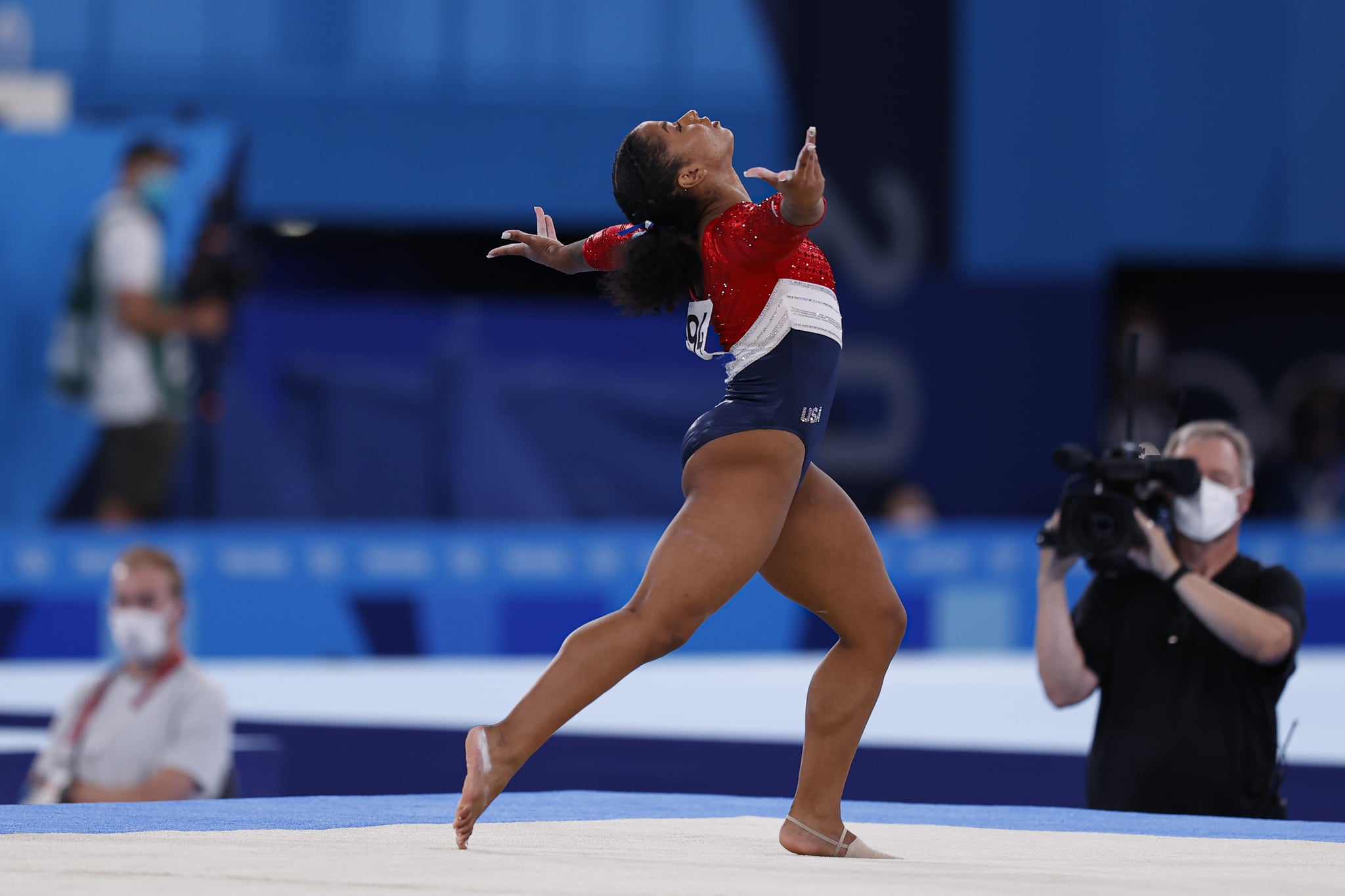 Jordan Chiles left the Tokyo Olympic Games with one well-earned silver medal and the crucial lesson that she can succeed no matter what. Being an elite athlete means Chiles is used to pressure, but she and teammates Grace McCallum and Suni Lee had to adapt quickly when Simone Biles withdrew from three events of the women's artistic gymnastics team final amid a scary case of the twisties. Chiles told POPSUGAR that her favorite moments at the Games were executing solid bars and beam performances after only finding out she was competing on those apparatuses once Biles stepped down from the competition.
Chiles, focused and headstrong, got the job done despite uncharacteristic mistakes on bars and beam during the qualification round a few days prior. She pointed to her errors in the prelims and noted that she was glad she could start fresh in the final and "show this is the reason why I am here." And a missed tumbling pass on floor, she said, couldn't take away from the pride she felt about her bars and beam routines.
Chiles continued, "It was a very stressful day, but we came out and showed what we needed to show and enjoyed every last minute that we could with each other, so that's something that we'll all be able to cherish."
The upcoming winter season of UCLA gymnastics is calling Chiles's name, where she'll follow in the footsteps of greats like Kyla Ross, Christine Peng-Peng Lee, and Danusia Francis (in addition to a long list of other gymnasts she named enthusiastically: "Everybody that I know, you are legit," she said). UCLA has an established history of putting attention-grabbing floor routines and dynamic choreography on display, and Chiles will soon be a part of that.
Chiles said in an earlier interview with POPSUGAR that she wants to bring the superhero-themed floor routines she's known for to college and noted this time around that her mom gave her an idea of incorporating superheroes with popular songs. "That'd be so cool if . . . for Superman, for example, we had his little intro to make it sound like I had superhero music, but then all of a sudden it turns into, for instance, Cardi B or Megan Thee Stallion or even Normani." Normani did send Chiles a celebratory message after the Olympics, so don't be surprised if you hear "Motivation" in her routine, Chiles hinted.
Before she heads off to UCLA, Chiles will perform on the Gold Over America Tour starting Sept. 21. It features all of her fellow Team USA Olympians minus Suni Lee, as well as faces of both the international gymnastics world and the collegiate world like UCLA alumni Nia Dennis and Katelyn Ohashi, Chellsie Memmel, and Morgan Hurd.
In terms of academics, Chiles is set on majoring in business with either a Zoology or acting minor. Aside from her clothing brand, Melanin Drip Clothing Co., Chiles is thinking about ventures that might include opening her own shoe store (she's a self-proclaimed "sneakerhead"). She is also planning to build a house and, most importantly, go on vacation. One look at her Instagram or TikTok, and you can see that she's been busy with a capital B. And it seems as though the future has promising opportunities in store for this accomplished Olympian.