UCLA Alum and Jamaican Gymnast Danusia Francis on Olympics
Danusia Francis's Olympic Moment Didn't Go as Planned, but She Is Proud of Those 11 Seconds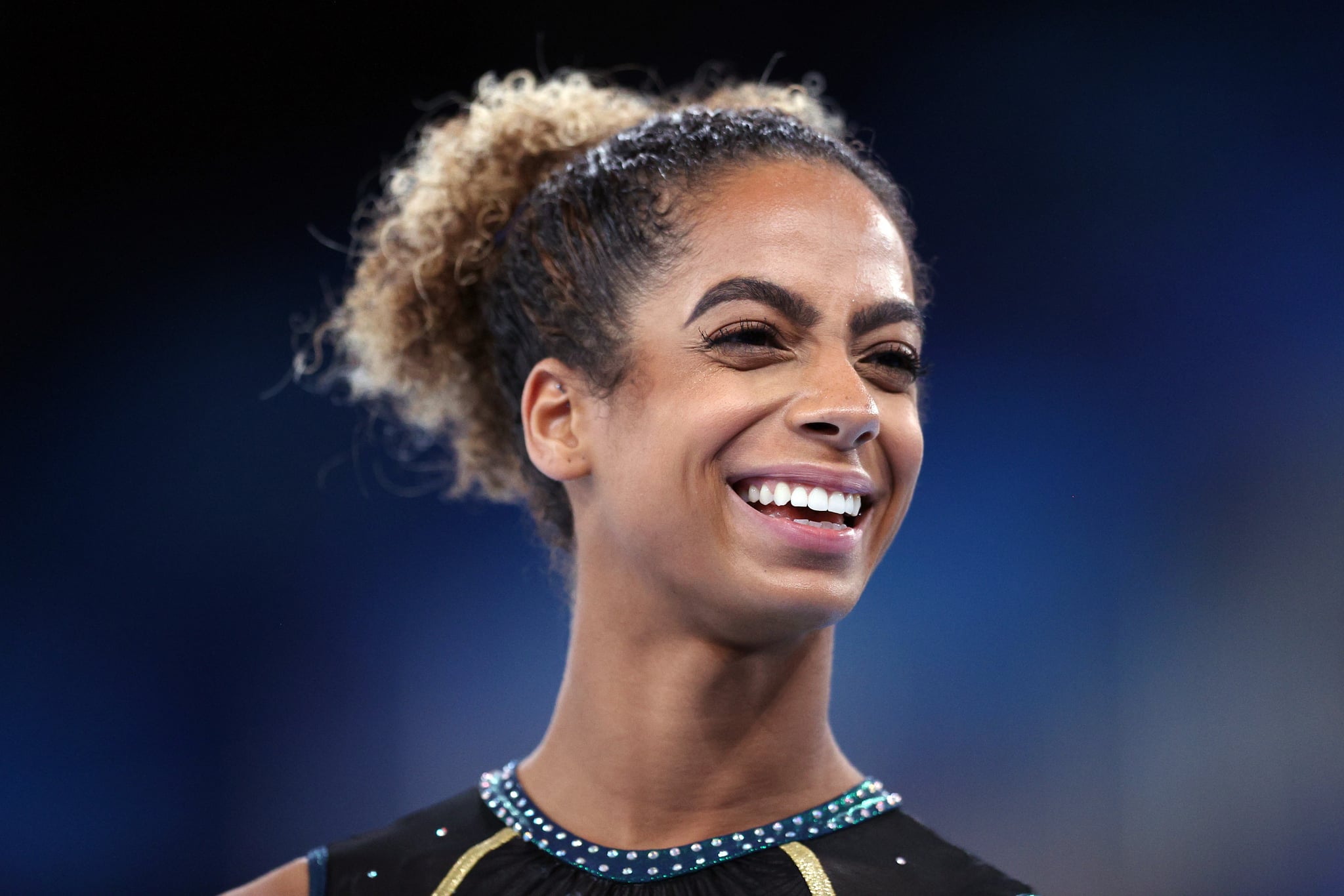 Image Source: Getty / Patrick Smith
Though Danusia Francis's Olympic moment in the preliminary round of women's artistic gymnastics lasted just 11 seconds, she was more nervous than she expected. An ACL tear prevented her from doing a full uneven bars routine, so she'd only perform a few skills on the low bar before presenting to the judges and getting ready to return home. Nonetheless, it was an Olympic experience. Her Olympic experience. "I was almost the tiniest bit embarrassed that I was going to just be doing something so simple," Francis told POPSUGAR, "but walking up to the podium and hearing all the other gymnasts cheering for me, that just really put a smile on my face, and I just realized, 'I've just got to enjoy this moment,' and that's what I did."
To be clear, Francis's routine — albeit an incomplete one — still received a high execution score, meaning the skills she performed were done cleanly without major deductions. Recalling this made her laugh over our Zoom call. "Obviously I saw a lot of people joking like, 'Danusia got the highest execution,' so, maybe I came last, but I came first in something," she said. Francis is extremely proud of her dedication to qualify for the Tokyo Games at the 2019 World Championships, as well as her ability to adapt when the pandemic threw her training schedule a curveball. She made it to the Olympics as an individual athlete for Jamaica and became the second woman representing that country to qualify in Olympic gymnastics (Toni-Ann Williams was the first).
Francis spent one "chapter" of life, as she refers to it, competing for Great Britain and was named an alternate for the 2012 London Games. She wrote another chapter at UCLA — it felt "like an actual movie," she said — where she entertained crowds for four years with spectacular floor routines, scored two perfect 10s on beam, and earned the NCAA beam co-champion title in 2016. Francis's father is Jamaican, and her next chapter began when she started represent Jamaica in 2015. She earned Jamaica a qualifying spot at the Olympic test event for Rio, but Williams was chosen for those Games instead.
Francis's third attempt at making an Olympics proved successful this time around. However, she tweaked her knee the day before she left for Tokyo. A few practices prior to podium training, her knee collapsed inward during a double backflip on floor, then it happened again in podium training warmups. After an MRI confirming the tear, the Tokyo doctors advised her not to risk further injury by doing a full bar routine in qualifications, but they did clear her for the shortened version.
We couldn't be more proud Danusia's strength.

🖤💚💛 #TeamJamaica pic.twitter.com/R6nNV3CTwg

— Team Jamaica (@TeamJA876) July 25, 2021
"The reaction has been absolutely, overwhelmingly positive, and I think that sometimes people get wrapped up in all the medals and who's coming in the top three at the Olympics," Francis said. "I think people that don't even follow gymnastics maybe saw in me the pride of the hard work of just getting there and appreciating the journey and being able to call yourself an Olympian." She spoke of the Jamaican fans, too, thanking them for their support, and named fellow Tokyo competitors such as three-time Canadian Olympian Ellie Black, Ariana Orrego of Peru, and Simone Biles, who encouraged her leading up to that 11-second routine. Black specifically told Francis she withstood the difficult part of getting to the actual Games, and urged her to enjoy it. Orrego's mid-training cheering made her feel better about the whole situation, and Biles similarly told her that no matter what she did out there, she was an Olympian. Francis listened to them all and soaked in her performance.
"If we've learned anything from Simone, we can all see how psychological the sport is," Francis said, adding that the world of elite gymnastics must learn to prioritize athlete safety more (mental and physical) like she's seen on the collegiate stage. For instance, in NCAA gymnastics, gymnasts can have an extra mat placed under them for release moves on bars that they may be nervous about as opposed to having a coach on standby ready to catch them if they fall, Francis explained. "Anything that's going to help an athlete's performance should be allowed to a certain degree," she stated. Centering gymnasts' needs should come first.
Francis has surgery scheduled for mid-September, then faces the road to recovery. What's next for her depends on when her knee heals, but she aims to potentially wrap up her career at the 2022 Commonwealth Games held in the UK. She said one of her coaches keeps mentioning the Paris Olympics, though that's not her immediate focus. "At the same time, if you asked my younger self if I would've gone to Tokyo, that would have been a definite no," Francis noted, "so never say never."