Bryce Dallas Howard Told to Lose Weight For Jurassic World
Bryce Dallas Howard Says She Was Asked to Lose Weight For "Jurassic World Dominion"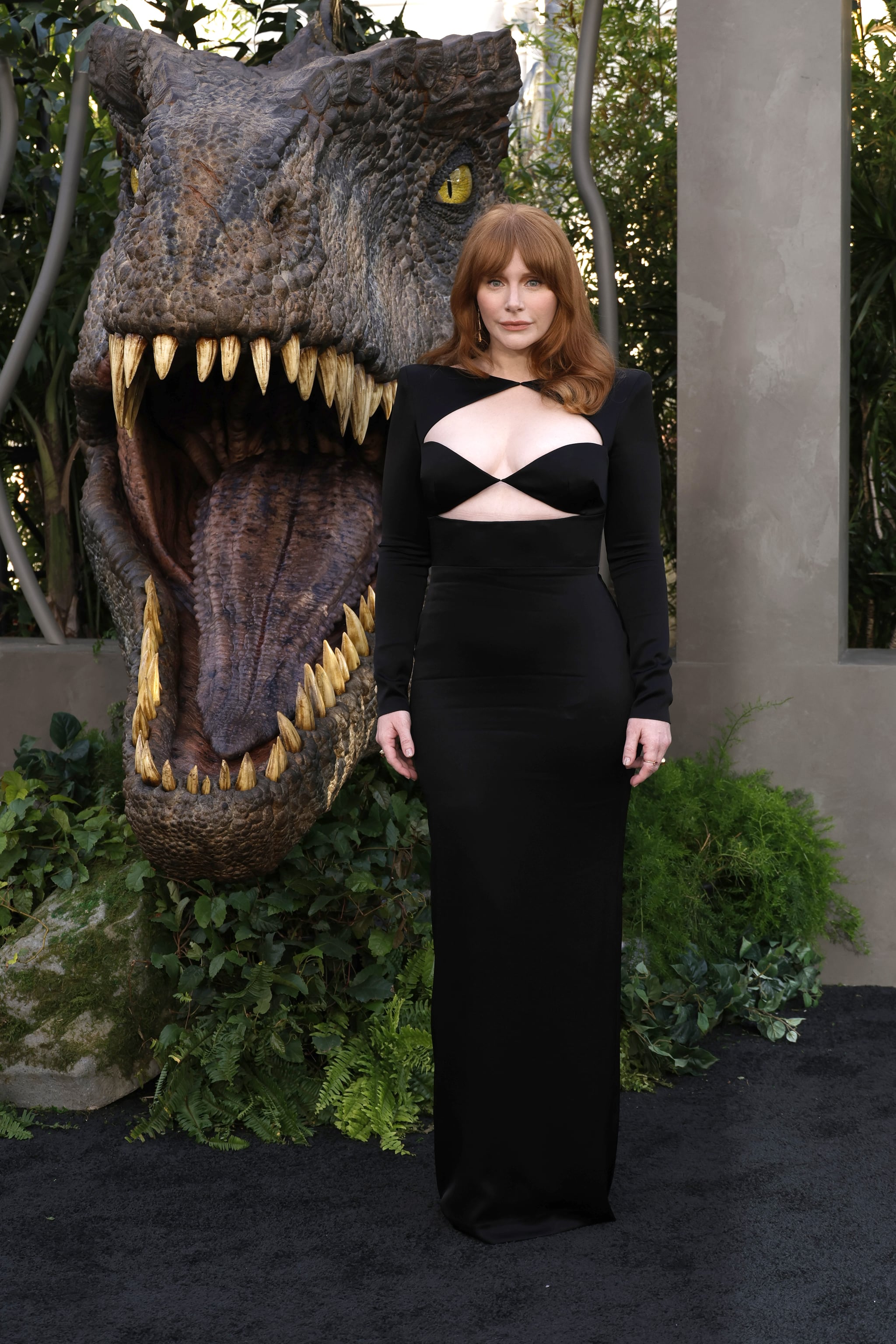 On screen, Bryce Dallas Howard is no stranger to running through brush-filled terrain in the dark while wearing high heels to fight off blood-thirsty dinosaurs. Behind the scenes, the "Jurassic World Dominion" star was fighting a separate battle against studio executives who wanted her to lose weight for her role as Claire Dearing in the upcoming Jurassic World sequel film, which she stars in opposite Chris Pratt, DeWanda Wise, and Jeff Goldblum. Speaking with Metro in a recent interview, Howard opened up about the taxing conversation — one that, as a woman in film, she's had on multiple film sets over the course of her career — and credited director Colin Trevorrow with rejecting the studio execs' demands.
"On the third movie, it was actually because there were so many women cast, it was something that Colin felt very strongly about in terms of protecting me . . . because the conversation came up again: 'We need to ask Bryce to lose weight,'" she explained. "He was like, 'There are lots of different kinds of women on this planet and there are lots of different kinds of women in our film' and I got to do so many stunts that wouldn't have been possible if I had been dieting."
"I got to do [the stunts] with my body, she was at her maximum strength, and I hope it is just yet another indication of what's possible."
Echoing Howard's sentiments about the unrealistic expectations of women on screen, Wise added, "It's always something. There was a lot of resistance to Kayla [Watts, Wise's character] having muscle, to what it means to be a woman, look like a woman. It's just every side, it's relentless and impossible."
Differentiating "Jurassic World Dominion" from the previous two films in the series, Howard, who performs several potentially body-breaking stunts in the Jurassic World movies, said the third film allowed her to more fully present herself and other women as actual human beings. After being "asked to not use my natural body in cinema," the "Mandalorian" director says she's "thrilled [at] all the action I got to do." She continued, "And I got to do it with my body, she was at her maximum strength, and I hope it is just yet another indication of what's possible."
For Howard and Wise, the upcoming sci-fi movie is one small step toward ensuring more accurate representation of women in film. In addition to delivering realistic portrayals of women on all levels, the actors hope to normalize having more women than men in movies and normalize showcasing women with humanity, rather than defining them by their body types. "[The film introduces] these heroines who aren't perfect," Wise said. "There's a story there, a sense you can be heroic even if you don't feel heroic. I'm interested in the future of action and blockbusters really allowing women to be the entire human beings that we are."