Tips on How to Go Camping With Little Kids
In Search of a Socially Distanced Getaway? 7 Tips to Get Your Family Comfortable With Camping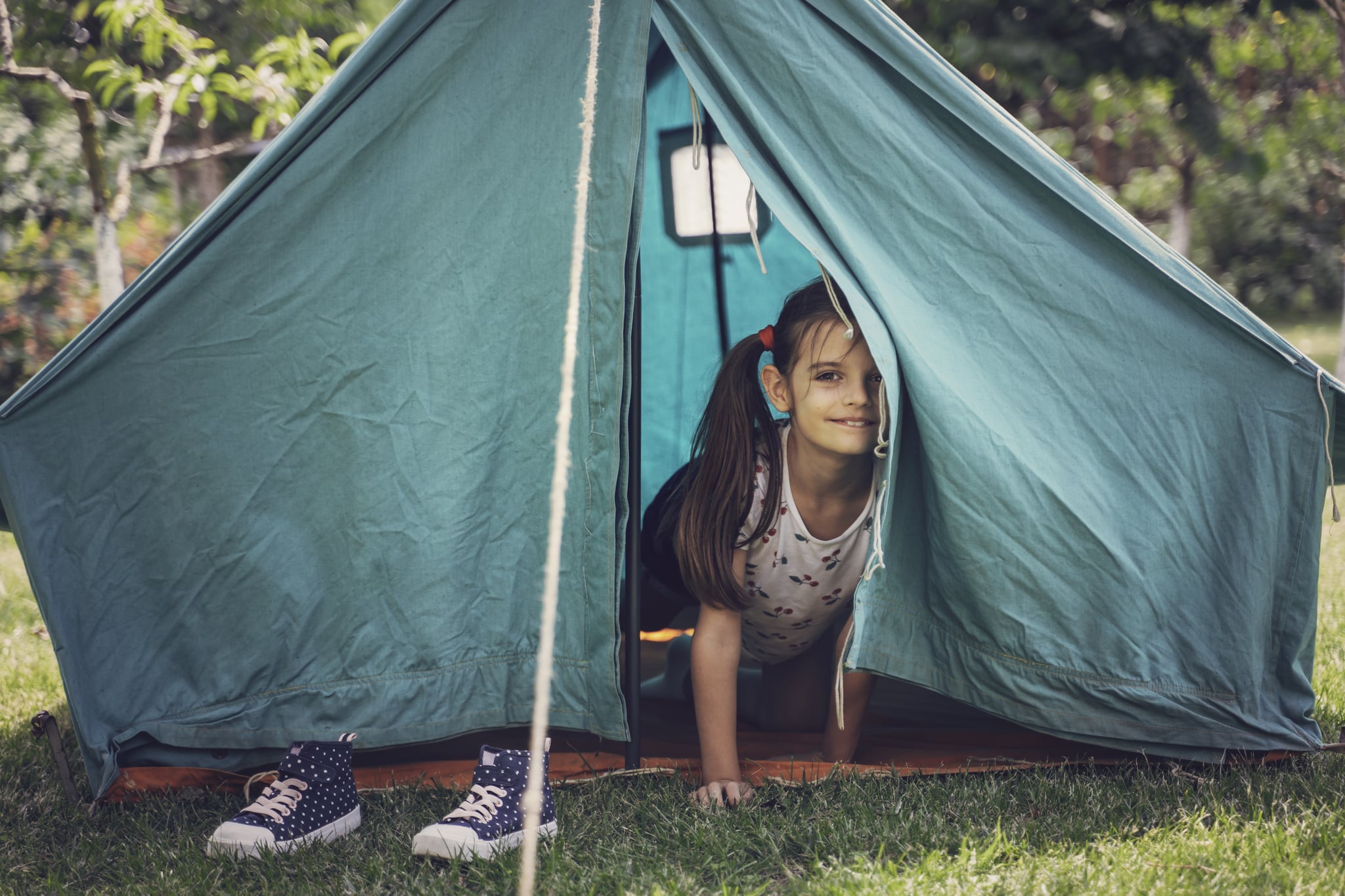 During the height of the pandemic, my family's only reprieve from the suffocating four walls of our home was the less-insulated four walls of a tent. Whenever we needed a break from the grind brought forth by closed daycares and Zoom-only gatherings, we'd hop in the car and hit the road, only stopping at well-spaced camp sites. This summer, just when we thought things were returning close to normal, our road trips got a little more typical. We rented a house here, stayed in a rustic cabin there – all with the assumption that these days of avoiding flights and hotels would soon be behind us. But, here we are, back in the weeds of rising COVID-19 positivity rates and already burnt out from a stressful start to the school year.
You may think your children just aren't cut out for "roughin' it," but these days it's one of the safest ways to vacation with your family.
We're already feeling the urge to get away, so it's likely that you are, too. But, you may be thinking that your children just aren't cut out for "roughin' it," or, frankly, that you aren't, either. Sure, camping – even "glamping" – can be a lot of work, but these days it's one of the safest – and fulfilling – ways to vacation with your family.
If you're remotely curious to try it, here are a handful of tips to light your metaphorical fire, no matchsticks necessary.
Practice at Home
If your kids are new to camping, do a trial run or two in your backyard – or even inside your home. Set up the tent, and try to spend the afternoon or evening as if you were really in the great outdoors. As they get comfortable with the sleeping arrangements, continue to ease into the experience. Plan a day trip at a nearby state park and then move toward overnights and weekend excursions. You might be surprised how quickly your kids come to enjoy the change of scenery.
Acknowledge the Start-Up Costs
When we first decided to travel sans hotels or AirBnBs, I felt giddy thinking of all the money we'd save. Until we budgeted out our cheap weekend. Sure, the campsite fee was a meager $15 – way more appealing than a $200-per-night hotel room – but there were so many essentials we had to procure that added up fast. There were a few big-ticket items, like tents and sleeping bags, and a lot of smaller purchases, like headlamps and camp chairs for the kids. Plus last-minute expenses, like firewood and bug repellant, two things we forgot and paid a premium for on-site.
Like any longterm hobby, you just have to consider it an investment. Our first go-around, we bought a small inexpensive tent and regret not putting in the funds to splurge on one that would grow with our family and last for more than a few trips.
Consider a Glamping Getaway
If, however, you don't see camping as an activity you plan to carry into a post-pandemic life, or the idea of procuring and packing the 500 pounds of gear and supplies you need for a few nights under the stars, consider campsites with small cabin rentals, or use Getaway – a network of tiny cabins stationed all across the nation that offer the experience of camping with the comforts of, well, a cabin. They have working air-conditioning and heat (ahem: hot shower!) as well as a kitchenette equipped with a two-burner stove and mini-fridge. These little outposts do come at a premium, but if you want a low-stakes trial run at this type of adventure, it's an ideal way to do it. (Each Getaway cabin even comes with a large bedside window so nature is always in full view.)
Find the Right Campsite For Your Family
We've gone on trips in which we never left our campsite, and we've gone on others in which we explored the surrounding areas and only returned for s'mores and sleep. Be sure to pick a destination that suits your family's needs. Some sites have swimming ponds, hiking trails, and playgrounds, while others offer other amenities like ballfields or quick access to excursions like berry picking or paddle boating. And it might go without saying, but keep in mind that although many campsites offer picnic tables and access to flushing toilets, not all of them do.
Take Advantage of the Shortcuts
Sure, some adventure-seekers have told us we "aren't true campers" because we drive right to our campsite versus hiking with our gear on our backs to our destination. Or because we bring inflatable air mattresses to sleep on, instead of just sleeping bags on the cold, hard, (and bumpy) ground. Or because we bring cooking gear – like a portable stove – or brick fire-starters to help the campfire along, but you know what I don't care about? Being a "true camper." We want to be a family that enjoys our little getaways, and we'll take whatever shortcuts or amenities help us get there.
Some of the best workarounds to the struggle of camping come with cabins like Getaway, which offers cookware so you don't need to pack your own pots, plates, and silverware. In fact, Getaway has recently begun partnering with Lodge Cast Iron to supply its outposts outside of Austin and Chicago with their new line of grilling products (think: a round burger press, a veggie basket, a skillet, and a grill topper, which will ruin you for campfire cooking without it . . . forever).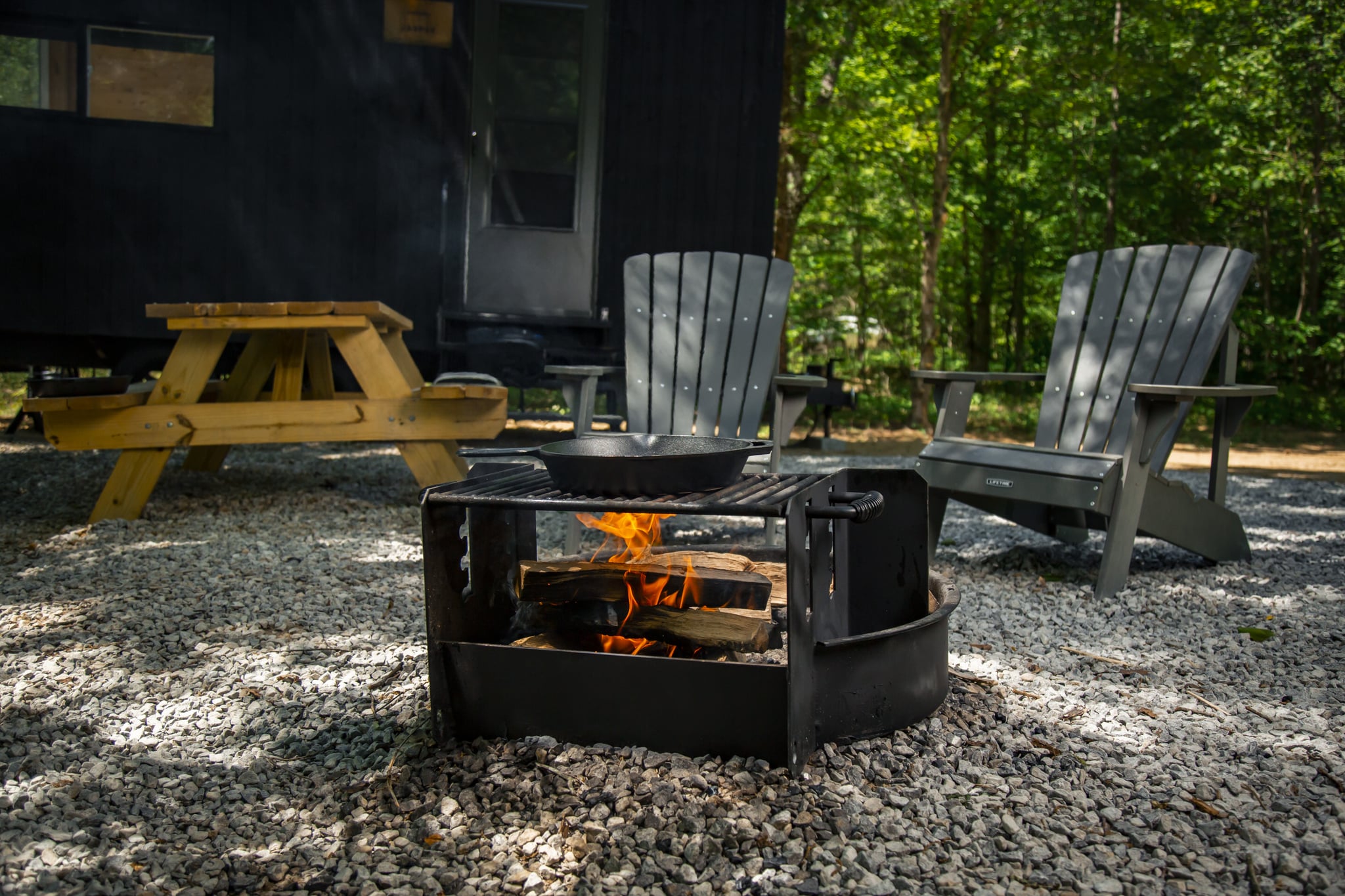 Consider Back-Up Plans
You may assume you've thought of everything, but there hasn't been a single trip without an unexpected hiccup. In the past, we put too much faith in a sunny forecast, we'd grossly underestimated how much purified water we'd need or how much cereal our kids would eat, we could not convince our little one to pee in the outhouse (to her credit, I didn't want to set foot in there, either), and we couldn't keep our early-rising kiddos from waking up the entire campgrounds with their pre-dawn giggling.
So, now, we have backup plans for just about everything. We usually come armed with enough snacks for twice the length of our stay, we pack hooded sweatshirts that we swear we'll never use yet always do in the humid summer months and lots of layers in the fall and winter. Up until we taught our kids a ridiculous-looking "potty squat" technique, we set up a little travel toilet outside our tent. And to this day, we reserve the right to usher the littles into the quiet of our car with a screen while we ease into the morning (a friend of mine even pitches a spare tent that she'll transport her toddler in for nap times). Just in case of bigger emergencies, we also Google the nearest grocery store, hospital, and gas station.
Have a Positive Attitude
All that talk about back-up plans and exit strategies may make you wonder if it's all worth it, but I assure you, the more you do it, the more comfortable you get, and the more fun it becomes. The first few excursions will certainly have their share of "teachable moments," but do your best as parents to cope with the inconveniences and double down on the can-do spirit. Our kids fully pick up on the energy we give out, and if we're having fun, they are, too.
Image Source: Getty / mikimad