Why Isn't Shake in Love Is Blind: After the Altar Season 2?
"Love Is Blind"'s Shake Addresses His "After the Altar" Absence: "Want Nothing to Do With Them"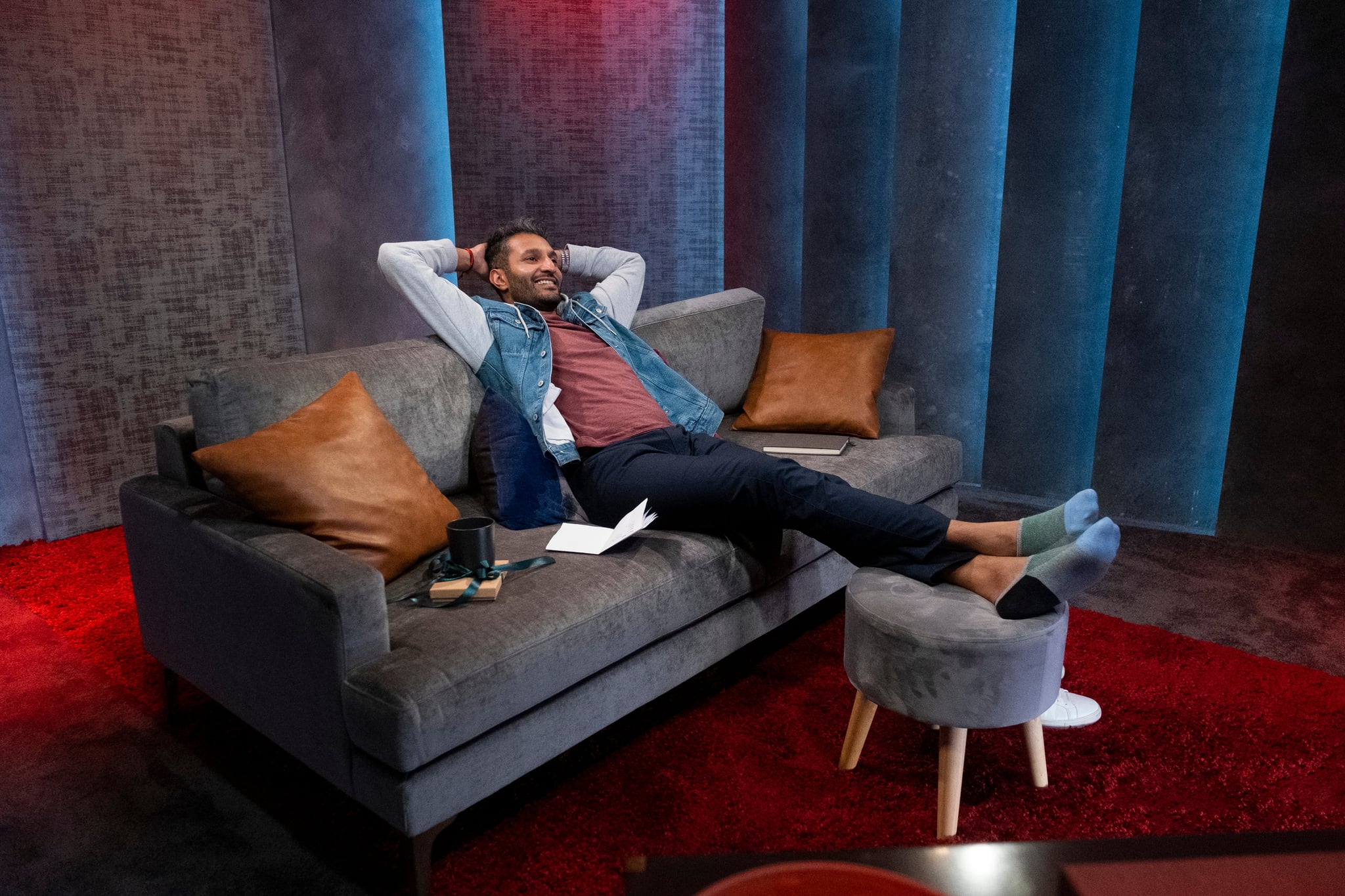 Image Source: Netflix
"Love Is Blind: After the Altar" returned on Sept. 16 to gather all our favorite season two castmates for an epic reunion. However, one face was noticeably absent from the three-part special: Shake Chatterjee. During part one of the reunion, Chatterjee's name is brought up while his costars Danielle Ruhl and Nick Thompson are planning the group's surprise getaway weekend — ironically to acknowledge that they didn't reach out to invite him yet. "If he's going, I'm not going," Thompson says during "After the Altar."
As many fans remember, Chatterjee made quite the impression during his season when he managed to piss off most of his fellow castmates (mainly the women), ex-fiancée Deepti Vempati, and even hosts Vanessa and Nick Lachey — whom he notably got into a heated exchange with during the season two reunion and on social media. The "Love Is Blind" cast member received a lot of backlash during season two for some of the insensitive comments he made about his ex, which she responded to on an episode of the "Viall Files" podcast.
"I was so disappointed," she said of Chatterjee's remarks. "Honestly, there are no words. And I'm pretty sure he got a good edit. I've heard from castmates that he said way worse. So that says something." So why didn't Chatterjee reunite with his castmates for "After the Altar" to try to redeem himself?
In an August interview with TMZ, he said he was invited to the reunion but turned down the offer. "Honestly, they begged me to be on it," he told the outlet, adding that they offered to fly out his girlfriend, Emily, so he could attend. "They wanted me to speak with Deepti one-on-one. They wanted to see some kind of reconciliation. But after how they portrayed me, and then especially after how the hosts of the show — who are supposed to be impartial — came after me, I want nothing to do with them."
A month later, Kyle Abrams denied that claim when he told POPSUGAR that his costar was not invited to the cast's getaway weekend. "He says he was, but I don't buy it," Abrams said. "We were all kind of asked to meet with him, and I think we all said no." However, on the same day "After the Altar" premiered, Chatterjee posted screenshots of a conversation he had with a "Love Is Blind" producer in March on his Instagram Story.
"I think I'm gonna sit out of the after the altar. Sorry," he wrote in a text, captioning the screenshot, "For those wondering, sharing this again." In another screenshot, an Instagram user expressed to the "Love Is Blind" star that they would've liked to see him on "After the Altar" as he was the "ONLY one that was 100% real— about the process, about the people, about your feelings." To which he replied, "Thank you so much! I just didn't trust them to give me a fair edit so I sat out. It's clear they favor fakes like Deepti and Kyle when they create their narratives."
See what else Chatterjee had to say about his "After the Altar" absence ahead.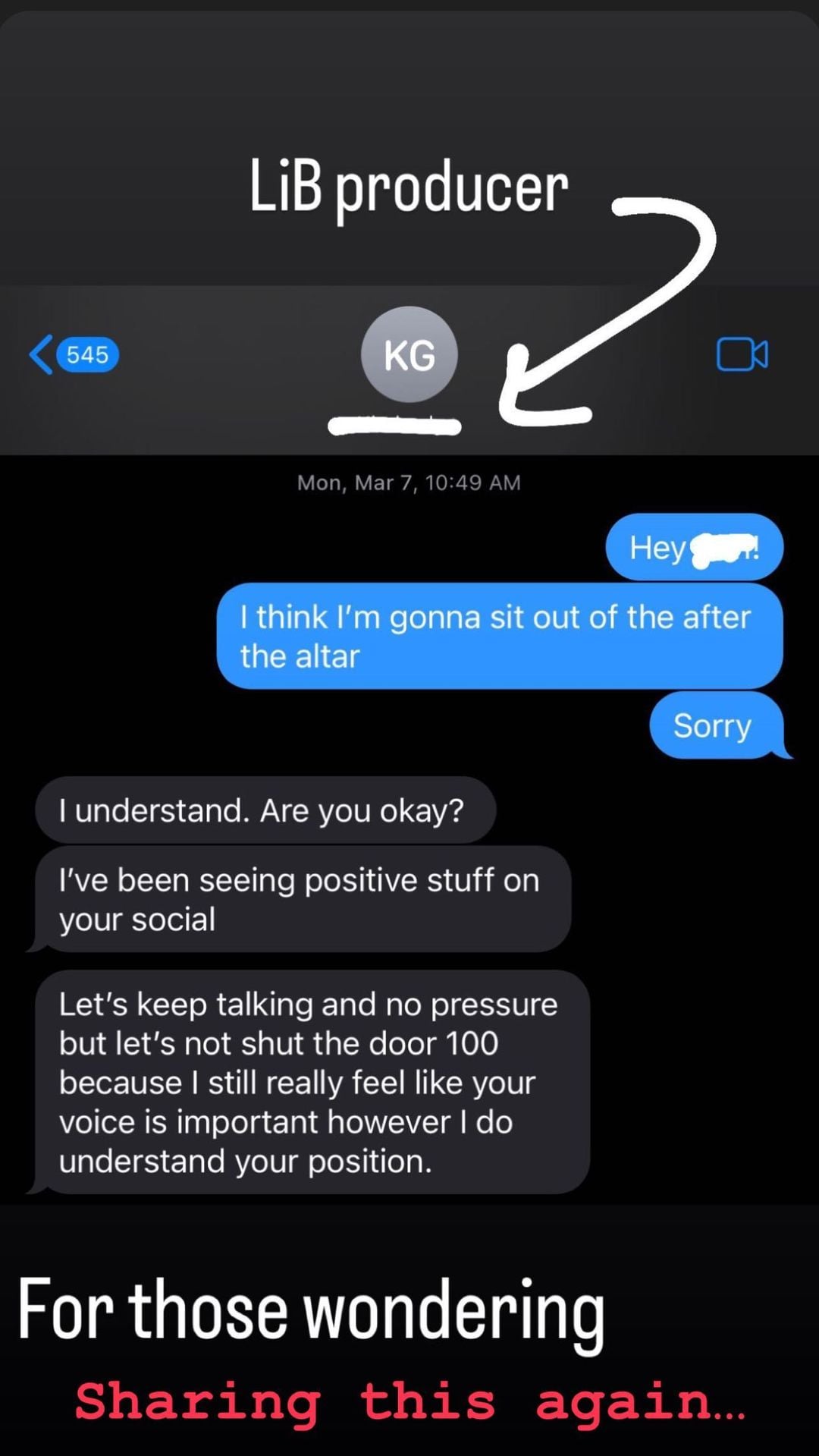 Image Source: Instagram user thepuppydoc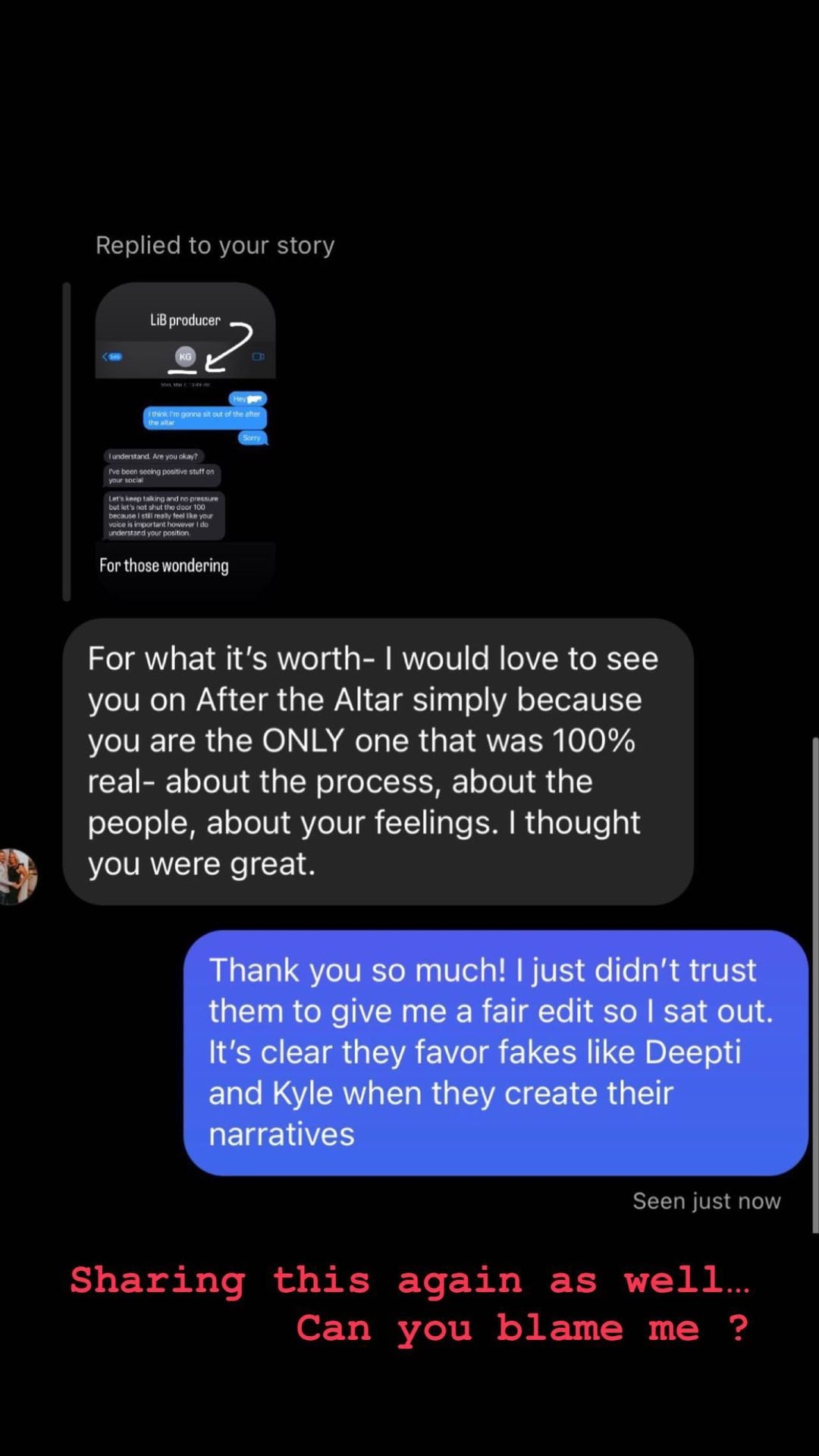 Image Source: Instagram user thepuppydoc