Taylor Hawkins's Son Performs With Foo Fighters
Taylor Hawkins's Son, Shane, Performs With Foo Fighters in Tribute to His Late Father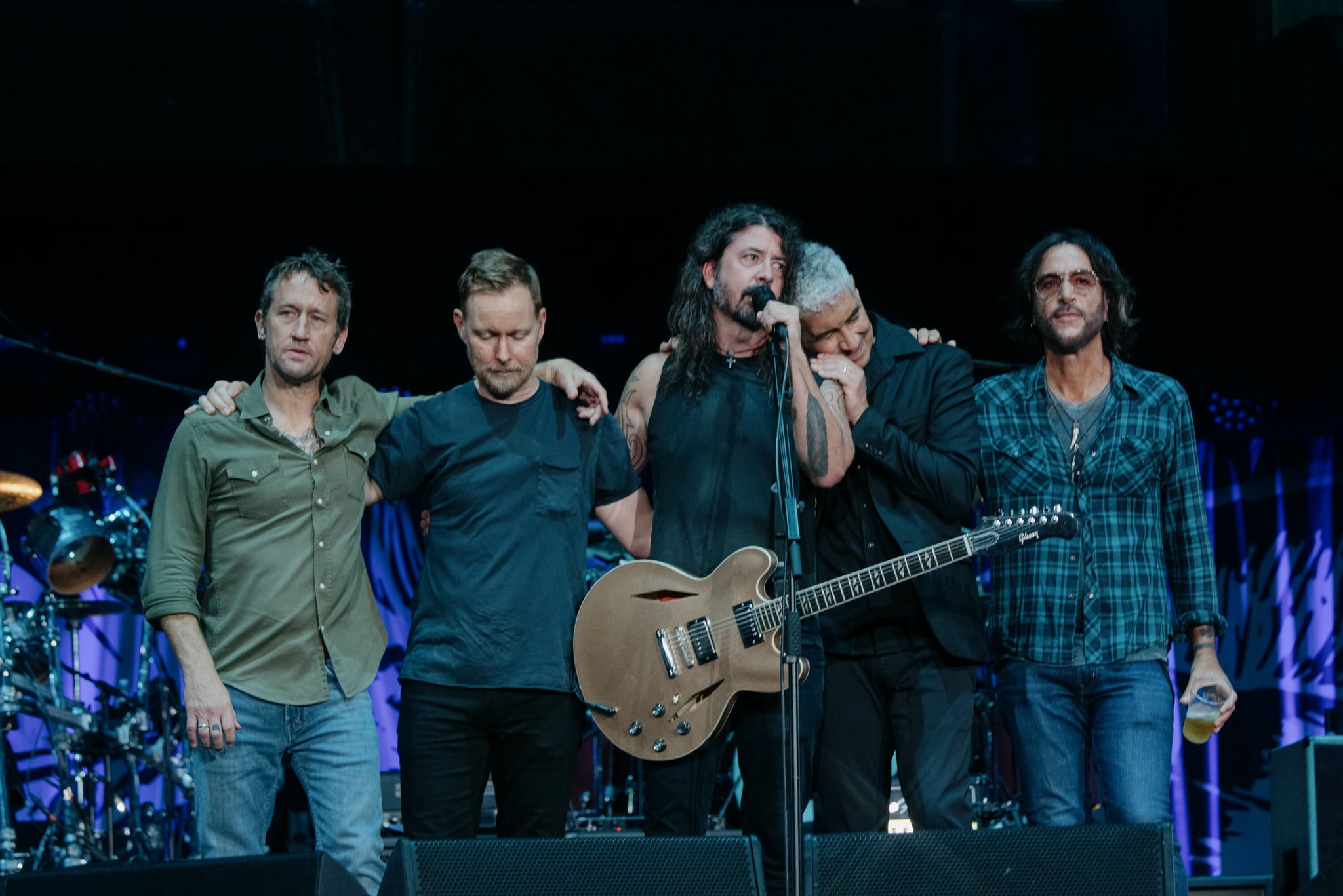 Foo Fighters drummer Taylor Hawkins was honored for more than five hours during a London concert on Saturday night, but the highlight of the evening was the late artist's 16-year-old son, Shane Hawkins, playing drums with the band during an emotional rendition of "My Hero." The "Taylor Hawkins Tribute Concert" aired on CBS and is streaming now on Paramount+. Throughout the evening, several different drummers stepped up to play for Hawkins, with Shane rounding out the lineup for the last performance of the night.
Hawkins died on March 25 in in Bogotá, Colombia, after complaining of heart pains. The drummer was 50. In June, Hawkins's wife, Alison, shared a statement about her husband's passing on Twitter. "As Taylor's wife, and on behalf of our children, I want to share how much you meant to him and how dedicated he was to 'knocking your socks off' during every performance," her statement read in part. "Taylor was honored to be a part of the Foo Fighters and valued his dream role in the band every minute of his 25 years with them. We consider every band member and the extended Foo Fighters team our family."
Foo Fighters continue to be a part of the extended Hawkins family as Shane's passionate drum performance proves. Prior to Hawkins's son joining the band on stage, Foo Fighters frontman Dave Grohl gave the 16-year-old a special introduction.
"Ladies and gentlemen, we have one more drummer that's going to come up and play with us, and let me tell you, I don't think I've ever seen anyone hit the drums as hard as this person, but beyond that, he's a member of our family," Grohl said to the crowd. "And he needs to be here tonight with all of us, and I think it makes sense that he's going to come up and play with us tonight. Ladies and gentlemen, would you please welcome Mr. Shane Hawkins on the drums."
"I don't think I've ever seen anyone hit the drums as hard as this person."
Shane proceeded to give an unforgettable performance his father would no doubt be proud of. As Grohl said, the young drummer absolutely wailed on his kit during "My Hero," and the result was a powerful rendition of a song that surely holds extra meaning in the wake of his father's death. A video of the young drummer's performance was shared on Twitter by fans.
In addition to Hawkins's son, other drummers who took part in the evening included Rufus Taylor, Nandi Bushell, and Travis Barker. Barker posted a video from the evening on his Instagram alongside a caption honoring Hawkins: "TAYLOR HAWKINS FOREVER."
Grohl closed out the evening with one final shout-out for his bandmate. "I hope that you guys felt all the love from all of us and all of the performers, because we felt it from you, for Taylor, tonight," Grohl said as the concert concluded. "I don't really know what else to say."
Foo Fighters will team up with a soon-to-be-announced lineup of stars for a second "Taylor Hawkins Tribute Concert" on Sept. 27 in Los Angeles. All proceeds from both shows are set to go to Music Support and MusiCares.
Image Source: Oliver Halfin / CBS