Manti Te'o Reacts to Netflix-Documentary Support
Manti Te'o Reacts to Fans' Outpouring of Support For His Netflix Documentary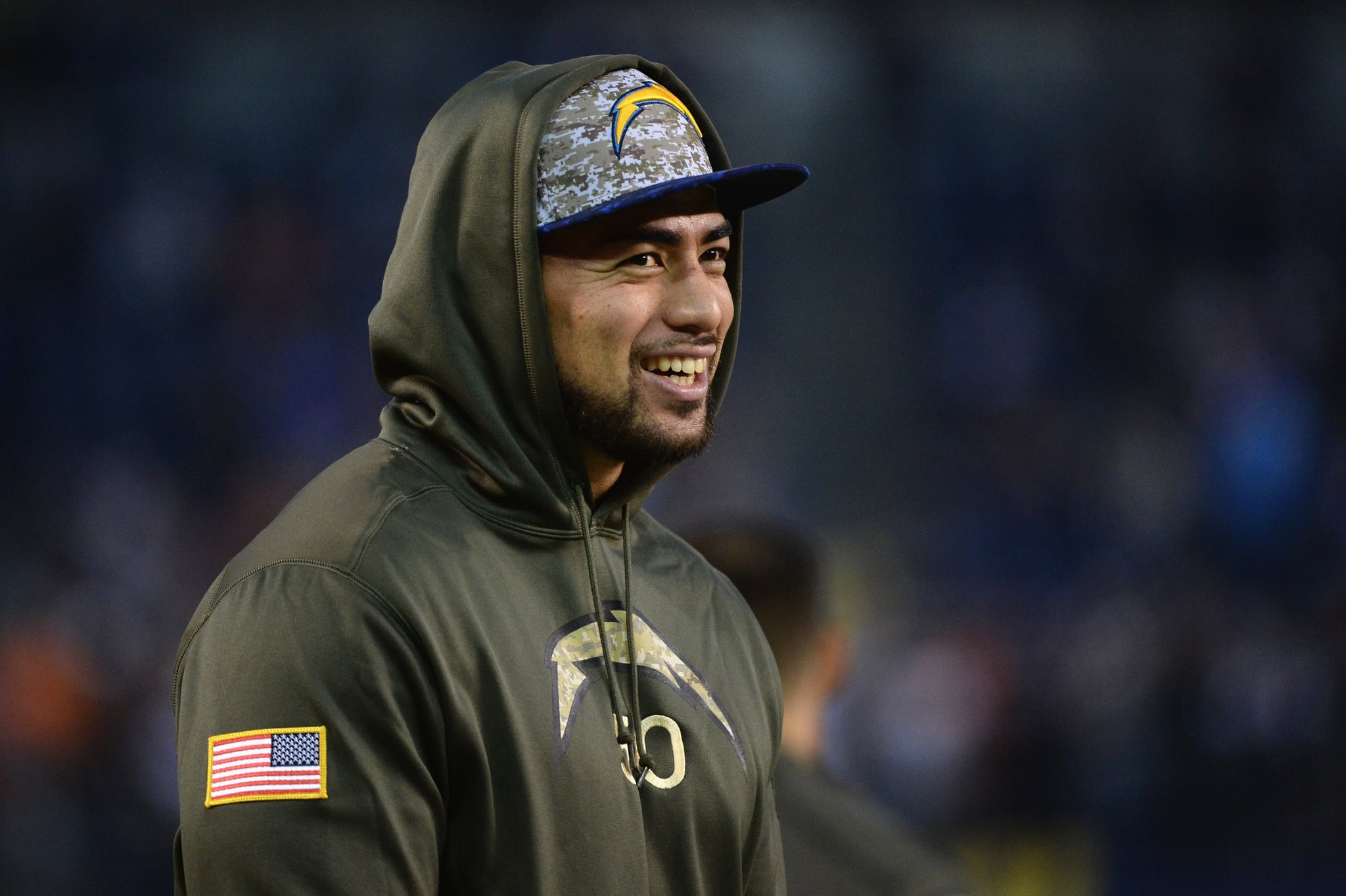 Image Source: Getty / Donald Miralle
Manti Te'o is the subject of two episodes of Netflix's documentary series "Untold: The Girlfriend Who Didn't Exist," which detail his experiences being catfished while he was a star college football player and senior at Notre Dame. Since the show started streaming on Aug. 16, Te'o has been met with an outpouring of support from fans new and old, and on Aug. 20, he posted a public message of thanks on his Instagram.
"I just want to come on here real quick, just to give a heartfelt thank you to everybody that has come through and has shown so much love to me and my family, for your messages, for your comments," he says in the video. "I'm trying to go through all of them, and it's been so amazing to me to hear the battles that we're all facing, the challenges that we're facing in our lives at this time, and how the documentary has given some of us hope, the extra push just to keep going."
He adds that he hopes the documentary will "give some of us hope who needed it, to tell those who needed some love that they're loved, and to help them to forgive, to forgive others, and, most importantly, to forgive themselves," he says in the message.
Te'o was a senior at Notre Dame in 2013 when, he believed, his grandmother and his girlfriend, Lennay Kekua, died on the same day. However, an investigation by sports blog Deadspin discovered that Kekua, who Te'o had only interacted with online at the time, actually did not exist. Subsequently, Naya Tuiasosopo, who has since come out as a trans woman, confessed to being the person behind the Lennay Kekua persona. Afterward, Te'o — once a star athlete beloved by the nation — became the subject of extensive ridicule.
The documentary portrays Te'o as a rule follower whose belief in people's goodness and care for the well-being of those he loves led him to fall prey to Tuiasosopo's sophisticated scam, and fans have jumped to support him since it aired. "Not enough amazing things can be said about this man's character. What a phenomenal human being. May we all strive to be this gracious and have this kind of heart," wrote Twitter user @Mel_SpursLove. Another, sports analyst Thor Nystrom, wrote simply, "We all owe Manti Te'o an apology."
Te'o, who is currently a free agent after stints with the San Diego Chargers, the New Orleans Saints, and the Chicago Bears, is now married to sports influencer and nurse-to-be Jovi Nicole Engbino, and the couple welcomed their first daughter, Hiromi, in August 2021. They are currently expecting their second child — a son, Te'o revealed in an Aug. 16 interview on "CBS Mornings."
In the interview, he also discussed the healing he gained from making the documentary and shared that he was originally inspired to come forward and revisit his story by none other than JAY-Z. "Cam Jordan with the Saints took a bunch of us teammates to a JAY-Z concert," he said, recalling the 2017 event. "And at that concert, JAY-Z opens with saying these words, 'You cannot heal what you don't reveal.' And it may have been just some random words to everybody, but for me, at that time, it hit me like a ton of bricks." At that moment, Te'o realized that "in order for me to kind of heal from this," he said, "I needed to reveal it."