Love Is Blind: Sal and Girlfriend Jessi Respond to Criticism
"Love Is Blind": Sal and Girlfriend Jessi Mock Fan Backlash in New Videos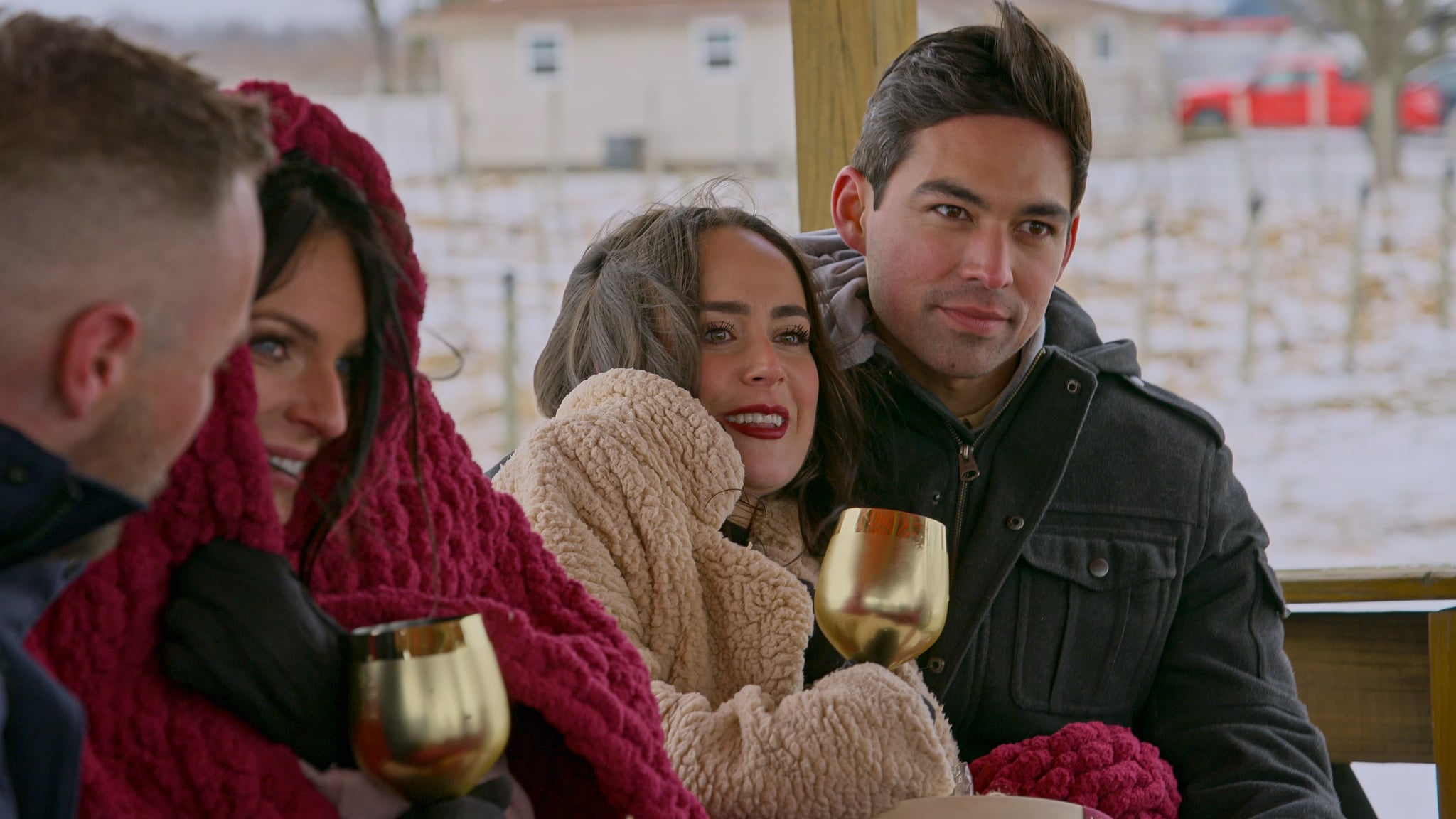 Image Source: Netflix
Salvador Perez and girlfriend Jessica "Jessi" Palkovic are responding to the backlash they received since "Love Is Blind: After the Altar" hit Netflix. In the recently released three-part special, Perez introduced Palkovic to his fellow season two cast members at Natalie Lee's '80s-themed 30th birthday party, making quite the grand entrance with his new partner in matching outfits. During the gathering, both Perez and Palkovic attempted to clear the air by having one-on-one conversations with Mallory Zapata, to whom Perez was engaged on the show, but the awkwardness was palpable.
Many viewers flooded social media with criticism for how Perez and Palkovic handled the situation and presented themselves at the party, with some even suggesting Palkovic was a paid actor hired to stir up drama.
On Sept. 19, Perez addressed the internet discourse by sharing a compilation of videos from his relationship with Palkovic alongside a lengthy Instagram caption. "I want to share with you all that Jessi and I were nervous about filming these last episodes knowing there was only a small margin for our relationship to be well-received — and while it's been hard to see the response in some moments, we feel it's important to express that we stand by our actions, wholeheartedly, and are staying grounded in the power of the truth," he wrote. "It can't matter to us what folks do or do not believe about what went down, because at the end of the day, we know that everyone involved knows exactly what happened."
"Please leave Jessi alone."
Perez continued with a request: "All I ask is that if you have something unkind to say that you only leave it on my page. Please leave Jessi alone." He noted that so many people reported Palkovic's Instagram account, it was taken down by the platform, adding, "I ask that you to please find it in your heart to stop." Her Instagram has now been reactivated, and her TikTok and Twitter accounts haven't been affected.
Perez also mentioned attempts to discredit Jessi's profession as an actor, singer, dancer, and choreographer with a presence on OnlyFans. "I won't tolerate anyone discrediting Jessi's work or devaluing her worth just because of this show," he wrote. "She is easily the strongest, most resilient, hardworking, and confident person I know." Perez concluded his message by taking the high road: "In a battle against hate, love will always withstand the test of time. So, we hope you'll stick around for the love."
On Sept. 21, both Perez and Palkovic responded to the fan censure by sharing satirical videos on social media. Perez poked fun at claims about his partner being hired for the show by filming a video in which she mockingly signs a "'Love Is Blind' Girlfriend Contract." Meanwhile, Palkovic superimposed unfavorable Instagram comments over a clip of her and Perez and shared her thoughts in the caption, referencing rumors of Zapata's unfaithfulness.
"Classiness is subjective — I was myself, and like Salvador said in his post, we stand wholehearedtly by our actions because everyone involved knows exactly what went down," she wrote. "I don't need to meet anyone who lied to my partner, was emotionally unfaithful, and gaslit him with 'grace.' Lastly, sex work is work. Didn't realize we had to have this conversation, but if you still want to slut shame me, you gotta stop reporting my account so it's not taken down. We're happy, in love, and moving forward. So if you want to stay around for the journey, please do!"
Palkovic also subtly alluded to the flak beforehand, simply tweeting, "lol," the day after "Love Is Blind: After the Altar" premiered. She's also posted two TikTok videos seemingly aimed at viewers criticizing her — one of her smoking with the caption, "don't f*ck with me," and another of her smiling in bed with the caption, "just here to empower people and help them be themselves."
During "Love Is Blind: After the Altar," Perez gushed about his romance with Palkovic, whom he met at a birthday party for his sibling Victoria. "The minute we met, there was something there," he said in a confessional. "She is such a firecracker. If she is in a room, you know that she is in a room. And she will just put a smile on everybody's face. She is the nicest person that I've ever met, and honestly, I've never had more fun with anyone else."
The special also introduced Shaina Hurley's new partner, Christos Lardakis, to whom she is now married, and showed Kyle Abrams and Deepti Vempati taking their relationship from friendly to romantic, though they have since gone their separate ways. Since the post-pod episodes were filmed, two couples who tied the knot on the show — Jarrette Jones and Iyanna McNeely and Nick Thompson and Danielle Ruhl — have announced plans to divorce after one year of marriage.