Rachel Lindsay Demands The Bachelor Fix Its Diversity Issue
It's Been 18 Years, and the Bachelor Franchise Hasn't Done Much to Improve Its Diversity Issue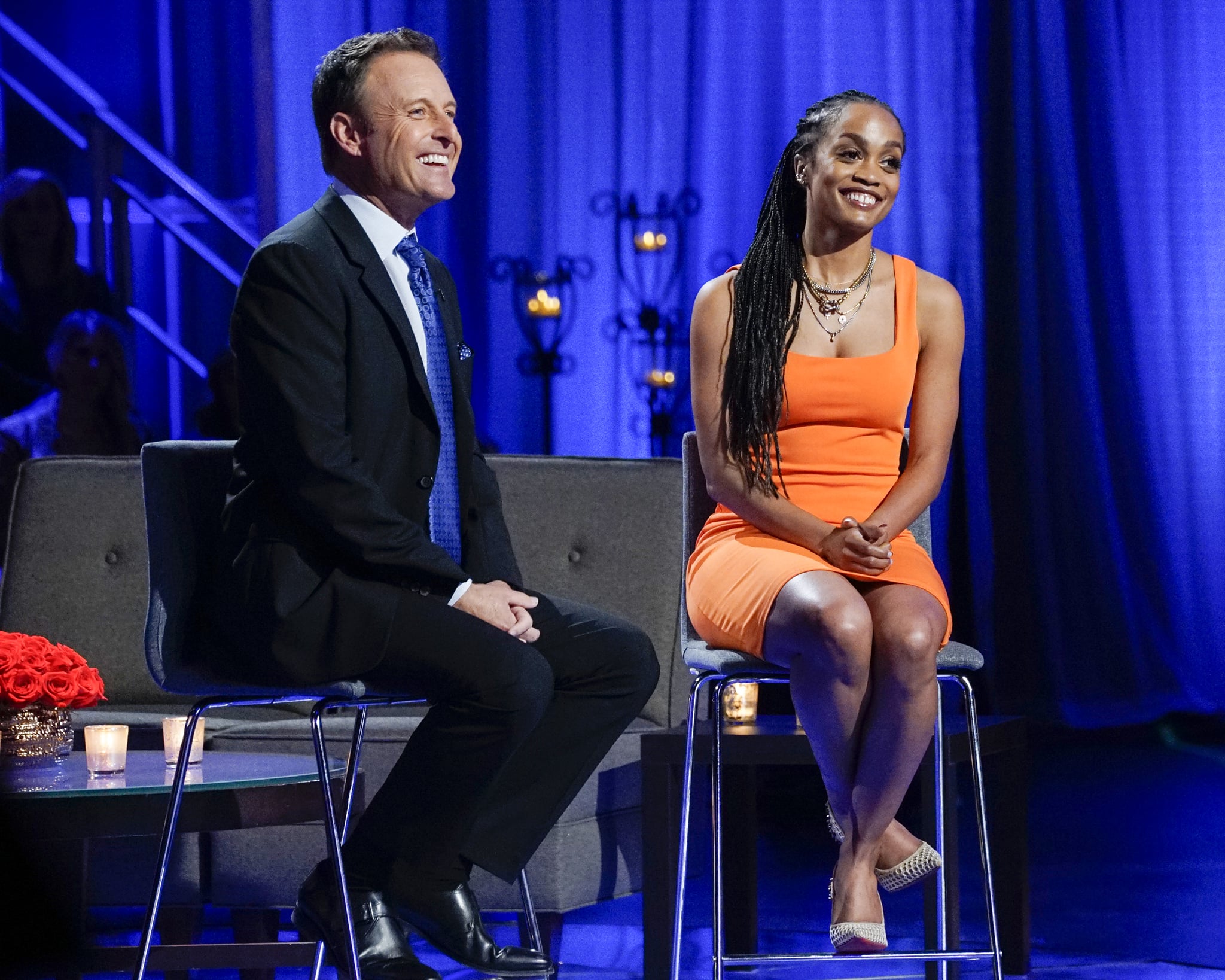 Chris Harrison and Rachel Lindsay at season 24's Women Tell All special.
When you're a lover of dating shows who also happens to be Black, you come to expect certain things when watching a show like The Bachelor. You may hedge bets on how far Black contestants will make it because, unless the bachelor or bachelorette is notably interested in them, it's unlikely they'll get very far. You wonder how long it will take for them to be labeled "aggressive" or spotlighted as a villain for being outspoken. You also cautiously scroll through the #BachelorNation tag on Twitter fearing that other fans of the show will reveal their uglier sides when it comes to contestants that look more like you than they're used to.
That's the sad reality for fans of color when it comes to enjoying Bachelor shows, and former Bachelorette Rachel Lindsay is pretty damn tired of it. "If we're going around talking about Black Lives Matter and what's important and how we need systemic change . . . well then let's talk about systemic change when it comes to The Bachelor. We got to change some things there, too," Lindsay said during an AfterBuzz TV Reality TV interview on June 5.
"I ultimately decided to be the Bachelorette because I knew this opportunity was bigger than me."
The sole Black lead in the franchise's 18-year history, Lindsay has always been vocal about her thoughts on the show, its lack of diversity, and how its carried on since her season. "When I was asked to be the Bachelorette, I knew this was asking something completely different from me. I ultimately decided to be the Bachelorette because I knew this opportunity was bigger than me," she wrote in her blog on Monday morning. "I knew that I wanted to present myself to an audience that had not seen a lead of color in this role. I knew that I wanted to be a trailblazer in this franchise to diversify the lead role, to diversify the contestants trying out and casted for the show, and to diversify the audience watching this show."
Which she definitely did — Lindsay's season notably had more Black and brown contestants than we've ever seen, and it was a great insight into dating as a Black woman. But three years after her season, nothing has changed. Though an uptick in diverse contestants has been seen in recent seasons, the franchise has still only ever had two Latinx leads: American-born Venezuelan former soccer player Juan Pablo Galavis and half-Cuban pilot Peter Weber. And the contestants who nab that final rose, whether the leads are white or not, have been predominantly white.
Both Lindsay and former fan-favorite Bachelorette contestant Mike Johnson have raised similar concerns when it comes to how ABC sustains that lack of diversity by selecting similar people every season. When Johnson was passed over in favor of Weber to be season 24's Bachelor, he congratulated the other man and later pointed out in an interview with Entertainment Tonight that the choice of lead typically determines the contestants of the season. "If Peter likes one thing — not saying what he does like and he doesn't like — but if he likes Caucasian women for example, then there may be a higher percentage of it being a Caucasian bachelorette," he said.
Historically speaking, that's exactly what's been happening. Lindsay spoke to that in her blog post, writing, "Yes, more diverse contestants do appear on the show now, but is the lead truly interested and open to dating outside of their race? It is a naive expectation to believe that leads will authentically start an interracial relationship for the first time on national television."
She added, "The sad reality is that people of color become placeholders as the token person of color to add some flavor to the second half of the season."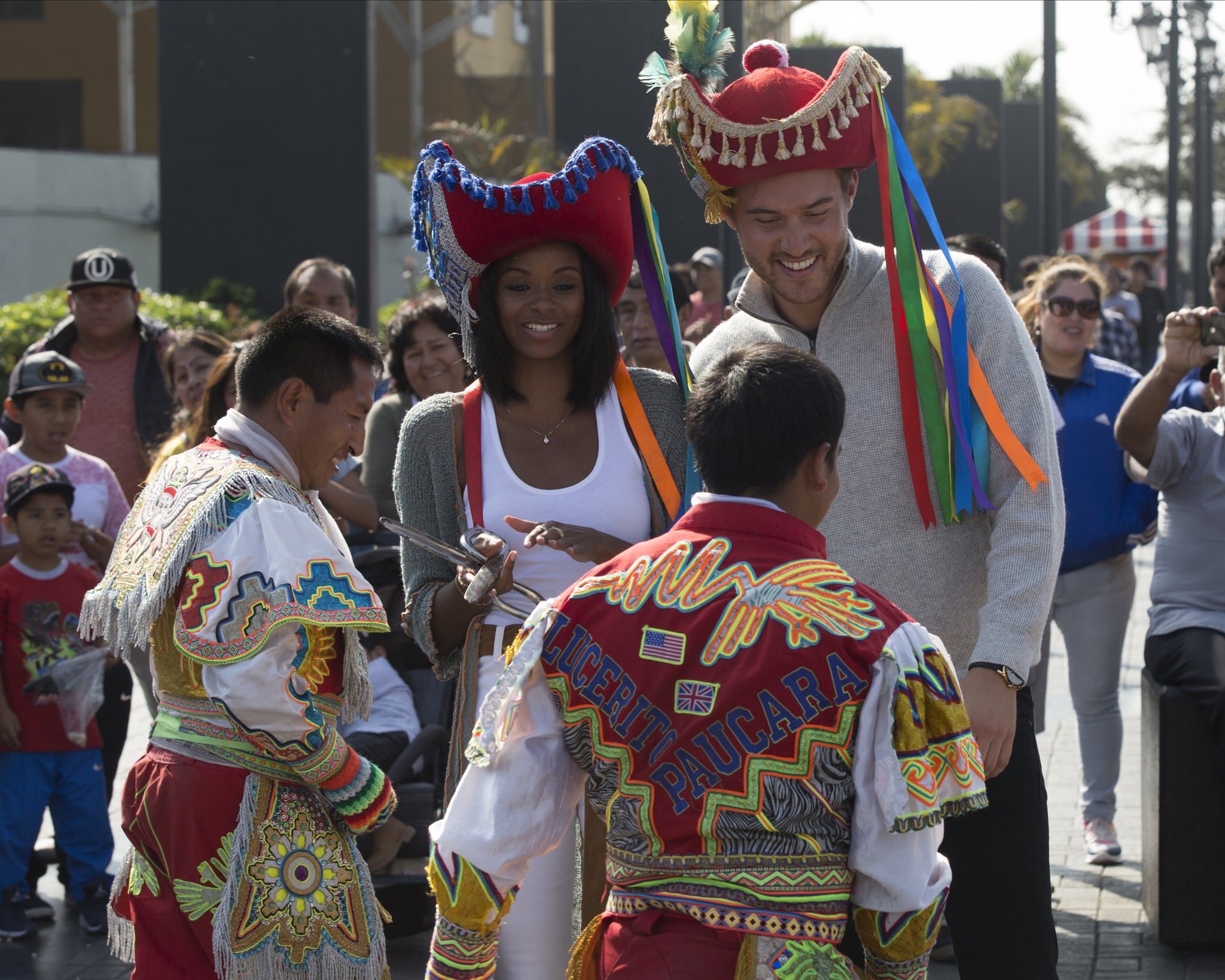 Peter Weber with Natasha Parker, who finished season 24 in the top five.
Catherine Giudici, who appeared on the 17th season of The Bachelor and married lead Sean Lowe, echoed those thoughts in a June 7 Instagram post looking back on her time on the show. "When I was originally cast, I was very flattered but somewhat grounded by the fact that I would be one of the faces that represented people of color. I knew that one of the reasons I was probably chosen was because I was Filipino," she shared in the post. "I counted myself out to be his fiancée because of what I assumed Sean liked. I thought I was there just to check a box, but I ended up with so much more."
Giudici goes on to note that when she opened herself to the process, she was able to connect with Lowe and her experience ended up giving her more than she could've ever imagined, including "getting to represent a mixed race community." The pair have since gotten married and are the proud parents of three children.
While it's great that Giudici found her happily ever after, other people can't do the same if they're never allowed to get their foot in the door. This is why Lindsay isn't leaving things to chance — she's provided the franchise with five actionable steps to get them on the right path. "1. Cast leads that are truly interested in dating outside of their race; 2. Stop making excuses for the lack of diversity and take action to rectify the problem; 3. Diversify the producers on the show to make your contestants of color feel more comfortable; and 4. Stop creating problematic story lines [sic] for people of color."
And last but certainly not least, the former bachelorette called for the franchise to "make a statement acknowledging their systemic racism." "The system is not designed for people of color," she added. "This is not a shocking or groundbreaking statement when the creator of the show admitted that my season's lower ratings 'revealed something about our fans' and furthermore concluded that it was 'incredibly disturbing in a Trumpish kind of way.'"
"The system is not designed for people of color."
Lindsay ended her post by saying that only time will tell how production will respond to her comments, but it's obvious that she isn't the only one demanding change. Many fans have been clamoring for the same changes, especially as white contestants continue to get exposed for being racist, bigoted, or problematic in a plethora of other ways. Lee Garrett was exposed for tweeting a string of racist and sexist remarks (during the season with the first Black lead!), Garrett Yrigoyen "liked" social media posts that mocked feminists and transgender people and then went on to be selected by Bachelorette Becca Kufrin as her winner, and Hannah Brown recently faced backlash after singing the N-word while learning a TikTok dance.
It's obvious that the franchise needs to invest in some better background checks and diversify their cast pools enough to counter their dirty past. Hopefully sooner rather than later — because we're getting tired of waiting for them to do better.