Is Timothée Chalamet Really Singing in Wonka?
Yes, That Cheerful Wonka Singing Voice Belongs to Timothée Chalamet, Because What Can't He Do?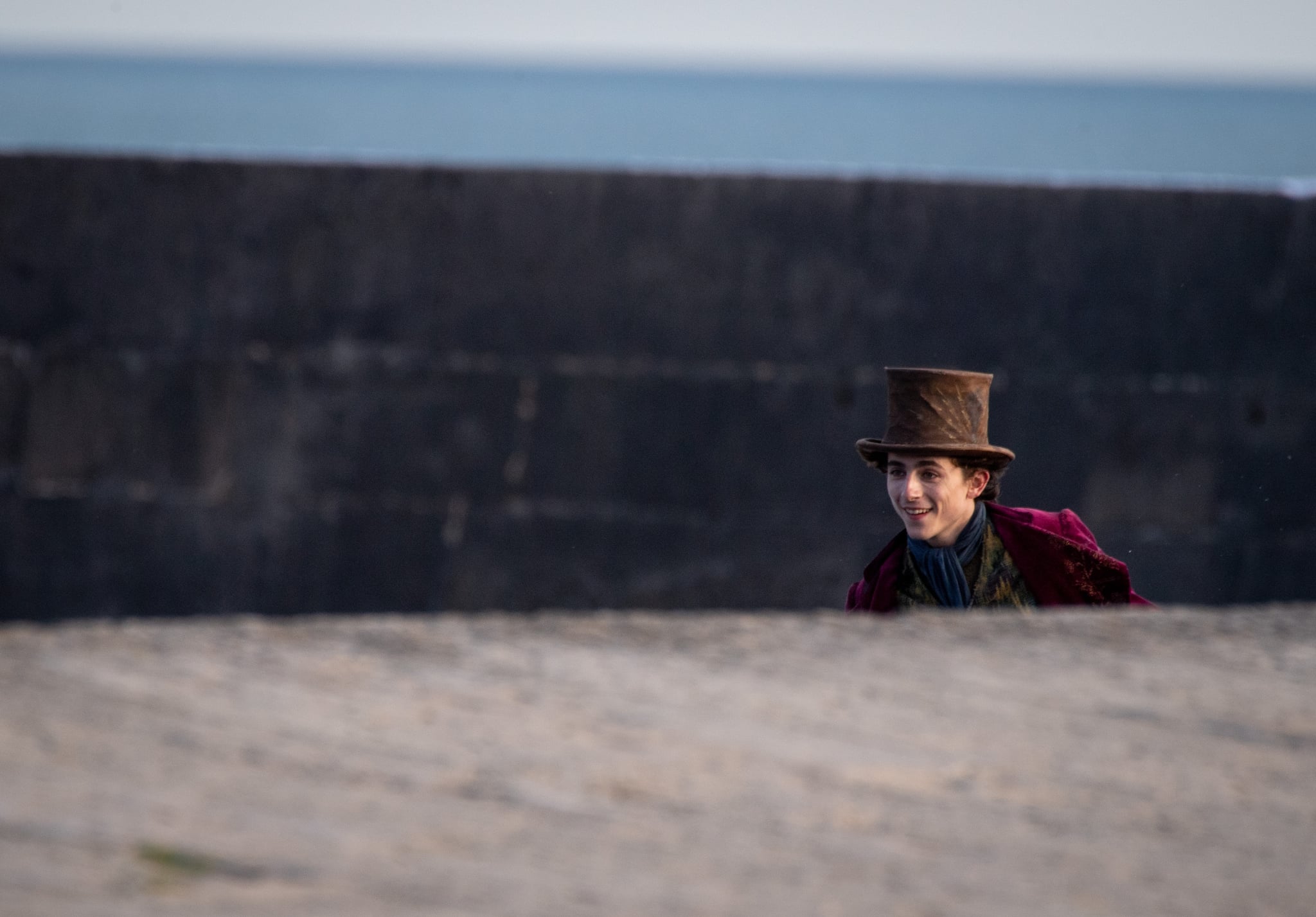 Image Source: Getty / Finnbarr Webster / Contributor
Timothée Chalamet is a man of many talents, and in his upcoming movie Wonka, which he's currently filming, he'll get to flex his musical chops. It is a musical, after all. And though some musical movies cast one star to play the role and another to take on the singing parts, that's not the case for Chalamet in Wonka. The star is seemingly doing all his own singing, and fans got a sneak peek of it when a behind-the-scenes clip from filming landed on Twitter on Oct. 12.
theydies and gentlethems, without further ado, the main event… THEE timothée chalamet on my doorstep recording a musical number for wonka ! and i am living ! timmy nation rise !!! pic.twitter.com/LswcIBSca9

— art (@_ARTSARTSARTS) October 12, 2021
The clip, which is purposely distorted, gave fans a first look at Chalamet filming in England, and you can distinctly hear that he's singing. And while you can't really tell how the singing sounds, you can definitely tell it's him. Sure, in this clip, he could just be casually singing on set, but rest assured, when the movie actually comes out, it'll be Chalamet's voice you hear carrying all those tunes. The actor told Time about his experience recording the music for the film in an Oct. 11 feature story.
He spent a weekend at Abbey Road Studios in London recording the music, he told Time, saying, "I felt out of my league" in the legendary studio where artists like The Beatles, Lady Gaga, and Adele have recorded. "Like I was desecrating history!"
Chalamet has otherwise remained quiet on the topic of singing in Wonka, which serves as a prequel to the Charlie and the Chocolate Factory story we all know and love. But true Chalamet fans have seen him sing on screen before. In the 2019 movie A Rainy Day in New York, Chalamet sits down at a piano to play and sing "Everything Happens to Me," and he nails it. And it would be impossible to forget all the scenes of Chalamet behind the piano in Call Me by Your Name. Plus, he's a graduate of New York's LaGuardia Performing Arts High School, and though he specialized in acting, there's a good chance he had voice training as well.
All this is to say, yes, Chalamet does indeed seem to be singing in Wonka, and when we finally get an actual trailer and not a behind-the-scenes video from set, we'll be able to hear his voice in all its glory.