Meghan Markle and Mariah Carey on Growing Up Biracial
Meghan Markle and Mariah Carey Talk Growing Up Biracial: "They Want to Put You in a Box"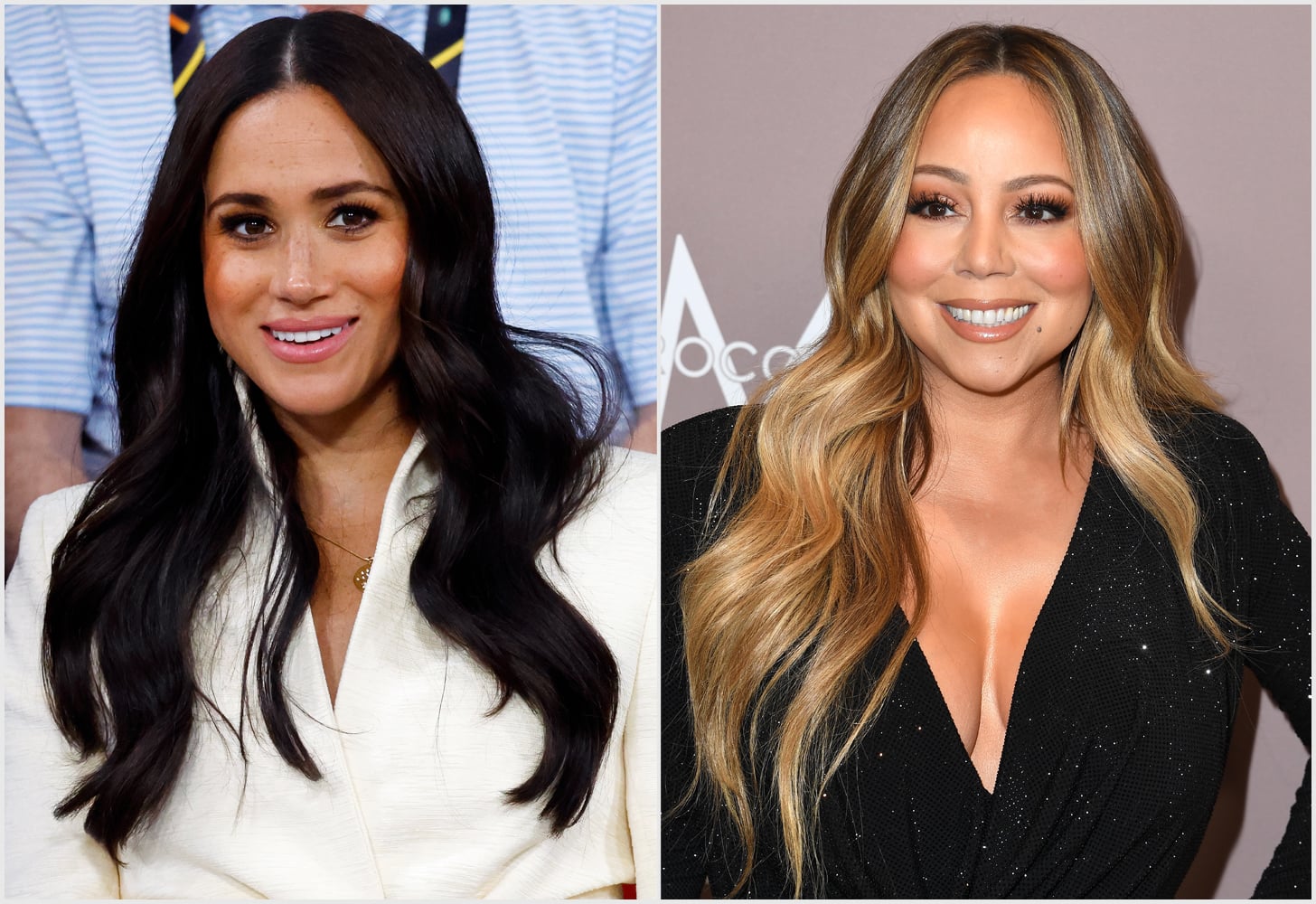 Meghan Markle's "Archetypes" podcast isn't shying away from important and challenging conversations about being a women, race, and culture. This week (Aug. 30), the Spotify audio series featured pop icon Mariah Carey as the Duchess of Sussex's second guest, whom she interviewed about the "duality of diva" and negative connotations that come with the label. During their conversation, Markle and Carey also found common ground in growing up biracial and touched on their personal experiences.
"I think for us, it's very different because we're light-skinned. You're not treated as a Black woman. You're not treated as a white woman. You sort of fit in between."
"I didn't fit in anywhere at all," Carey recalled of her childhood, with Markle noting for listeners that the singer "grew up poor in a mixed-race family when interracial marriages were pretty rare in the US." "I remember being in school in this predominantly white neighborhood where my mom felt comfortable, and I tried my best to feel comfortable," Carey, whose mother Patricia is white and late father Alfred was Black, continued. "But this kid was in the hallway and he said, 'Mariah has three shirts and she wears them on rotation.' And it was like, it was true . . . But I was really like, why do you care? In a world where you're the mixed kid of a full-on white neighborhood, that's what you get."
Markle went on to add that she wanted to speak with Carey about this particular topic because of their shared backgrounds. "You were so formative for me. Representation matters so much," the Duchess said. "But when you are a woman and you don't see a woman who looks like you somewhere in a position of power or influence, or even just on the screen — because we know how influential media is — you came onto the scene, I was like 'Oh my gosh. Someone kind of looks like me.'"
Of trying to understand her own racial identity, Markle shared a story she once read about Halle Berry when she was questioned about her race. "I'd read this article about Halle Berry, and they were asking her how she felt being treated as a mixed-race woman in the world. And her response was her saying, 'Well, your experience through the world is how people view you.' So she said because she was darker in color, she was being treated as a Black woman, not as a mixed woman." Markle added: "I think for us, it's very different because we're light-skinned. You're not treated as a Black woman. You're not treated as a white woman. You sort of fit in between."
According to Markle, the time in her life where race most became a big focus was when she began dating her husband, Prince Harry. This is when, Markle said, she "started to understand what it was like to be treated like a Black woman." "Because up until then, I had been treated like a mixed woman. And things really shifted," she added. Carey echoed Markle's sentiments and said she always believed it was OK to refer to herself as a mixed woman. "But people want you to choose," she added, which Markle agreed with. ". . . They want to put you in a box and categorize you."
Markle's previous episode of "Archetypes," which kicked off on Aug. 23 with her good friend Serena Williams, delved into the misconceptions of ambition. During the episode, Markle got candid about ambition in terms of her and Harry's relationship. These kinds of double standards for women are just a few of many the Duchess plans to explore on her show. Her next guest will be Mindy Kaling, and Issa Rae, Constance Wu, Lisa Ling, Margaret Cho, and Ziwe will join in future episodes.
Image Source: Getty / Max Mumby / Steve Granitz