Shiseido Synchro Skin Self-Refreshing Tint Review and Photos
Our Editors Tested Shiseido's New Synchro Skin Tint, and We All Agree: It's Incredible
As POPSUGAR editors, we independently select and write about stuff we love and think you'll like too. POPSUGAR has affiliate and advertising partnerships so we get revenue from sharing this content and from your purchase.
One thing I've learned over the past 12 years as a beauty editor is just how subjective makeup can be. The most obvious case for this is nude lipstick, as "nude" means different things to different people depending on your skin tone, natural lip color, and personal preference. But it really applies to everything you find in the makeup aisle, be it foundation, blush, brow fillers, mascara, you name it. It's why it's so extraordinary that after the POPSUGAR editors decided to test out Shiseido's Synchro Skin Self-Refreshing Tint, we all came to the same conclusion: that the brand's new tinted moisturizer is pretty incredible.
The Shiseido Synchro Skin Self-Refreshing Tint ($43) is the newest addition to the brand's Synchro Skin range (which also features a medium-coverage foundation) and its first tinted moisturizer launch in a long while. The formula itself is pretty innovative. In addition to being made up of 70 percent skin-care ingredients, it also features something that the brand calls "ActiveForce technology," which is a proprietary complex that resists heat, humidity, oil, and motion while you wear it. This is on top of the brand's proprietary Responsive Sensory Technology (featured in all of the Synchro Skin products), which responds to your skin's condition and protects against oxidation and pollution. Those two complexes together ensure the skin tint stays looking fresh and crease-proof for up to 12 hours. Powders in the formula (including one with light-reflecting particles) also do the seemingly impossible job of keeping your skin looking glowy (but not shiny) while preventing your skin's natural oils from breaking the skin tint down.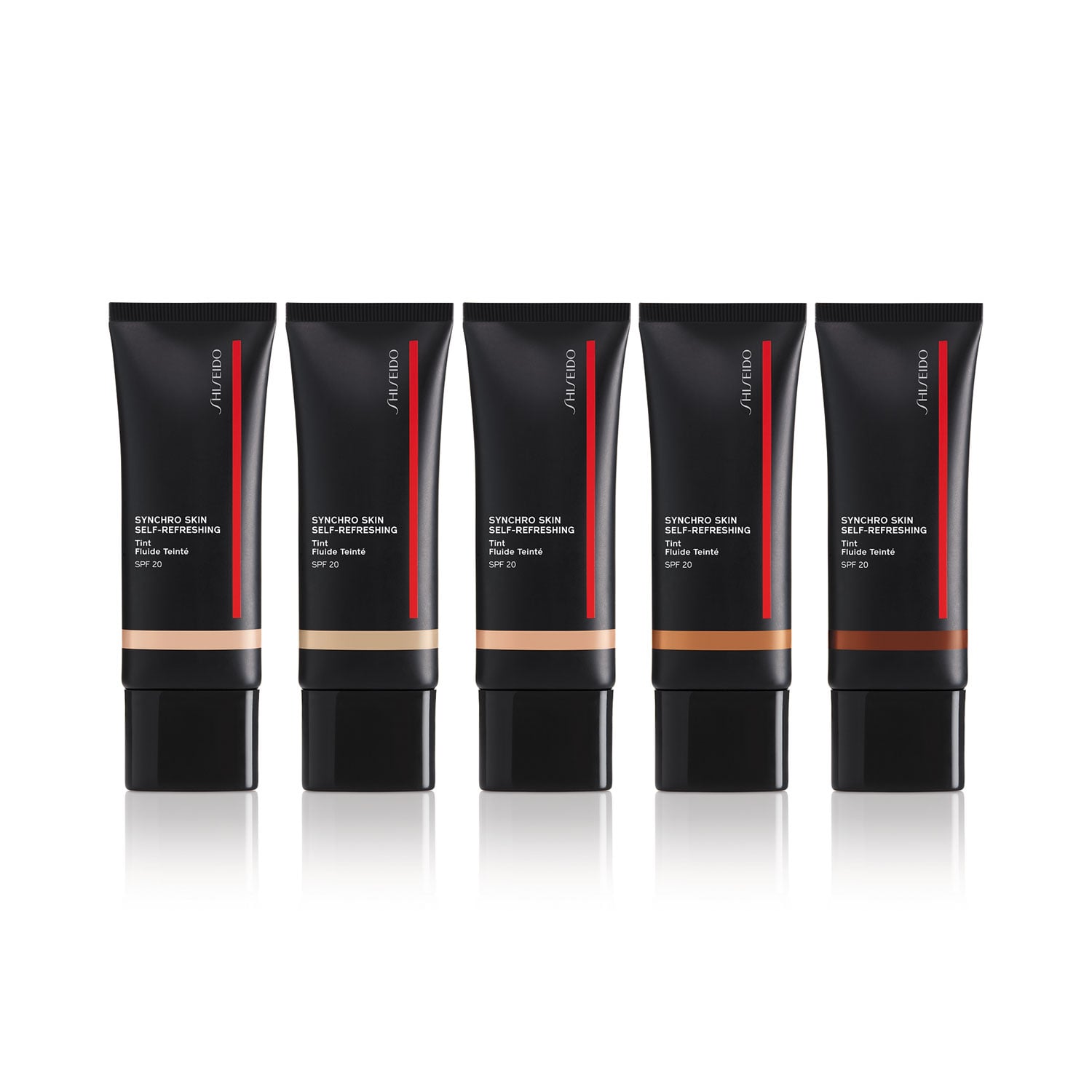 Image Source: Shiseido
"[The Synchro Skin Self-Refreshing Tint] is great for someone who has freckles or wants their skin texture to show through," said James Boehmer, global artistic director of Shiseido Makeup. "Our tint is also ideal for people with active lifestyles because the combination of Self Repair Gel, ActiGel Polymer, and Time Match Powder protects the finish and prevents oxidation. You can truly put your makeup on and not think about it."
But all these lofty claims don't really mean much if the formula doesn't live up to them. In the case of Shiseido's Synchro Skin tint, however, it does. Overall, each of the POPSUGAR editors who tried the formula liked it a lot. Personally, I love how it gives you a natural-looking finish (that's on the glowier side of the luminosity spectrum) but enough pigment to cover redness around my T-zone, which has gotten worse thanks to a week-long and wine-filled vacation.
After using it for a week, POPSUGAR UK Beauty Editor Tori Crowther explained that it's her perfect everyday base product. "It's light coverage but does build slightly in certain areas if I need it, leaving a 'my skin but better' finish. The formula isn't too watery or oily, which I love, and it leaves my dry skin feeling hydrated — even after eight hours of wear in the city."
The skin tint's hydrating abilities are, in fact, seriously impressive. POPSUGAR UK Social Content Producer Chloe Dunn recently finished a course of Accutane (a prescription acne medication that is notorious for making your skin ridiculously dry), and loved how the skin tint made her complexion look and feel. "It's so light and moisturizing, and gives me a really nice glow . . . and the color is also spot on," she explained. Her only gripe? "I wish the formula was cruelty free."
Speaking of color, the Synchro Skin tint comes in 12 shades, which the brand developed to cover the same skin tone range as the 30 shades in the brand's Synchro Skin foundation line. As the skin tint coverage is more sheer, each shade of the tint spans two or three shades of the Synchro Skin foundations. When we're talking about shade though, not only is it important to have an inclusive range, but it's also important that the shades in the range work well for medium and darker skin tones. This is where the PS team was nicely surprised. "The Synchro Skin tint is probably one of the only tints I've ever tried that didn't go orange on me," Assistant Editor Navi Ahluwalia said (she wears shade 335). "It's great for South Asian skin."
Keep reading to see our editors wearing the Shiseido Synchro Skin Self-Refreshing Tint, and to shop it for yourself.